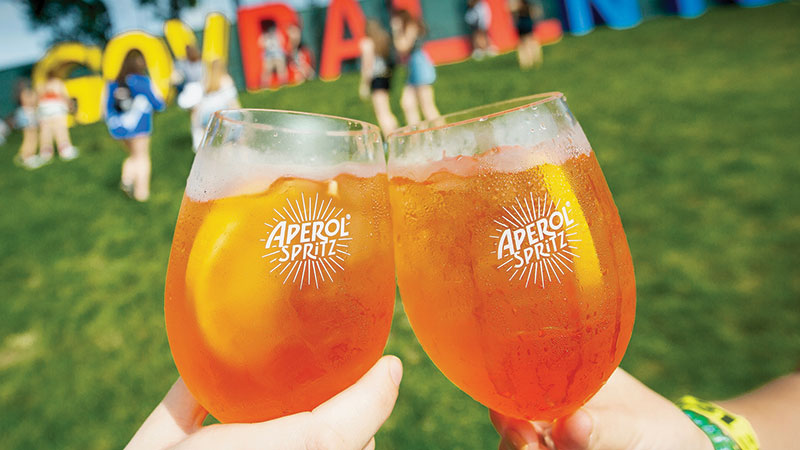 From A(perol) to Z, Creativity Abounds
By Jack Robertiello
---
It took a long time to make its way here, but after the legwork of Aperol brand reps and the adoption of many bartenders looking for light, refreshing and sessionable drinks, the Aperol Spritz has become a behemoth, especially for brunch. So popular has it become that the spritz has developed into a drink category of its own, gaining precious menu space across the country.
"The spritz is popular because it is easy to make and is delicious to drink," says Bridget Alpert, Southern Glazer's Wine & Spirits National Director of Education Beam Suntory. "The consumer is looking for more than spirit-forward classic cocktails on a menu and spritzes can be enjoyed before a meal, during or after."
"Low-ABV cocktails are on-trend and a simple spritz can fit easily into this narrative," she says. "A spritz is a blank canvas and can easily be manipulated to fit any season."
One of the noted progenitors of the spritz is New York City's Dante, where Bar Director Naren Young has put aperitivos, vermouths and Italian-style sipping front and center, including spritz variations on a menu that includes an Aperol Spritz on tap.
Lots of places are adding at least one variant: Chicago's Sable Kitchen & Bar has Head Bartender Jenee Craver's Marcia, Marcia, Marcia!—rhubarb and strawberry-infused Aperol; fermented rhubarb and strawberry; and the sparkling water Topo Chico. Dave Fisher, Beverage Director at Gran Tivoli and Peppi's Cellar, New York, offers the GT Spritz (falernum, Comoz Blanc Vermouth and Brut Champagne).
Summertime Hues
As summer nears, the full menu trend is popping: the Kimpton Epic Hotel in Miami's Area 31 restaurant and terrace is set to roll-out a five-spritz menu, including a non-alcoholic offering, on the rooftop patio and pool deck on Saturdays.
Called the "Summer of Spritz" with a tagline "Rosé Passé: Get Spritz Faced," the menu will include the traditional Aperol Spritz and variations made with, for example, Campari, passionfruit and cava; Ketel One Grapefruit Rose, Dolin Blanc Vermouth, earl grey tea and Prosecco; and a non-alcoholic (tequila-optional) version made with grapefruit soda, basil, black volcanic salt and a grapefruit wedge.
"I've always been a big fan of spritzes in general and the bartender scene has recently brought the spritz forward," says Amy Currens, Area 31 Beverage Director in Miami. "This is really about featuring spritzes that are sessionable, refreshing for summer, and on top of that there are so many creative takes and ingredients you can play with."
Spritzes with solid savory elements also work very well as a meal accompaniment—something most cocktails can't manage. "These make for great food pairings that are not going to overpower because the alcohol isn't so high and hot that it would kill your taste buds," says Currens.
At New York's Santina, Beverage Director Ryan Davis is planning a variety of spritzes for the spring and summer menu to join their popular Santina Spritz (pitchers of frozen Aperol and blood orange topped with a bottle of Prosecco). Coming on: the Pompelmo Cooler—an Aperol variation including grapefruit; Sbagliato, a Negroni variation with Prosecco; the Americano; and the Hugo Fizz, a Braulio and limoncello spritz.
"It seems everyone loves spritzes. They are low alcohol, you can drink them all day and not be impacted, they are very refreshing and a great fit for the summer. It's crazy how they have taken off," Davis says. And not just for summer patio or brunch. "Saturday night at 11 I'm still seeing Aperol Spritzes going out. And when the heat goes up in the summer and the patio is open, you look around the dining room and if there are 50 people in the room, as many as 30 have a spritz in their hands."
When creating a spritz menu, Young recommends variety: "We change it every year so there's a lot of variation, but there are always certain drinks that are more popular than others."
Albert advises using seasonally-appropriate ingredients, spirits and modifiers. Add spices and build on bitter flavors for cooler months. "Don't be afraid of flavor," she says. "A spritz gives you an opportunity to create unique flavors that are memorable."