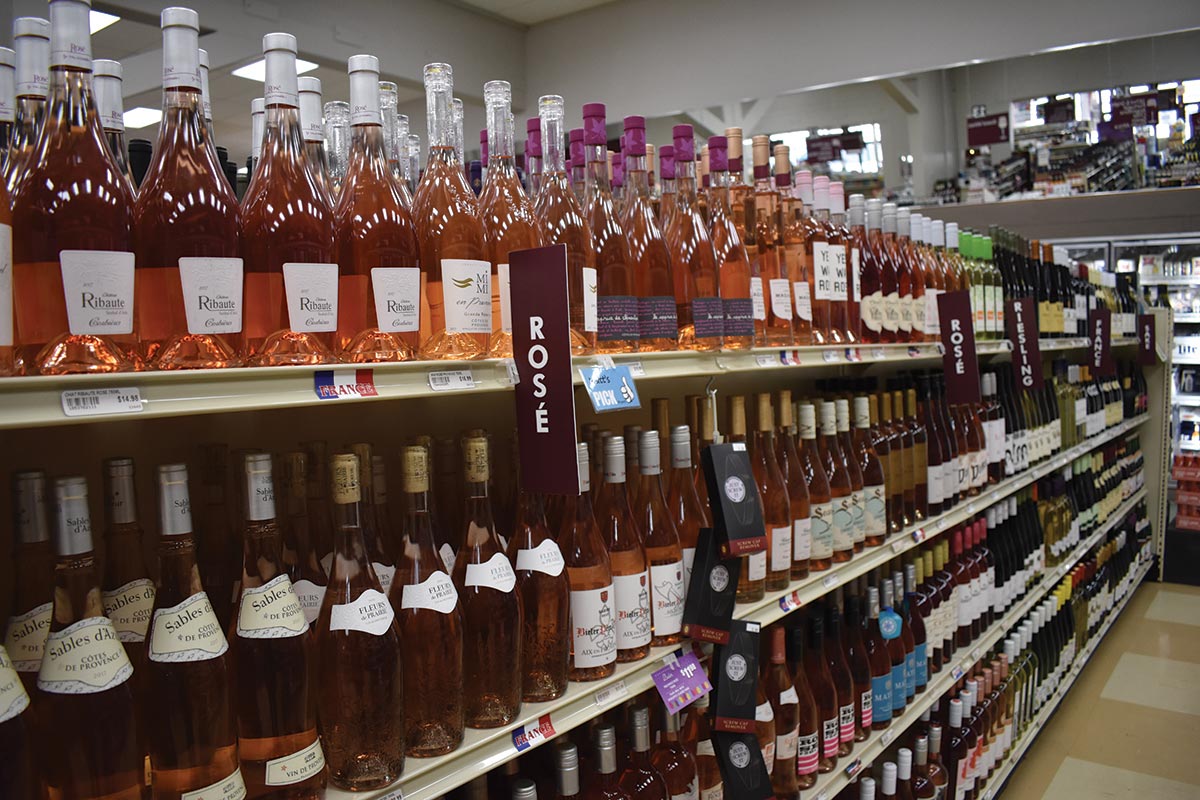 Mendon Wines
2170 Mendon Road
Cumberland, RI
Square footage: 9,000
Years in operation: 14 years under current ownership
By Sara Capozzi
Mendon Wines of Cumberland takes its place in the home of the former Jerry Lee Lewis movie theater. Remnants of the old theater, including the marquee and projection booths, still remain intact, but the building has found new life in its most recent incarnation, now starring a showcase of fine wine, spirits and craft beer.
Manager Matt Benoit said he strives to keep an array of options that appeal to a broad client base. "We're not looking to specialize in one particular facet; it's just being able to have a good selection for everybody." Mendon Wines currently holds more than 1,000 SKUs of beer, wine and spirits, and is "adding more all the time," he said.
"We have a really good, well-rounded business," Benoit continued. "Being the manager, you get to have the opportunity to purchase and buy all the [stuff] that you like, but just because I like a super-dark, robust Cab doesn't mean my customers do. You kind of have to take that into account as you're making those purchases and spend those dollars, and fill your store."
While customer demands can cause a bit of flux in inventory on a seasonal basis, sales in beer, wine and spirits are pretty evenly divided throughout the year, he said. Popular items include Portuguese and Italian wines, red blends and Cabernets. Fine tequilas, smoky mezcals, as well as vodkas such as Tito's, Ketel One and Absolut are "leaders of the pack" in spirits, Benoit said. In local craft beer sales, Benoit said he's noticed customers are reaching less for IPAs and going more for sour beers.
"Our trends might be a little bit different, because we're on the border with Massachusetts … you have those customers crossing the border down. What we have doing well here might not do so hot in some of the Newport stores where the average customer might not be looking at that $10 bottle; they might be looking at that $30 bottle. We're looking to get really good value wines here," Benoit said.
"I'm trying to buy in the best possible way at the best possible price for the customer. The competition seems to be most of the bigger stores that are across the border, more so than our counterparts down the road, so it's kind of what our focus is as far as buying, trying to get that price out to the customer that shows a really great value." Drizly delivery and a rewards program also offer convenience for shoppers.
Benoit said the customer base varies, with business from local regulars that give the store "a community feel" to shoppers who travel from neighboring cities and states to visit Mendon. "We're pretty well established at this point," Benoit said.
"We're almost turning into that destination type of place, between customer service … and bringing in products that are something new, fun, exciting … it gives us a little bit of an upper hand over some of the competition who may be a bit leery about bringing in new product." Benoit and Assistant Manager David Riker regularly teach wine and beer education classes at the store, keeping customers engaged and knowledgeable about new products.
With baseball fields down the road, the store sees business from adult softball league players. And as the warmer weather begins to further shape consumer behavior, Benoit is seeing the slower days of the week – Monday, Tuesday and Wednesday – begin to pick up. A welcome change after a winter "without a lot of snowstorms," which tend to boost business, he said.