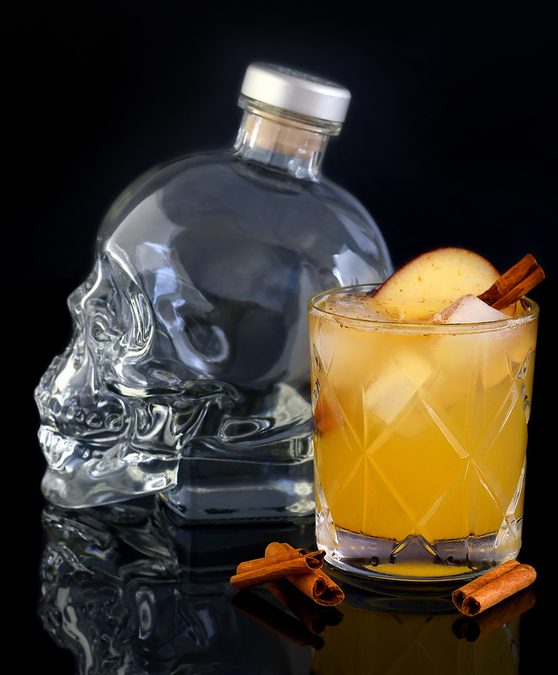 Cooler temps and spirits of the season are on the mind. With pandemic guidelines changing the shape of a of celebrating, stocking up the home and creating your own seasonal sips offers fun and safe options. Warm up your skills and scare up some flavor.
---
Cold Comfort
1 ½ oz. Crystal Head Vodka
1 oz. Dark Rum
4 oz. Apple Cider
1 Cinnamon Stick
Directions: In a cocktail shaker add Crystal Head Vodka, dark rum and apple cider with ice. Shake vigorously for 10-15 seconds. Strain into a rocks glass with ice. Garnish with a cinnamon stick, finely grated cinnamon and thinly sliced apple. (c. Crystal Head Vodka)
---
Sweata Weatha 
Ingredients
0.5 Oz. Barr Hill Vodka
0.5 Oz. Tom Cat Gin
1 Oz. Ice Cider (We Use Eden 'northern Spy' Barrel Aged
1 Oz. Fresh Apple Cider
0.75 Oz. Fresh Lemon Juice
0.5 Oz . Ginger Syrup
0.5 Oz . Cinnamon Syrup
2 Drops Vanilla Extract
Directions: Add ingredients to a blender with a handful of ice, blend and then serve. This cocktail is great in large batches as well.  (c. Nate Canan-Zucker @ Caledonia Spirits)
---
Krak-O-Lantern
Ingredients
1 part Kraken Original
1/2 parts brown sugar and clove syrup*
1/2 part water
1/4 parts allspice dram
1/2 cup pumpkin pure
Cocktail: 1. Combine all ingredients in a pitcher. 2. Stir thoroughly and pour the cocktail into a hollowed out pumpkin. 3. Ladle into glasses with ice and garnish with whipped cream, grated cinnamon, corned candy and/or cinnamon stick.
Directions: *Brown Sugar and Clove Syrup: 1. Make brown sugar and clove syrup using 1:1 brown sugar to water. 2. Simmer with a handful of cloves for 10 minutes. 3. Strain and allow to cool. Serving: 1 pumpkin, cleaned and hollowed out – optional. Garnish: Whipped cream, grated cinnamon, corned candy and/or cinnamon stick – optional.
---
El Diablo 
Ingredients:
1 ½ oz. Reposado tequila
½ oz. Crème de cassis
½ oz. Lime juice
3 oz. Regatta Classic Bermuda Stone Ginger Beer
Directions: Add the first three ingredients to a shaker with ice. Shake and strain into a glass with ice and top with Regatta Bermuda Stone Ginger Beer.
---

Brockmans Twilight
Ingredients:
40ml Brockmans Gin
10ml Maraschino Liqueur
10ml Yellow Chartreuse
25ml Lemon juice – freshly squeezed
15ml Gomme Syrup
Garnish: A lemon twist and black pepper for the rim
Directions: Run lemon around the rim of a stemmed coupe glass and upturn over ground pepper. Pour all the ingredients into a shaker with ice and a couple of twists of ground pepper then hard shake. Double strain the liquid into the glass and garnish with a twist of lemon.
---
Milagro Spiced Hot Chocolate
1.5 Parts Milagro Anejo Tequila
3 Parts Taza Guajillo Chili Chocolate
Heavy Cream
1 Pinch Chili Powder
Directions:
Build in a clear mug or other drink vessel suitable for hot temptratures. Top with whipped cream and chili chocolate shavings.
Recipe courtesy of Jaime Salas, Milagro Tequila Brand Ambassador.