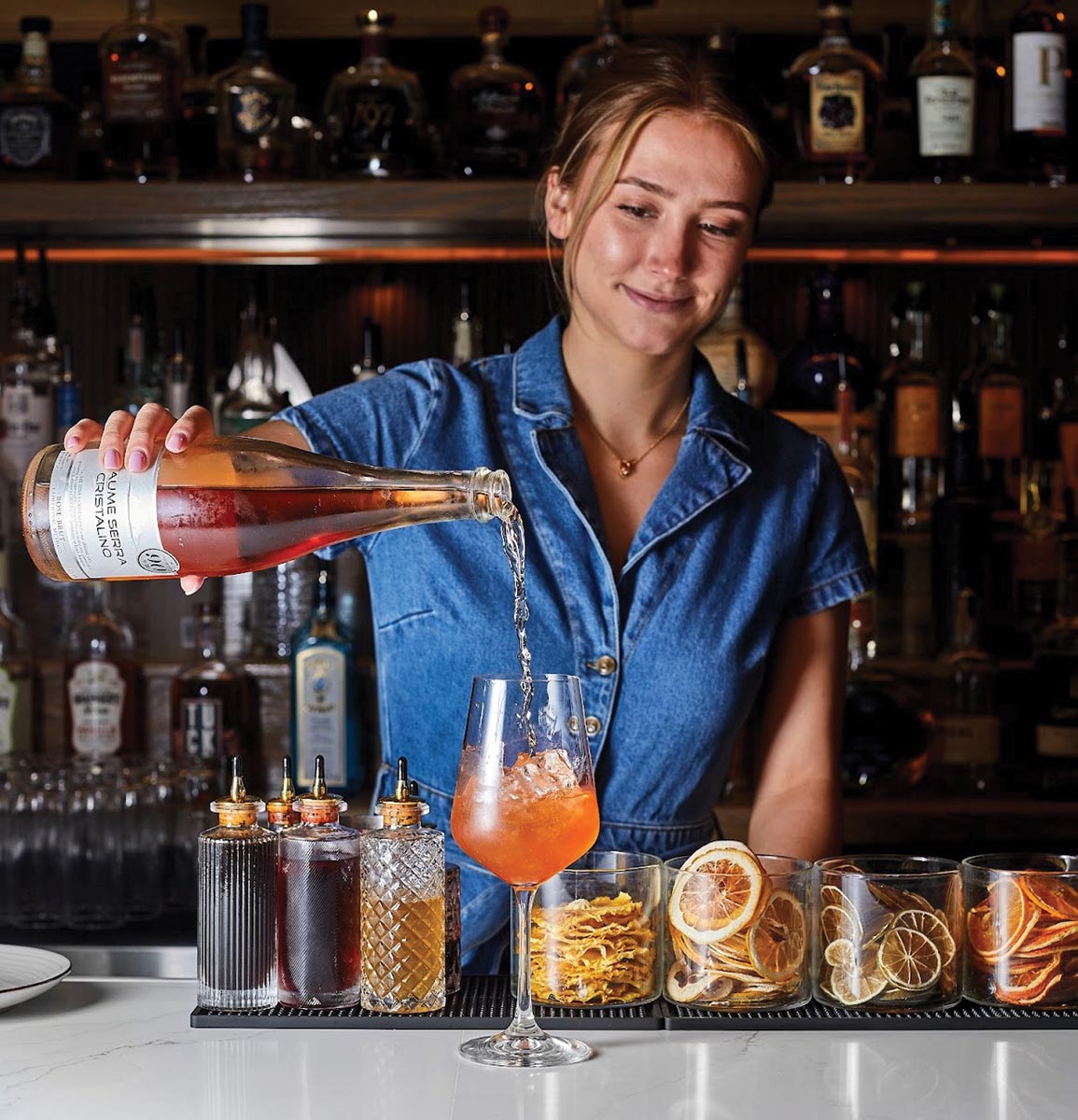 Bar 12
12 Broadway
Newport, RI
Bar 12 is a craft cocktail and wine bar offering creative cocktails, curated wines and a diverse selection of small plates and appetizers. Set in a classic lounge-type atmosphere, Bar 12 is the second Newport concept from Jill and Jim Blumel, owners of local favorite Tavern on Broadway. From its prime location, the new venue creates a modern, sophisticated vibe, using marble tabletops and counters, light-hued wood accents, and a cool blue and gray color palette for an inviting and welcoming space to tuck in for a drink or two, alongside dishes such as coconut curry mussels, pork sliders or a meat and cheese board. From Tiki to martini, the bar program created by Lead Consultant Alex Brandariz uses seasonal inspiration and fresh ingredients for carefully crafted and easily enjoyable sips.
Creator: Lead Consultant Alex Brandariz
Bartender: Isabella Blumel
Cocktail: Late Bloomer
Ingredients:
» 1 oz. Aperol
» 1 oz. Giffard Crème de Péche de Vigne
» .5 oz. freshly squeezed lemon juice
» 5 sweet basil leaves
» 3 oz. sparkling rosé
» Garnish: edible flower
Method: Add peach liqueur, basil leaves and lemon juice into a mixing tin and muddle thoroughly. Add Aperol and ice, then shake for 20 seconds. Double strain the mixture into a wine glass half full of ice and top it off with sparkling rosé. Garnish with an edible flower and enjoy!
"The Late Bloomer is a summer-inspired riff on an Aperol spritz," said Lead Consultant Alex Brandariz. "The addition of the peach liqueur makes it a slightly less bitter version, while the sweet basil adds a subtle herbaceous element to the drink. It has quickly become a crowd favorite at Bar 12 for its appeal in taste and aesthetics."
Photos by Angel Tucker Photography.