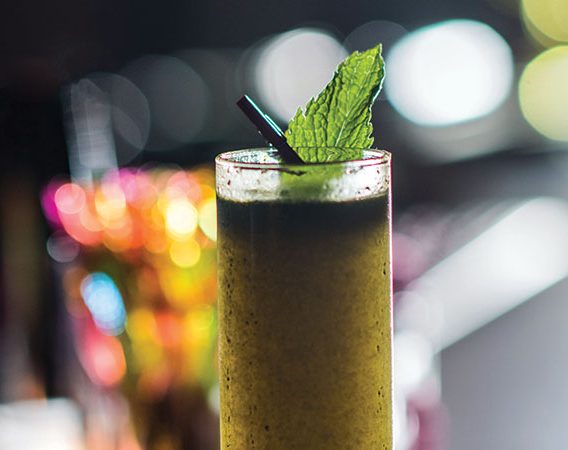 As laws are still shifting, CBD is making its way on to cocktail menus
By Jack Robertiello
---
When Ben Potts was preparing to launch his cannabidiol (CBD) cocktail program at the Sylvester in Miami this past April, he figured his first order of CBD oil would last well into summer. But just a month later, the additive had become so popular he had to re-order and increase his supply.
Welcome to the new world—just arriving—of legally approved CBD cocktails served in bars. In many states and municipalities, rules are being written, rewritten, repealed and replaced as localities come to grips with CBD as a food and beverage ingredient.
Colorado, currently the most relaxed state about marijuana and hemp-derived products, allows municipalities to make their own rules (Colorado Springs for example has no cannabis dispensaries), and soon may allow marijuana hospitality establishments. It seems natural that the state would be ahead of the curve in CBD creativity and usage. In Denver, Food and Beverage Manager Derrick Odom at The Nickel in Hotel Teatro saw the possibilities in the CBD beverage biz, and in February launched the first such dedicated cocktail program in the THC- and CBD-happy city.
"For us this evolved from paying attention to trends and figuring out how to incorporate them into beverage," says Odom. "We want to stand apart and set that trend if we can. As the stigma has changed [about CBD] from something that gets you high and instead has a lot of mental and physical health benefits, we decided to take a chance."
The Nickel's CBD drink lineup includes the Chill Lebowski—a White Russian with chili liqueur, espresso, honey syrup, Frangelico, egg white and CBD oil—and the Super Lemon Haze, with housemade limoncello, ginger liqueur, cherry bitters, whipped cream and CBD oil. The Nickel bartenders will also add the CBD oil to any other cocktail upon request; and there's a non-alcohol drinks made with lavender, black tea, honey and CBD. After one month, the second best-selling drink included CBD, and Odom estimates 10%-15% of The Nickel's cocktail sales include CBD.
Potts took a different approach: Rather than create specific cocktails with CBD as an ingredient, at the Sylvester customers can add CBD to any drink on the menu (although bartenders will advise that the impact in terms of flavor and texture, while subtle, will affect some classic drinks). So the fact that he was reordering CBD supplies a month after opening speaks clearly to guests' curiosity, not a bells-and-whistles push from servers.
The Beverage 'Experience'
A feature of the Sylvester is creating a "more complete beverage experience," with kombuchas, hot chocolate and locally-sourced coffee and tea with and without ground mushrooms, as well as CBD drinks.
"We use the oil form of CBD, mostly unflavored but you can taste a little grassy flavor. Also the oil can float on top of drink and some guests might not like that, he says. Among the most drinks that work best with CBD's slight flavors, Potts cites the "Ñooo, Que Frio" made with Bacardi Cuatro, nitrogen-muddled mint, green apple, Strega and sparkling wine. "The herbal notes from the cocktail work well with the CBD and the agitation from shaking the cocktail help distribute the oil." So far things have gone very well, he says, and now under consideration are seasonal CBD drinks as well as combinations with kombucha.
Odom points out that a well-trained staff is essential and to that end brought in a rep from their CBD supplier, Supergood, to explian recommended dosages, potential impacts and other concerns.
Boston-based "beam" (not to be confused with Beam Suntory), is another supplier that has found themselves navigating the unchartered territory of formal CBD mixology. The company's food service clients so far have been wellness shops, spas and juice bars. "But we have had a few discussions with Boston restaurateurs about including CBD in drinks," says co-founder Matt Lombardi. "It's something we are paying attention to as it gets more popular. But so far in our biggest market of Boston they have been a little cautious about adding it until the areas are less gray."
Meanwhile, numerous food service suppliers are getting active in the niche. Canada's Moosehead recently announced plans to develop a cannabis-based beverage. Diageo has been rumored to develop some cannabis beverages soon, and Pepsi's CFO said in a 2018 interview that developing some cannabis-based beverages is definitely on the table for the company.
One thing is certain with CBD: expect change. Both rules and attitudes are in flux with no deceleration in sight. And bars are expected to be at the forefront of CBD cocktail creativity. As Odom says, "Bitters moved from the apothecaries into the bar world—why not CBD?"
And while mixologists begin to test out dance steps with their new ingredient-partner, the hospitality industry in general will need to keep in mind the prospect of people shifting their own drinking behavior based on non-alcoholic CBD-based beverages starting to drizzle—er, pour— into the marketplace.