By Lauren Daley
There was a time, prior to the millennium, where you could get a job tending bar somewhere and never look back. Today however, to best serve an establishment and its customers, mixologists need to take classes to stay up-to-date on the latest products, said Frank Martucci, Executive Vice President of the United States Bartenders Guild and General Manager of Beverage Operations at Twin River Casino in Lincoln, R.I.
"It's amazing how much our society and industry has changed in the last five to ten years," Martucci said. "Every spirit, wine, beer bottle we touch has a story: where it is made, how it is produced, its taste profile, how to mix it with other spirits and ingredients, what sets it apart from another brand, the proof. It's so important for those of us in the industry to understand each product and know how to use it properly."
Educating bartenders and mixologists about their craft not only benefits the individuals in the program, but, ultimately, the establishment they work for, their employers, and their guests, Martucci said. "We need to understand the history of our industry, how spirits are made, and how to use tools of our trade: from muddlers, knives and julep strainers to the Boston shaker. The more knowledge we have as an industry the better we serve our guests."
Be it a store owner, restaurateur, wholesaler, distributor or bartender, the need to keep up to snuff on the latest and greatest products and recipes in the ever-changing industry is ever-present. "We also work with our local beverage distributors to bring training programs, beverage owners and brand ambassadors throughout the year to deliver additional education. The program never stops," Martucci said.
Gaining a Broad View
Martucci recently enrolled some 25 of his Twin Rivers bar staffers in BarSmarts Wired, an online educational program offered by spirits importer Pernod Ricard. The curriculum is not limited to Pernod Ricard products, but is culled from mixologists at the Beverage Alcohol Resource. The online course material is the same as BarSmarts Advanced, Pernod Ricard's invitation-only bartending class.
The BarSmarts Wired course materials—workbook, video library, four tests and a final exam—are accessed online. Students have 60 days to complete the online coursework. Once they pass the final exam, they are BarSmarts Wired Certified.
Gillian White, the bar manager at Cook & Brown Public House in Providence, R.I. has been through the program. "One of the best things about this industry is that it is constantly growing and evolving. Aside from being fun, it just makes sense to stay on top of your game if you want to grow and evolve at the same pace. Taking online courses, like BarSmarts, is a great foundation for anyone looking to take a serious interest in bartending," said White.
Cook & Brown requires all members of the staff to be BarSmarts certified, which White said "is the best tool, in my opinion, for anyone wanting to 'nerd out' and learn all of the fine details of spirit and cocktail production, history, qualities, composition, etc. And it's an online course that is completely accessible. Along with this requirement, we also do tastings of all cocktails on the menu, have an extensive Cook & Brown cocktail database that is shared with everyone, and even take group outings to bars and restaurants for 'research and development'—everyone's favorite form of learning."
White also suggested attending tastings, "which are a great way to interact and learn more about the products that you may have in your bar. Big events like city-wide Cocktail Weeks bring spirit-tasting and learning to a whole different level." Hands-on learning, she said, is "just fun, and never stagnant, which is pretty awesome."
Locally Sourced Smarts
"An educated bartender is a good bartender. And, no one forgets a good bartender. They will keep coming back to you," said Dale J. Venturini, President/CEO of the Rhode Island Hospitality Association. "An educated, charismatic bartender can speak volumes in the industry. We all know that a good bartender can make or break an evening. Good service is paramount in this industry and an educated bartender is a double-threat."
RIHA's RI Hospitality Education Foundation was founded in 1994 to develop, support and promote career-growth opportunities within the hospitality industry to benefit industry workers, establishments, organizations, customers and the economy. The programs include state-mandated training on food safety and alcohol service, as well as seminars on customer service, cost control, taxation, and general skills needed for advancement.
The ServSafe Alcohol Server Certification program includes the latest studies and science-based information, explores real-world situations, Venturini said. "Lessons cover information including alcohol laws and responsibilities, evaluating intoxication levels, dealing with difficult situations, and checking identification. The training meets RI Department of Behavioral Healthcare Developmental Disabilities and Hospital requirements for alcohol server training," she said.
From an employer's perspective, a bartender who has been certified through a course can be relied upon to manage possible risks, "as they can evaluate situations first-hand and handle that situation appropriately according to state or federal laws," Venturini said. "A successful bartender can whip up an amazing drink, but also be alert at all times to identify 'over-the-limit' customers, keeping you and your guests safe or identify under age customers."
Tying it Together
Martucci is currently studying for his USBG Master Accreditation, an internationally recognized three-tier education program: Spirits Professional, Advanced Bartender and Master Mixologist. Members can study at their own pace or along with a USBG chapter, for which there are USBG Board-approved multimedia courseware and educational resources. Each level of certification is earned by completing a written and/or practical exam.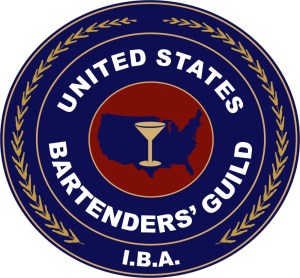 Established in 1948, the USBG bills itself as "the most skilled, knowledgeable, and professional association of bartenders in the industry, uniting dedicated professionals in service to the traditions of our trade." The guild's goal is to "empower bartenders to take charge of their careers" through peer-to-peer learning, expert instruction, service projects, and competition." White, a member of the USBG RI, said it's a "great way to find out about opportunities locally and nationally, which furthers your ability to pass on the knowledge to others."
Martucci is also getting his Cicerone accreditation. A Cicerone aims to be a beer expert the same way a sommelier is a wine expert. The online course and test covers knowledge in five areas: Beer Storage, Sales and Service; Beer Styles and Culture; Beer Tasting and Flavors; Brewing Ingredients and Processes; Pairing Beer with Food. He recommends World Class U.S., a yearlong cocktail education program presented by the USBG and sponsored by Diageo as another outlet for continued professional development.