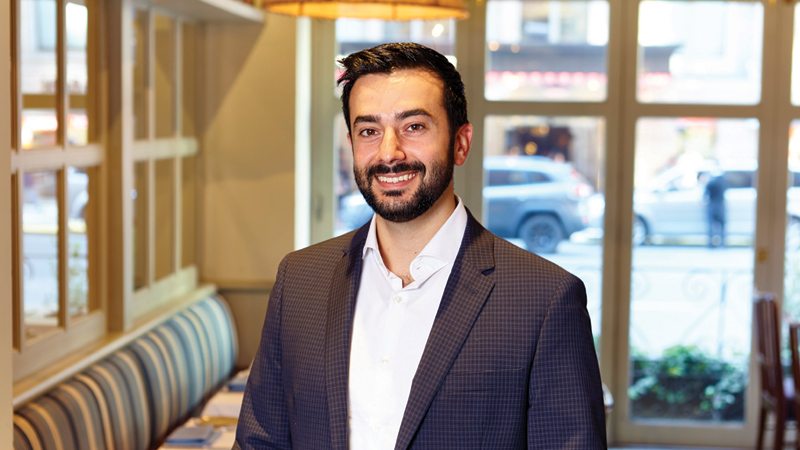 By Alia Akkam
Johnny Livanos is the General Manager overseeing the beverage program of Ousia, the new Mediterranean venture from Livanos Restaurant Group inside the New York residential building VIA 57 WEST.
Beverage Media Group: New Yorkers have long loved your family's restaurant, Molyvos. How will the soon-to-open Ousia be different?
Johnny Livanos: We like to think of Ousia as Molyvos' kid sister. Molyvos is recognized as one of the top destinations for traditional Greek food and boasts the largest selection of Greek wine in the U.S. Ousia will have a more contemporary approach—expect playful plating and presentation. At every establishment, Livanos Restaurant Group emphasizes using only the freshest seafood and local produce, so this will play a large part on the menu at Ousia as well. Our wine list highlights indigenous varietals and notable selections from Spain, Italy and France.
BMG: Ousia is a restaurant. Is one of the priorities of the drink program finding synergy with the kitchen?
JL: When I am building a cocktail, I always turn to food. For example, we have the Baklava Island that reflects both the current tiki craze and my love for the dessert. I looked to find the flavors that make baklava so delicious in items on our backbar. So, we use aged rum to provide a richness and molasses quality, allspice dram to add a layer of baking spice and walnut liqueur to give the drink a nutty element.
BMG: What are some other cocktails poised to be favorites?
JL: Athena the Wise is our Manhattan variation with bourbon, sweet vermouth and Rakomelo, a Greek spirit that blends honey, cinnamon and allspice. The Pomegranate Pisco Punch is fruity, savory and full of alliteration: Pisco, pineapple, pomegranate and pink peppercorn all shaken together and served up. Cardamom is widely used in Greek and Middle Eastern cuisine; our Ousia Mule includes cardamom-infused vodka, Aperol, lime juice and ginger beer.
BMG: When starting a restaurant from scratch, how do you ensure that your hospitality structure is solid from the get-go?
JL: The first step is hiring for personality. You can teach anyone how to serve, but it's harder to train someone to be nice and compassionate. Before we open, we will conduct about two weeks of in-depth training to make sure our staff is well educated on the food and beverage selections. In addition, we plan on bringing in industry experts—winemakers, brewmasters and distillers are the best at engaging staff. As much as you work to prepare for every scenario, a lot of the most rewarding training happens on the fly when dealing with real guests who have real needs.
BMG: Although diners are increasingly familiar with Greek products like Retsina and Mastika, how do you spark an educational conversation with guests?
JL: One of my favorite things to do is talk about booze, but not everybody out there who dines with us cares about, say, what type of still is used in the distillation process or what kind of soil a particular grape is grown on. The most important thing is being able to discuss the flavor profile of a drink and provide benchmark comparisons that help someone form an idea of what it may taste like. You never want to shove information down someone's throat when they are just trying to enjoy a nice meal, but if they are genuinely curious and have a lot of questions, I like to go all out. They are allowing me to geek out about beverage, so I will have some fun with it: give them a taste, show them the bottle, tell them a story.