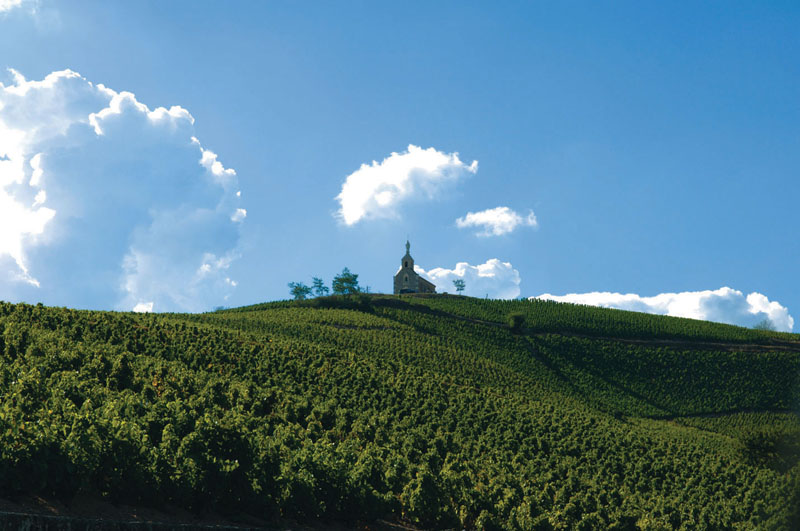 Classic French Gamay Gains Fresh Lift from Merchants and Somms
By David Lincoln Ross
Gimmicky from the get-go, Beaujolais Nouveau has been in steady decline. The fanfare-padded release of the first wine of the harvest (popularized in the 1970s) had a great run. And yes, as a fresh, fruity expression of the Gamay grape, it still deserves a place at the Thanksgiving table.
But there is so much more to Beaujolais. The region's distinct sub-regions, or crus, all produce Gamay-based reds of consistent quality. And their generously fruity yet smooth character is in fact resounding with the American public. The 10 crus of Beaujolais—Brouilly, Côte de Brouilly, Chiroubles, Chénas, Fleurie, Juliénas, Morgon, Moulin-à-Vent, Régnié and Saint-Amour—posted a robust 63% gain in the first six months of 2016 versus the same period in 2015, according to the French Agriculture Ministry.
That is some real momentum. The recent growth appears to be fomented in large part by trade enthusiasm at the point of sale. The wine simply has many advantages that make it easy to recommend, both on-and-off-premise.
Raj Vaidya, Wine Director, Restaurant Daniel, New York, says, "Beaujolais crus offer incredible bang for buck." Daniel's wine list features 13 crus, including a 2001 Domaine de Vissoux "Garants" Fleurie, for $95 and a 2009 Domaine Barbet Saint-Amour for $75. He adds, "Beaujolais crus also age better than many realize, which is why I love to list some older vintages."
"We've all seen what Burgundy pricing has been in the last three vintages, with shortages, so we've enhanced our cru Beaujolais selections," says Veronica Litton, Wine Director, Crown Wine & Liquors in Miami. "I am proud to say Crown features all 10 crus."
Terroir & Beyond
J.R. Thomason of Flatiron Wine & Spirits, New York, sums it up: "A Beaujolais Cru is cheaper than Burgundy, and at $20 you can have a terroir-driven Chenas or Saint-Amour."
Georges Duboeuf, founder of Les Vins de Georges Duboeuf, and renowned for promoting Beaujolais (Nouveau in particular) since the early 1960s, is seeing better opportunities than ever for crus in the U.S: "Our exports of crus Beaujolais are up this year, and our importer, distributors and customers are passing on the message of their incredible value in the world of wine."
Dennis Kreps, co-owner of Napa-based Quintessential Wines, importer of Duboeuf's portfolio, says, "One of the key points to effectively selling Georges Dubœuf's Cru Domaine and Château wines is location. The wines represent the nuances of 'place' just as much as Côte de Beaune and Côte de Nuits, at very approachable prices."
Gamay's intrinsic food friendliness also presents opportunity. In texture and flavor, it offers natural appeal for Pinot Noir, Merlot and even red blends drinkers. Beaujolais also has an affinity with Côtes-du-Rhône, another bistro-approved French regional favorite.
Anthony Cohen, Brand Manager, French & European Estates, Frederick Wildman and Sons, New York, importer of three producers of Beaujolais, including Château Fuissé, Domaine Labruyère and Stéphane Aviron, asserts, "Beaujolais is Lyon," referring to the food capital of France, where a roast chicken, pommes frites and a Beaujolais are revered as a gastronomic holy trinity. He adds, "Crus are food friendly, fruity, not overpowering, yet complex."
Trey Beffa, co-owner of K&L Wine Merchants, with three stores in San Francisco, sees yet another attraction: "Younger winemakers in Beaujolais are pursuing sustainable farming and introducing natural or organic, and/or bio-dynamic wines; this is stimulating our customers to try these new cru wines."
Surprising value. Authentic terroir. Excellent table manners. Even earth-friendly practices. Beaujolais has a lot going for it. Nouveau fading toward nostalgia has opened the door for greater focus in the trade on cru offerings, notes Pascal F. Salvadori, Vice President, Senior Portfolio Manager & Director of Education, Esprit du Vin (Palm Bay International), which represents Château de La Chaize from Brouilly.
Jules Dressner, co-owner of New York-based Louis/Dressner, importer of seven cru Beaujolais producers, summarizes: "Beaujolais is fun and affordable, and people finally figured this out. But they can also be complex and terroir-centric, so you can 'geek out' to them. It's the best of both worlds."