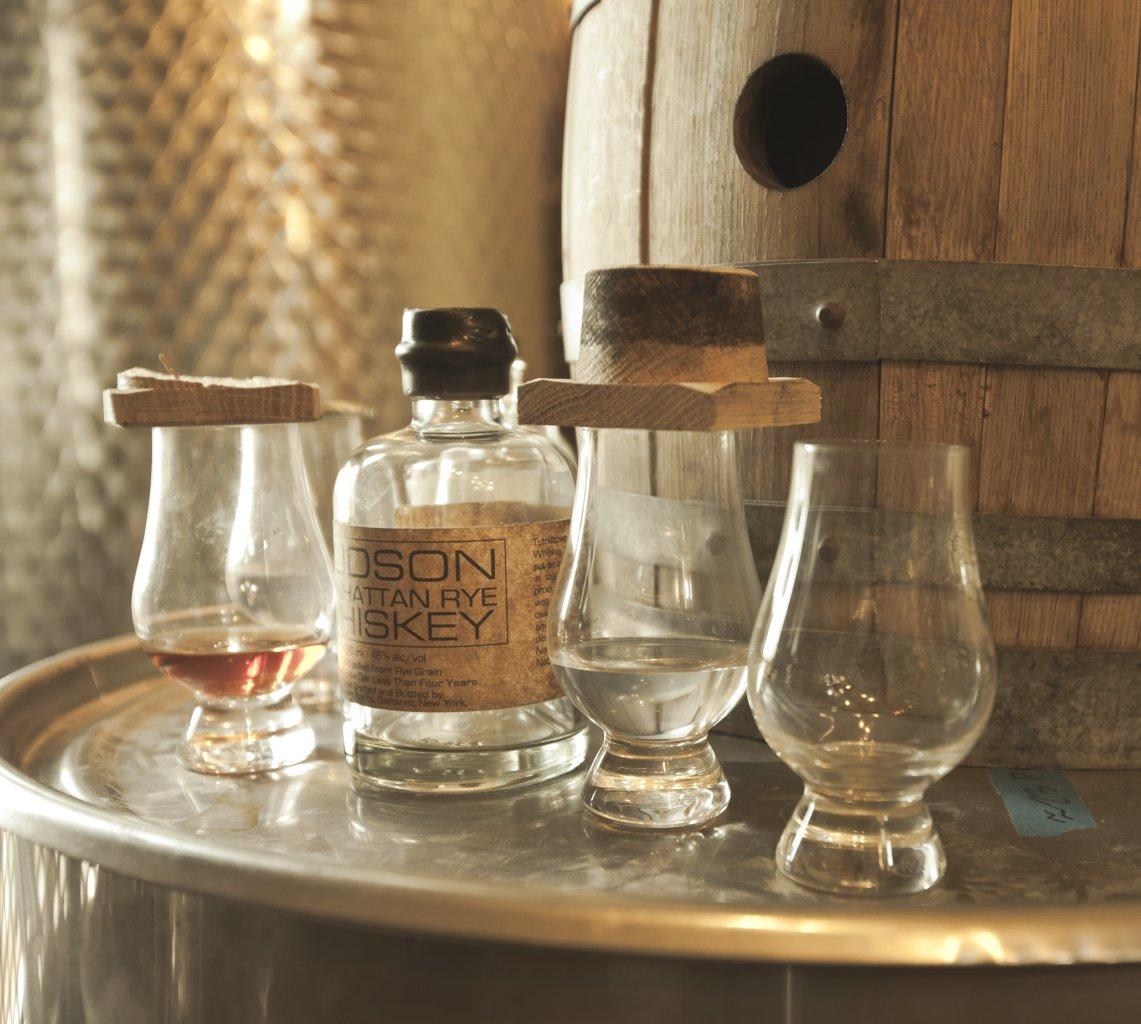 More bars and restaurants making their own
by Lauren Daley
At Max Fish, a seafood restaurant in Glastonbury, you can get one helluva great Negroni. The secret? The cocktail has been aged for months in a used, white oak whiskey cask from Tuthilltown Distillery in New York. The three-gallon barrel, which once held Hudson Whiskey, breathes and oxidizes the spirits, mellowing the flavor of the cocktail and marrying the flavors. The spirits pull sugar, sap and flavor from the wood and the whiskey as they marinate.
Served on a serving dish in a tulip glass, with ice on the side, orange zest, and a stirrer, the drink looks hip and tastes "like a Negroni— rich and complex with a bitter finish— but like it's found some sort of alternate medium in the barrel. Not to sound corny, but it's more harmonious. It's not three distinct spirits, but the sum of its parts," said bar manager David Bouchard.
Bouchard's not the first bartender to come up with barrel-aged cocktails, and they're not the first to use Tuthilltown's barrels, either. The idea of aging cocktails has been around forever in Europe— but it's a recent trend this side of the pond. This is the story how it ended up in Connecticut.
Ask about barrel-aged cocktails and you'll hear: "It all started with Jeffrey Morgenthaler." Morgenthaler is a bartender and mixologist from Portland, Ore. with a widely-read blog about bartending that's been gaining in popularity since 2004. In 2009, Morgenthaler went to London, where he noticed Brit barkeepers aging their own cocktails in glasses behind the bar.
When Morgenthaler came back, he took the idea and ran with it American style—using charred wood barrels that had been used to distill whiskey. The result was a mixed drink that didn't taste mixed at all, but like a brand new spirit—the marriage of different ingredients, along with the sugars, smoke and flavors from the wood. In 2010, Morgenthaler blogged that he had "procured a small number of used whiskey casks from the Tuthilltown distillery and proceeded to fill them with a large batch of Negronis"—equal parts gin, Campari and sweet vermouth.
After six weeks in the bourbon barrel, "our Negroni emerged a rare beauty. The sweet vermouth so slightly oxidized, the color paler and rosier than the original, the mid-palate softly mingled with whiskey, the finish long and lingering with oak tannins. We knew we were on to something unique and immediately made plans to take the cask aging program to the next level." The drink tasted like a "soft blend of oak, wine, caramel and char" and sold out in a matter of days, Morgenthaler reported. Soon The New York Times and The Wall Street Journal wrote stories about Morgenthaler and his barrel-aged cocktails and the trend blew up: Bars and restaurants all over the U.S. began hunting for tiny whiskey barrels in which they could age their own cocktails.
Many of them wanted the exact barrels that Morgenthaler used, and contacted Tuthilltown Distillery, a small operation in upstate New York, that makes Hudson Whiskey. The law of what makes a bourbon a bourbon, is that it must be made in a virgin barrel. Once it's used, distilleries try and sell the barrels to Scotland for whiskey or Mexico for tequila. But not many Scots want a three-gallon barrel, Erenzo said.
"Once Morgenthaler blogged about it, everyone wanted our barrels. We went from having trailers filled with used barrels that we couldn't sell to having a waiting list at least three-months long," said Gable Erenzo, Hudson Whiskey Ambassador.
Tuthilltown uses small barrels— 3 to 15-gallon barrels made of charred white oak that they buy from a tiny cooperage in Minnesota called Black Swan. The small size makes them extra desirable to an experimenting bartender who doesn't want to waste $3,000 worth of alcohol. Erenzo said the guys at Tuthilltown have started making their own aged cocktails "just for fun. The flavors that come out of the barrel are just so rich— vanilla, maple, cinnamon, clove. Everyone just blown away when they taste it. I have a White Manhattan going now; I also did really cool Tequila. We did a Negroni that came out fantastic."
Hudson Whiskey's distributor is Brescome Barton in Connecticut. One day while dropping off a delivery, David Rudman mentioned the Hudson barrel trend to Bouchard, the bar manager at Max Fish, who immediately wanted to give it a go. "A lot of bars in Boston and New York City are aging cocktails, but Connecticut is a little behind," Rudman said. "I mentioned it to (Bouchard) because I think Max Fish's bar is the forefront of cool."
"If you're a real geek about spirits and cocktails, like I am, it really hits your curiously to think about what types of changes are going to happen to a cocktail when it sits in a barrel for six months," Rudman said. "It picks up the flavor of the barrel. The bourbon casks have heavy char, and it picks up that smoky wood flavor… Normally, when you have a Negroni, you can taste each element—but a barrel-aged Negroni tastes like one brand new seamless spirit. You can't tell where one spirit starts and one ends; it's pretty cool."