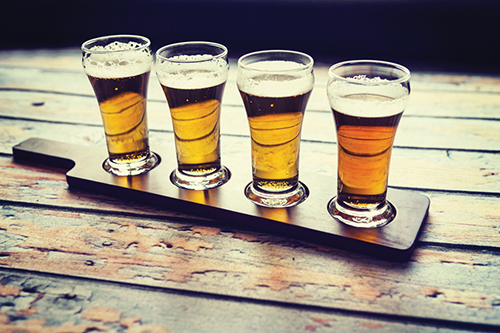 By Jack Kenny
A few years ago, I came across a list of beer blogs. There were 850 of them. Today there might be more, but it's hard to tell because who has time to visit them all? One is called Girl Likes Beer, a blog from Poland, but it hasn't had a new post since 2010. Others are updated daily.
Some blogs offer thoughtful treatises; others are short and punchy. Quite a few are dedicated to daily publication of beer industry news, while others focus on new beer releases and reviews. Some bloggers are terrific writers; others are … enthusiastic. Many blogs focus on a state or a region. The beer blogosphere abounds with the unusual, such as Insurance Guy Beer Blog, by a self-described beer geek and insurance nerd.
Do you want to learn more about sour beer? Not only will a search engine steer you to numerous educational articles, it will also introduce you to sourbeerblog.com, written by the self-styled Dr. Lambic. Gotbeer.com and newschoolbeer.com can teach you about New England-style IPAs, one of the latest craft beer crazes.
Most beer blogs from the U.S., it's fair to say, are about craft beer, every conceivable angle that involves craft beer. But still you can read about mainstream beer from other perspectives: millercoorsblog.com, for example, is well written and has a good variety of articles. It even published a story about AB-Inbev's recent acquisition of Wicked Weed Brewing in North Carolina.
Following is a list of beer blogs that I and many other beer aficionados enjoy for the news and education they provide.
BeerPulse (beerpulse.com) – A trusted source of news and information about beer, breweries and the beer industry. News shows up on BeerPulse with extraordinary speed, anywhere from once or twice up to a dozen or more times a day. The nine-year-old blog claims to be the No. 1 news outlet for the industry.
Brewbound (brewbound.com) – A solid source of beer news. The site provides feature-length articles as well as news, and covers industry events such as the Craft Brewers Conference, the NBWA convention and the Great American Beer Festival. It also produces live conferences around the country with prominent figures in the brewing business.
Beervana (beervanablog.com) – Here is a well written and thoughtful blog that features research, analysis and opinion, often on topics that are not everyday subjects in the beer world. Jeff Alworth is the author of two books about beer and one on cider, a weekly columnist for All About Beer, and a co-host of the Beervana Podcast. Highly recommended.
Draft (draftmag.com) – News, features, and beer reviews from experienced tasters. Here's an example of smart journalism, published on May 4: "What it's like to work for a brewery that 'sold out': An insider's perspective on the good, the bad, and what the rest of the industry gets wrong about working for an AB InBev-owned brewery." I haven't read a piece like this anywhere else.
Brookston Beer Bulletin (brookstonbeerbulletin.com) – Jay Brooks publishes an unusual collection of beer analysis, opinion and historical pieces. Themes include art and beer and beer birthdays – fascinating histories of personages in beer's storied past.
The Beeroness (thebeeroness.com) – Jackie Dodd knows how to cook with beer, and shares her talents with weekly frequency. The latest recipes include Beer and Bacon Biscuits, BBQ Beer TexMex Chicken Sliders, and IPA Pickled Jalapeños. Yum.
This Is Why I'm Drunk (thisiswhyimdrunk.blog) – The name might be in questionable taste, but the content of this blog is worthy of attention. Bryan Roth is the award-winning author who takes an academic approach to the subject of beer, and tosses in a fair dose of history and culture.
Oh Beautiful Beer (ohbeautifulbeer.com) – If you appreciate packaging art and design, especially labels, this is the blog for you.
Beer Alien (beeralien.com) – This blog has an entertaining collection of beer info and reports, including reviews, food, lifestyle articles, news and events, and a section titled "Behind the Bar," one of the few blogs that pays tribute to the folks who serve great beer on-premise.
Pints & Panels (pintsandpanels.com) – A Connecticut woman named Em showcases her talent as a cartoonist as she reviews beers of all kinds. This blog is a welcome departure from the usual.
And then there are columns, like mine. Explore with me monthly.
Jack Kenny has been writing The Beer Column for The Connecticut Beverage Journal since 1995. Write to him: thebeercolumn@gmail.com.