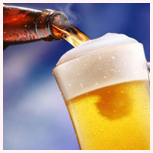 June 2012
By Jack Kenny
Imagine going to a casual bar and grille with some teammates after a softball game. A nice cold beer is high on everyone's list of things to do right away, followed by some burgers, wings, fries, rings, pizza, and a blooming onion or two. You tell the host that you reserved a table, and he takes you to large U-shaped booth against the wall. In the center of the table are two beer taps, one with Bud Light, the other with Samuel Adams Boston Lager. Twelve-ounce glasses are provided for you and your friends, and you start to pour.
OK, this has to be science fiction, or maybe just fantasy. Where on earth can you get a table in a restaurant with your own beer tap? Guess again. You can go to Stats in Atlanta, Bull & Bear in Chicago, and Park Avenue Tavern in New York City and sit down at a booth outfitted with beer taps. Inconceivable, you say. How on earth would any liquor control authority with its built-in penchant for over-regulation ever allow such a thing?
Simple. We're not talking about unsupervised frat parties here. This is about sophisticated electronics that allow adults to enjoy their preferred beers at their own pace, purchased by the ounce, in a place where the staff can easily monitor consumption. Reports from the field indicate that guests like it and spend more time at the tables rather than hop to another bar, which translates into higher beer tabs. The hardware and software for this fascinating approach to on-premise beer consumption is brought to you by Jeff Libby, proprietor of TableTap LLC. Libby saw the process in action during a visit to South America, and on his return took the necessary steps to secure US patents for the TableTender systems. A Georgia resident, he then went to that state's beverage officials and pitched it as a good way to monitor alcohol consumption. They liked it, and gave him the green light. His first sale was to Stats, a sports bar right by the Georgia Dome, and soon had approval from California and North and South Carolina.
How does it work?
First, the server checks IDs. Then she waves an RFID (radio frequency identification) tag over the taps to turn them on. The guests now may pour. At Stats, the taps are regulated to shut off automatically when 180 ounces of beer (about three pitchers) has been dispensed. The server will then visit the table to judge whether the patrons can have more. If so, another 180 ounces is made available. Large parties will consume the beer more quickly, meaning the server will be stopping by more often. Still, it's far better than having to wait in a busy venue to order more pitchers.
Beer is sold by the ounce. Stats puts a price of 25 cents on each ounce, meaning that a full pint would cost $4. At Bull & Bear in Chicago, Bud Light is a quarter, and an import is 30 cents. At that bar, each patron can consume up to 24 ounces, after which the server must return to determine if another allotment is warranted.
Ounces are measured by sensors in the taps during the pour, and the data appears on a small screen embedded into the table: ounces consumed, ounces remaining. This way, guests can track their own consumption. At the end, customers pay only for the beer that they have consumed. The personal beer tap offers an advantage to the consumer that I find appealing. My wife enjoys a beer from time to time, but expecting her to drink a full pint is asking too much. Quite often she's satisfied with anywhere between six and 10 ounces. I, on the other hand, have a greater capacity. The personal beer tap could satisfy each of our desires.
The TableTap system appears to be best for people who enjoy drinking mass market beers, and would stick to one brand during a visit. When I go to a restaurant that offers a wide selection of craft beers, I will most often not order a repeat brand unless I am enamoured of the brew. If the place has a minimal selection, then I would stick with one, most likely.
Would the types of beers that I prefer be available on tap at the tables? I don't know. I have yet to visit an establishment with personal beer taps, but when I do I'll certainly let you know.
86 Percent!
The Brewers Association reports record exports of American craft beer in 2011. American craft breweries exported more than 110,000 barrels of beer in 2011, valued at about $23.4 million – an increase of 86% by volume and 97% by dollars over 2010. Shipments to Canada, the largest export market, rose 127% by volume. The UK and Sweden are the next two largest markets. Shipments to Western Europe increased by 52 percent in 2011 and now surpass 51,613 barrels.
Please note: The Beer Column has a new email address. Your thoughts are always welcome.