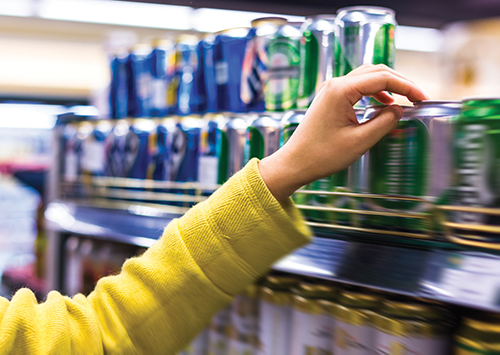 By Jack Kenny
Beer chatter, always humming along nicely, has risen a few decibels in recent weeks. Some of the noise is about large brewers buying smaller ones – or smaller ones selling their businesses to industry giants, depending how you look at it. But the more recent news of a somewhat strong drop in beer sales has ratcheted up the volume quite a bit.
In late May, the Beer Institute published its estimate of domestic tax-paid shipments by brewers for April 2017. The number is 4.1% lower than it was a year earlier. That's significant, but it's only part of the story. Beer shipments in March were down 2.8%, and in February they were 9.5% lower than the number for February 2016. January's amount was up 2%, so the year-to-date average is down 3.6%. The February-to-April average, however, is -5.4%. That's rather large.
The majority of the Beer Institute's members are large commercial brewers, though a handful of craft brewers belong (the institute does not publish its membership list). The trade group's monthly estimates include beer shipments from all brewers in all U.S. states, so it's not possible to separate craft beer – whose numbers are still rising, albeit much less than last year.
The Brewers Association (BA), a trade group composed of U.S. craft brewers, says that the industry segment's beer volume grew 6.2% in 2016 (while beer overall remained flat), which is a substantial drop from 2015's 13% and 2014's 18%. The association says that one major cause is the increasing acquisitions of craft producers by large brewers.
Why should that affect the measured volume of craft beer? Because when a large brewer buys a craft brewer, the BA removes that smaller brewer's name and data from the list of craft beer producers. Hence, a decline. Bart Watson, the BA's chief economist, explains further: "Our market share numbers will also differ slightly from other sources since we make an effort to only count the beer market (excluding other products taxed as beer such as flavored malt beverages, and other non-beer products like cider that some analysts include)."
It's too soon to know the reason(s) for the notable decline in beer production so far this year. But big beer has been seeing a steady drop in consumption for more than five years. In 2015, Fortune magazine said that domestic sales of Budweiser had dropped 28% since 2010, and that Bud Light slowed by 10%. Other commercial lagers have experienced the same.
Societal changes are having their effects. Those in the 50-and-higher age group still prefer the mass market lagers in large numbers, but below that half-century point a significant change is taking place. Younger consumers are looking for other, newer, hipper beverage experiences, be they spirits and cocktails, wines, or alternative drinks. You know them: the millennials. Damn kids with minds of their own.
In 2015, Forbes made this observation: "While 71% of the 18-29 year-old population chose beer as their favorite alcoholic drink 20 years ago, in 2013, only 41% made the same choice. Out of all adults, only 36% chose beer. However, last year these numbers improved somewhat, as 48% of the younger group and 41% of the total group chose beer." And this year?
Consumption of beer on-premise declined during the recession, and in many parts of the nation the numbers have not quite returned to or surpassed pre-recession attendance figures. Are folks buying more of their beer off-premise and consuming it at home or with friends at private gatherings? Off-premise beer numbers are not exactly going wild, so that speculation can be questioned.
The beer business might want to keep an eye on marijuana. Quartz Media wrote in March: "More than a quarter of American beer drinkers has switched to marijuana, or would switch if it was legally accessible, a new report finds. According to the Cannabiz Consumer Group (C2G), 27% of 40,000 people surveyed last year said that cannabis already does replace beer in their lives or could if the former were legalized."
That sounds a bit aggressive. A few weeks ago I spoke with a Colorado package store owner about this specific topic. He chuckled and said he has seen no impact whatsoever of legal cannabis on his business.
Jack Kenny has been writing The Beer Column for The Connecticut Beverage Journal since 1995. Write to him: thebeercolumn@gmail.com.