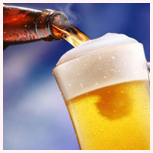 May 2012
By Jack Kenny
A few weeks ago I purchased a single 12-ounce bottle of Hoptimum, a beer recently introduced by Sierra Nevada Brewing out in California. The beer is described on the label as a "whole cone imperial IPA." Printed at the bottom are these words: "The Ultimate Whole Cone Hop Experience." Let's explore some of these terms and the beer behind the label. Basic beer uses hops twice in the brewing process: first for bittering, second for aroma. That's the traditional modern method. Over the 30 years since the craft beer movement started, brewers armed with new ideas and technologies have been experimenting with every aspect of brewing, and that includes taking hops to the farthest edge of … what? The taste experience? I suppose.
The fascination with hops in our country has given rise to new beer styles, such as American IPA and Imperial IPA. The former are hoppy; the latter are profoundly hoppy and quite strong. They have their champions and their detractors among beer critics. I like them, up to a point. Here's how the Sierra Nevada folks describe Hoptimum: "A group of hop-heads and publicans challenegd our Beer Camp brewers to push the extremes of whole-cone hop brewing. The result is this: a 100 IBU, whole-cone hurricane of flavor. Simply put – Hoptimum is the biggest whole-cone IPA we have ever produced. Aggressively hopped, dry-hopped and torpedoed with our exclusive new hop varieties for ultra-intense flavors and aromas."
The above-mentioned torpedo, by the way, is a device created by Sierra Nevada to increase hop flavor and aroma without adding bitterness. It's a stainless steel tube containing a quantity of whole-cone (as opposed to pelletized) hops through which fermenting beer is pushed. The company's Torpedo Extra IPA is named for the device. The beer is strong: 10.4% alcohol by volume. To make a beer as hoppy as this one, a great amount of barley malt is used. The malt is what ferments, resulting in carbon dioxide and alcohol. So, more of one, more of the other. Hoptimum boasts a hop level of 100 IBUs. That stands for International Bittering Units. For a beer, that is an extremely high number. For comparison, consider these styles and their customary range of bittering units: Light American Lager (think Bud Lite), 8-12 IBUs; Premium American Lager, 15-25; German Pilsner, 25-45; Dry Stout, 30-45; English IPA, 40-60; American IPA, 40-70. Imperial IPA ranges from 60 to 120 IBUs. Back in the 1990s it wasn't possible to find a beer over 65 IBUs. Look at us now. Hoptimum is brewed using four grains: Two-row Pale, Golden Promise and Munich barley, and wheat. Hops are introduced in four stages: Bittering hops are German Magnum; Simcoe and a "new proprietary variety" are used as aroma hops, and also for dry hopping; in the torpedo are Chinook and Citra, a recently developed hop strain.
Online reviews of this beer are mostly positive: – "Overall this beer is a good representation of its style. Packs a nice punch of bitterness and refreshing citrus. For over 10%, the alcohol is definitely apparent, which would probably be the beer's biggest detractor." – "A nice sipper, but the alcohol is noticeable along with the strong bitterness. One is enjoyable, but enough for one sitting. This is a nice double IPA, but a bit simplistic." – "A must for hop-heads." Not everyone liked it: "This beer is exhibit A of an overboard array of hop flavors. Upon first sip there is pleasant burst of hops with a citrus note. It follows up with an overpowering grassy flavor I thought was just down right unpleasant. I feel like the beer was dry hopped with lawn trimmings!"
What's my take? I like it, very much, with a couple of asterisks.
* The retailer who sold the beer to me said that if I drink a few ounces of it, and then try a different kind of beer, I would not be able to taste the second beer until it was half gone. Boy was he right. Hoptimum has an intense and powerful hop presence, more like a wallop than a signature. Citrus, a bit of candy sweetness, and yes, a hint of grass, which I find to be pleasant, and arugula. The after-taste, though, is strong and long-lasting. Hop oils can numb the palate for a while, reinforcing the retailer's prediction. Still, a fascinating experience.
* Hoptimum is a sipper. An alcohol level of 10.4% is nothing to blink at, and though I did not sense the presence of the alcohol as much as some did, I find it prudent to treat all strong beers with care. Here is the best thing to do with Hoptimum: Cook with it. I put 5 ounces into a Polish sausage stew, and I tasted a symphony that night. My next bottle is going into a pot of chili.