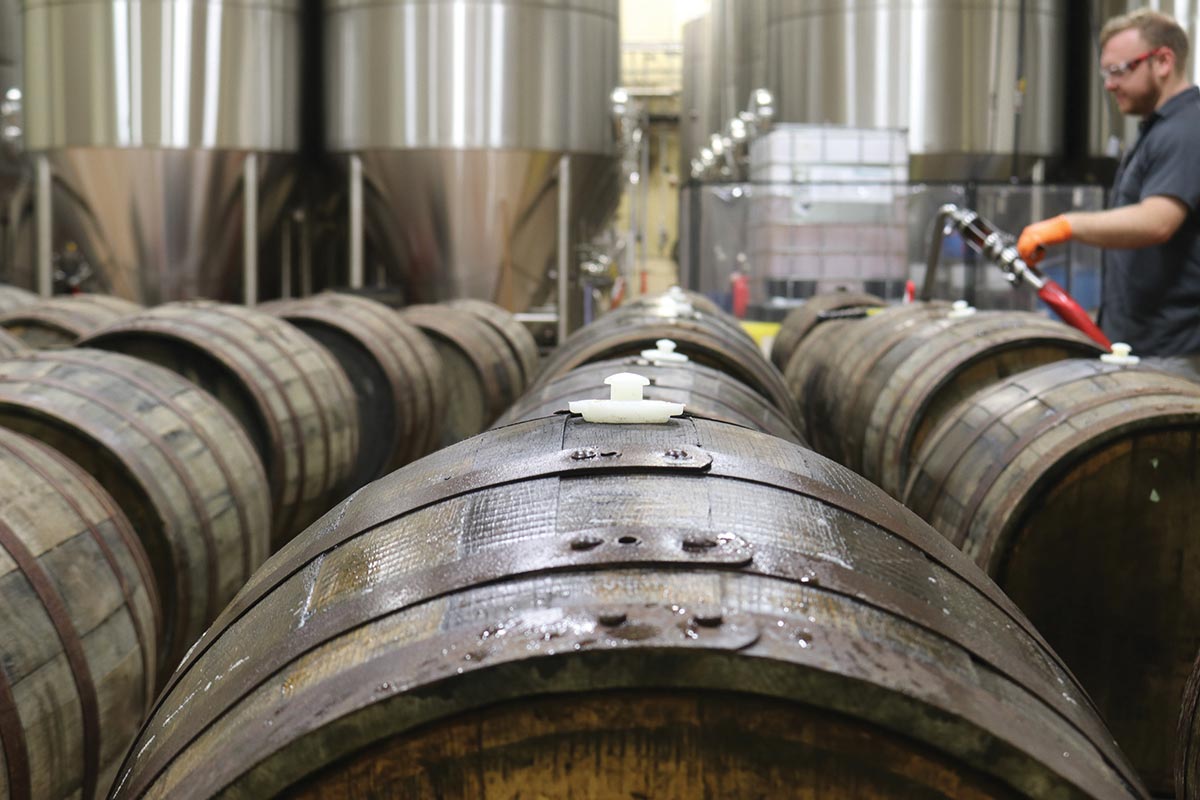 By Jack Kenny
For centuries, beer spent its entire life in wood. It was brewed in wood, fermented in wood and aged in wood. It traveled in wood barrels to the public house, where it lived its last precious minutes, sometimes seconds, in a wooden drinking vessel.
Just as wood supplanted pottery as the original beer containers, metal came along to replace wood as the Industrial Age cranked up in the 19th century; within 100 years it was well along toward retirement. The lifespan of metal is much longer and it is easier to maintain. Most important to brewers is that it allows them to maintain consistency in beer flavor, aroma, body and all other qualities, batch after batch. The consistency of beer aged in wood is not as predictable.
A few decades ago, barrel-aged beer emerged out of hibernation when craft beer surged. Today, it's an active, albeit small, part of today's beer industry.
Wood is full of microbes that do things to the character of the beer. All living things, for that matter, are hosts to dizzying numbers of microbial species. Many are necessary, some are desirable and some are not, and the rest are just along for the ride. Brewers have learned over time how to neutralize many of the bad ones and to stimulate the good.
But this is not the whole story. Chemicals of various types abound in wood, and a barrel made of ash, cedar, oak or chestnut will impart its own stuff into the mix. In the past, wood flavor was not always appreciated and brewers would treat barrels with compounds like hydrochloric acid to remove it and pitch to cover it up.
Repeated use of the barrel means that wood's contributions will diminish quickly. Add to that the fact that wood is porous and difficult to clean (disinfect your cutting boards, people!) and can become a flophouse for the kinds of microbes that bring about infections. To offset this, brewers can raise the hop content and the alcohol volume, and they recommend that the contents be consumed as rapidly as possible.
Wood barrels move around the beverage-alcohol landscape. Barrels made from new oak cannot be reused, so those are sold to producers of Scotch and other distilled spirits and to the makers of sherry and other fortified wines. Single-malt and high-end blended Scotches use only sherry and bourbon casks for aging. Some sherry and other wine casks are used today with brewers of small-batch beers who are in constant pursuit of beers that raise the bar. Today's demand for wood casks is through the roof, as are the prices.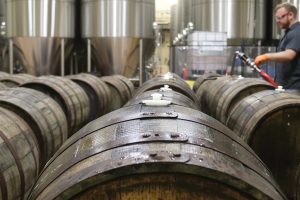 Bourbon casks are notable for contributing layered character components to beer. U.S. law requires that bourbon and Tennessee whiskeys be aged in charred new oak barrels. At the cooperage, the interior of the new oak barrel is first toasted to caramelize the sugars in the wood, then the surface of the inside is charred to provide a filter for harsh and other unwanted aspects of the liquid content.
When such a barrel is reused by a brewer, the beer gets the benefits offered by the wood, the toasting, the char and the whiskey that grew up in it. That's a far cry from aging in a metal tank.
Barrel-conditioned beer, a much different creature from the aging version, is hard to come by. It's placed into the barrel while it's still fermenting and cannot be kept long past its ready-to-drink date. For that reason, it is always an on-premise offering at select locations because there's so little of it and it's expensive. And there are lines of thirsty beer lovers.
In our neighborhood, barrel-aged beer has a welcome presence. A few examples, noting the spirits barrel's previous spirits content:
• Irish Rhode Imperial Irish Red Ale (Jameson Whiskey), Foolproof Brewing Company, Pawtucket, RI: 7.5% ABV
• Infringement Russian Imperial Stout (Thomas Tew Rum), Newport Craft Brewing & Distilling Co., Newport, RI: 10% ABV
• Bravo Tango Imperial Stout (Bourbon), Connecticut Valley Brewing Company, South Windsor, CT: 11% ABV
• Tempus Old World Sour, OEC – Ordinem Ecentrici Coctores Brewing, Oxford, CT: 5.9% ABV. Different blends are brewed periodically. The most recent, Blend 13, contains young Tempus aged in oak for six months, one-year-old lambic-style ale and four-year-old saison from red and white wine barrels.