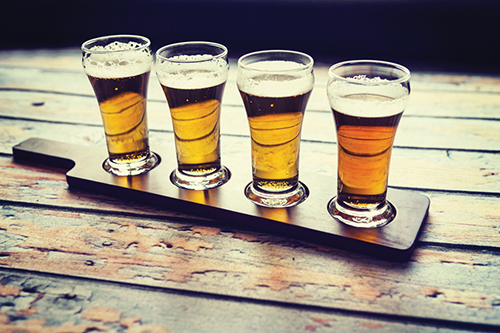 By Jack Kenny
Schöfferhofer started it. The German brewer introduced its Grapefruit Hefeweizen a couple of years ago, a delicious, refreshing and perfectly balanced warm-weather ale that clocks in at 2.5 percent ABV. This was at a time when attempts were under way to revive Germany's radler style, low strength beverages that blended lager and lemon or other fruit flavors.
Grapefruit has turned out to be a hit – the flavor du jour. After Schöfferhofer, Harpoon jumped in with a stronger wheat version, and it wasn't long before the experiment turned into a trend. Not long ago, Ballast Point from San Diego combined its powerful and sought-after Sculpin IPA with grapefruit (and also with habanero peppers), and the brew has become a shelf and tap favorite. Sam Adams has weighed in most recently with Rebel Grapefruit IPA.
Shandy fever started around the same time. Today a couple of shandy brands dominate; Leinenkugel at the top of the heap, the beneficiary of strong marketing and advertising as a member of the Miller family of beers. Thanks to seasonal creep, the Leinie Summer Shandy hit the shelves at the end of February this year, just in time for the hot weather.
Grapefruit and lemon aren't the only fruits showing up in beer cans, bottles and taps. You can also find mango, pineapple, watermelon, peach, blood orange and apple in beer these days. Judging by the way this trend is going, we should probably brace for more.
A few weeks back I had dinner at a popular beer mecca in southwestern Connecticut. I was a bit disappointed to learn that most of the draft IPAs were of that piney, citrusy style that has everyone but me salivating (I like my hops on the earthy side). For dessert I wanted a stout or porter, and the menu featured eight of them. Aside from Guinness, which is available most anywhere, the selections contained one or more of the following: coffee, espresso, coconut, chocolate, vanilla and cinnamon. Two were bourbon barrel aged and one of those was smoked. Whatever happened, I wondered, to just stout and porter? There are several classic styles of these, but all I saw were the additives that brewers must feel are necessary to sell products these days.
Questions arise: Are fruits, coffees and other plant flavors being actively sought by beer drinkers? Are tastes being steered away from the classics? Are brewers running out of inspiration for beer made with the four basic ingredients, and therefore are looking for new things to brew? Do brewers feel that it is necessary to play follow the leader? One brewer's rep answered that question clearly without mincing words: "Everyone's doing it."
The answers are probably yes and no. Innovation is beautiful, and if it keeps the industry going, I'm all for it. But it's OK to wonder about this fruity/coffee thing, and how long it's going to last before the next trend kicks in. One thing is certain: Brewers are aware of something that appears to be unavoidable today, and that is the impact of the Millennials.
The people who go for the grapefruit and blood orange beers, the bourbon and the espresso beers, are the youngish ones. They are known in marketing circles as the Millennials, those who were born roughly between 1980 and 2000. They number 68 million in this country, and though most of them have low earnings, they are said to have the highest spending power of any generation due to size. They're the most highly educated of any generation, raised on the internet, and they pay attention to food and drink. They are demanding and they want new experiences.
As for adult beverages, they know more than any previous generation. They approach wine at an earlier age than their elders did. Besides their favorite vodkas, they like whiskey, tequila and rum. They are behind the current forward motion of craft beer and cider. They want bartenders and retail sales people to speak directly to their desires for good quality, variety and innovation. While many of them haven't yet discovered life beyond plain commercial lager, their peers are doing so and social influence in their circles is greater than anything us older folks have ever known.
Frustrating as it might be from a retail beverage perspective, it helps to encourage these zany trends. Today's kids will take over the world soon, and as Bob Dylan said, "Your old road is rapidly aging – Please get out of the new one if you can't lend a hand." The Grapefruit Sculpin is actually quite good.
Jack Kenny has been writing The Beer Column for The Beverage Journal since 1995. Write to him at thebeercolumn@gmail.com.