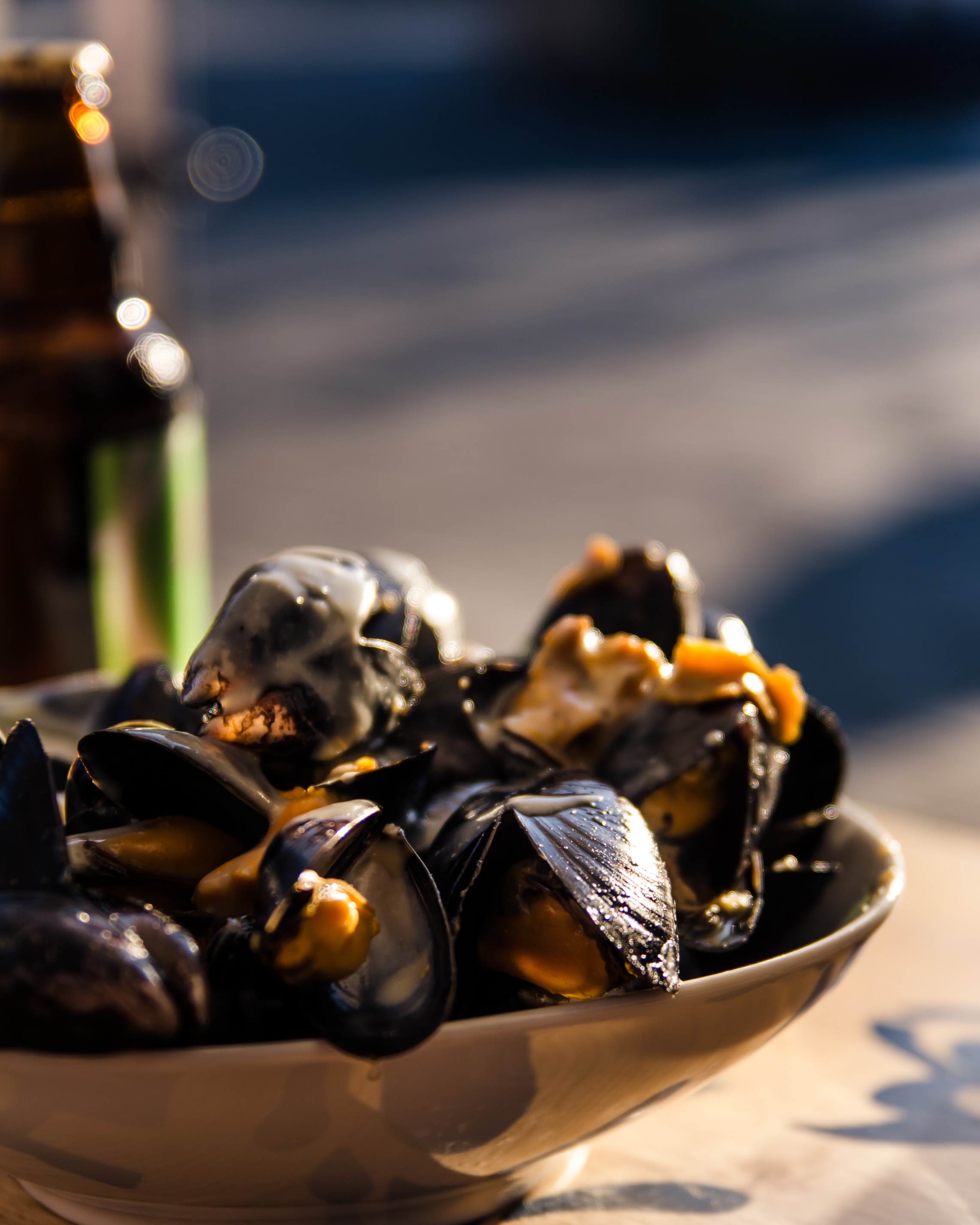 Strange Brews: Pushing the Boundaries of Ingredients
By Jack Kenny
When it comes to creating beers, brewers certainly have a lot of fun. Flavored beers are now common, as witnessed by the plethora of lemonades, pumpkins, berries and other fruits, nuts, spices and herbs that end up in our brew. Many smaller brewers strive for the uncommon, employing whatever unusual organic components they can come up with to enhance an already successful recipe.
Like meat. Meat? Oh sure. Like oysters. Some stouts have been brewed with whole oysters for well over a century. Brewers discovered that crushed oyster shells were good fining agents, added to beer to remove some organic ingredients to improve clarity, flavor and aroma. Eventually, so the story goes, the whole oyster found its way into the vat. Oysters aren't really big on flavor, so they don't seem to contribute much to the flavor of the brew, but they add a great deal of caché, especially in regions where oysters are plentiful. One example available in our region is Flying Dog Pearl Necklace Oyster Stout.
Wynkoop Brewing, in Denver, brews Rocky Mountain Oyster Stout. Those unfamiliar with Rocky Mountain Oysters should know that they are not shellfish. They grow two at a time under a bull. Each 8-barrel batch of the stout is made with 25 pounds of sliced and roasted bull testicles. Reviewers generally like the beer and rate it favorably, though noting that the "oysters" don't seem to show up in the flavor.
Up at the Redhook brewery in New Hampshire last year, they brewed a batch of beer with Atlantic lobsters. Brewer Billy Smith said that 60 lobsters went into the boil for the final 10 minutes. What happened next? "We ate them," he said.
Folks are putting bacon flavor in quite a few comestibles today, vodka and beer among them. People are not exactly lining up to buy these, though they do have their fans. The first of Rogue's Voodoo series of beers – those in the candy pink bombers paying tribute to Portland, Oregon's Voodoo Doughnut business – was Bacon Maple Ale, made with applewood smoked bacon and maple syrup. I have met only two people who liked it. Some of those who felt otherwise said it resembled liquid smoke, which is not a beverage.
Dogfish Head, based in Delaware, is arguably one of the most unusual brewers around. Founder Sam Calagione and his team have made it their mission to brew beers that most folks would not even think could be created. Some of these fall into the category of gimmick beers, in my opinion, but others are beautiful. Here is what the brewer says about Sah'tea: "The wort for Sah'tea is caramelized over white-hot river rocks, and the beer is fermented with a German weizen yeast. In addition to juniper berries foraged from the Finnish countryside, Sah'tea is flavored with black tea." Sounds odd, tastes delicious. The abv is 9% and the IBUs are 6.
The Dogfish Head people went back in time a few years ago and came up with Etrusca. Calagione went to Italy with a molecular archaeologist and teamed up with some Italian brewers to analyze drinking vessels found in 2,800 Etruscan tombs. The beer is brewed with barley, wheat, hazelnut flour, pomegranates, chestnut, clover and wildflower honeys, hops, gentian root and Ethiopian myrrh resin.
Other research in Italy, with assistance by Dogfish Head, led to the creation of Birra Calabrona at Eataly in New York City. The wheat beer is made with pomegranate molasses and myrrh resin, hops, water and yeast. But not just any yeast, no. The yeast comes from the belly of a hornet that lived in a vineyard. So there. Scientists say that yeasts can survive for a very long time in the abdomen of these particular Italian hornets.
Finally, for now, Mamma Mia Pizza Beer, brewed in Illinois by Tom and Athena Seefurth and available online (mammamiapizzabeer.com). Here's Tom: "The margarita pizza is put into the mash and steeped like a tea bag. A whole wheat crust made with water, flour and yeast is topped with tomato, oregano, basil and garlic. The essence of the pizza spices is washed off with hot water and filtered into a brewpot, where it is boiled for a long, long time. During the process, we add hops and spices in a cheesecloth type bag and filter the cooled liquid into a fermentation vessel. After a week or two, the beer is good to go."
Jack Kenny has been writing The Beer Column for The Connecticut Beverage Journal since 1995. Write to him: thebeercolumn@gmail.com