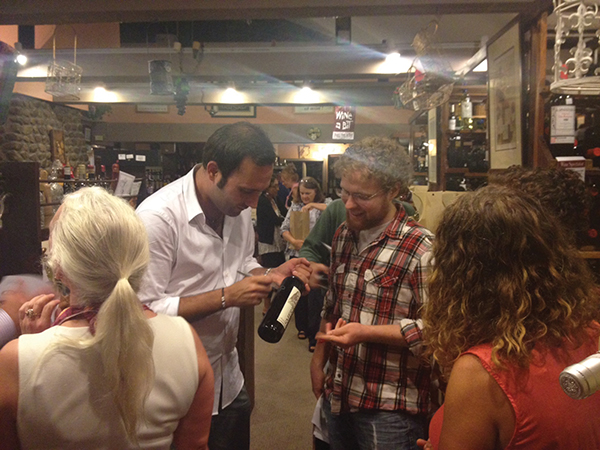 Benedetto Baracchi traveled from Cortona, Italy to Connecticut in August for a wine tasting program at Divine Wine Emporium in Niantic. Baracchi, along with his father Riccardo, restored the family's Tuscan villa with a winemaking tradition dating back to the 1860s, where they now produce a line of rich red wines. Baracchi Winery is distributed in Connecticut by Cellar Fine Wines. Baracchi also met with 2 Hopewell Owner Bill Driggs in Glastonbury.
Benedetto Baracchi; Divine Wine owner Ken Turcotte; Danny Keefe, President, Curious Cork, Baracchi Winery's U.S. importer
Baracchi also met with 2 Hopewell owner Bill Driggs (left). The Glastonbury restaurant includes Baracchi's Ardito (50% Syrah, 50% Cabernet Sauvignon) on their wine menu, which won a 2014 Award of Excellence from Wine Spectator.