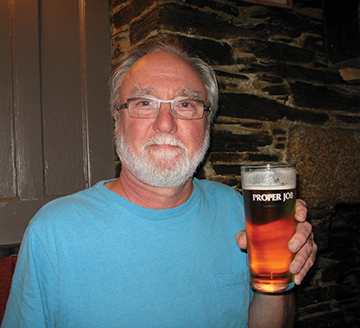 By Jack Kenny
Five years ago, Sierra Nevada introduced Torpedo, which they call an "extra IPA." I noticed that at 7.2% abv, Torpedo is strong. Just a few years ago that number seemed high, but today many IPAs clock in at that level, and their imperial siblings range much higher.
At the same time, an interest in session beers began to emerge among beer lovers and commentators. A session brew goes in the opposite direction, shying away from alcohol strength while offering the flavor one requires from a craft beer. In general, a session beer is below 5% abv, meaning you can have two or three and not feel the effects that would accompany a much bigger beer.
Popular high-volume beers such as Budweiser, Coors, Miller and their cousins can certainly claim the title of session beers, because they are known for their drinkability, and their devotees quite often have more than one at a time. They differ from craft session beers, however, because they are not as flavorful. A certain type of beer drinker prefers a good blast of hop and barley malt flavor and aroma that has never been the hallmark of a commercial light lager.
Late last summer my wife and I spent nine days in southern England, and we thoroughly enjoyed the cask ales for which the British are so well known. These beers are typically 3.5% to 4% alcohol by volume, and are served in 20-ounce glasses.
They are delicious. These beers have low carbonation and are pumped with hand engines – no gas propellant – from the chambers below. They are not served at room temperature, as the misinformed are fond of saying. They are kept in cellars whose temperatures are cool year-round.
According to legend, the idea of the session ale came from England just about a century ago. The Great War, which we now call World War I, had begun, and the British were running munitions factories around the clock. The authorities imposed two specific times during which off-duty shell production workers were permitted to drink: 11 am to 3 pm, and 7 pm to 11 pm. These licensed "sessions" came with low strength beer, typically 3% to 4%, so that the workers would not become drunk, disorderly, or unable to fulfill their functions as makers of bombs. These sessions, in fact, remained law until the late 1980s.
According to Beer Advocate, "Patrons might have had upwards of eight pints during a session and still remain coherent. Sounds like a lot of beer, but it actually works out to be around one beer per hour if you take into consideration the rising abv of today's beers."
Full Sail, a brewer in Hood River, Oregon, has been producing three good brews in this category for several years: Session Premium Lager (5.1%), Session Black Lager (5.4%), and the seasonal Session Fest Lager (6.2%). These are all-malt brews in the pre-Prohibition style, and while they are somewhat higher in strength than what a session beer probably should be, they have gathered a following and move off store shelves steadily.
Last year, Michigan's Founders Brewing released All Day IPA, which became an instant hit. This flavorful beer contains 4.7% abv, and with a hop level of 42 IBUs it has some character. Founders launched it as a seasonal, but demand led the brewer to make it a year-round offering. It now comes in cans as well as in bottles.
Just a month ago, Stone Brewing in California shipped its new Go To IPA to New England. This year-round session ale has 4.5% abv and a whopping 62 on the hop scale. If you like the piney, citrus character of West Coast IPAs, then this is for you.
Note that session beers are light in body, meaning you won't find a big malt presence to balance the hops. That said, it's a category that shows promise and no doubt will attract more brewers.
Jack Kenny has been writing The Beer Column for The Connecticut Beverage Journal since 1995. Write to him at thebeercolumn@gmail.com.