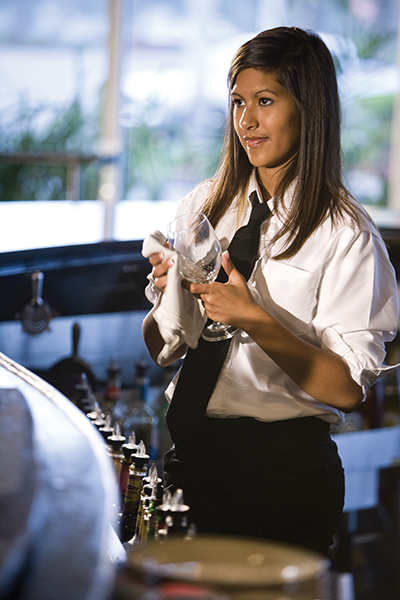 By David T. Kratt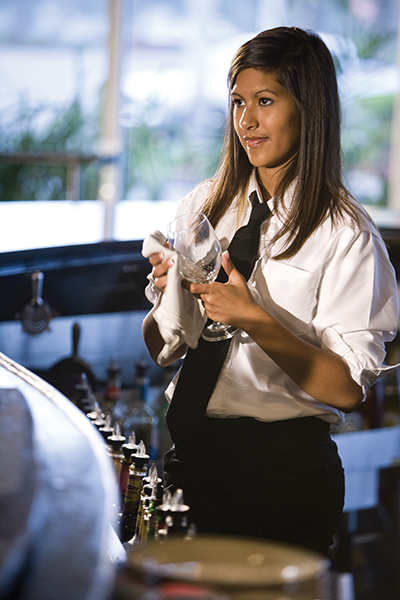 Offhand, pun intended, I can think of no other profession where someone can potentially come in contact with contaminated surfaces and objects so easily and frequently, and then potentially spread them with the same ease and frequency. Bartenders perform many different jobs and tasks in a work environment that, at any given moment, we may be handling something soiled and then the very next moment pick up something that must remain clean and sanitized.
Coming on shift, returning from a break, using the restroom, removing a full bag of garbage, blowing your nose, coughing or sneezing into your hands and before cutting fruit for garnishes should always trigger washing your hands.
We also crisscross between handling clean and dirty glassware and tableware; and we pick up empty beer cans and bottles, handle money and shake hands. Above and beyond the triggered hand-washings, you must wash your hands regularly; such as, during breaks in the action and any time you think your hands may be soiled. Be aware of what you are doing at all times:
Using your hands and fingers
Don't use your hands, specifically your fingers, when you don't have to use them. Push the kitchen door open with your forearm instead of using your hands. Turn lights on and off with the back of your hand instead of using a finger. Don't lick your fingertips to make separating newer dollar bills easier. Never use your hands to grab ice; always use the ice scoop.
How and what are you handling
You decide to stick your fingers into the mouths of dirty glasses to carry them to the glass washer. You stack soiled plates, silverware and dinner napkins as high as possible; putting more thought into not dropping anything than what you're touching. There's a right way and a wrong way to handle soiled glassware and tableware. Deciding to do it the wrong way should trigger a hand-washing afterwards. And never use a communal cloth towel to dry your hands.
High-touch surfaces and objects
Surfaces and objects that are touched a lot require frequent cleaning. Examples include the cash register keys and face of the cash drawer, computer touch screen, credit card machine keypad, cooler door handles and the ice scoop. Don't just wipe the bar top after a customer leaves; wipe the bar railing, as well.
Protecting what's important
Of all the duties we perform, protecting your health and your customers' should be at the top of the list. Strong hand-washing procedures must be securely in place, must be routine and should be second nature to you. You must also perform your duties with such an awareness of what you are doing that each and every one of your customers will leave your bar not thinking twice about the level of cleanliness received.
Do this and your bar's clean reputation will stay that way.
Please send correspondence to: dtkratt@chartermi.net or P.O. Box 638, Grand Haven, Michigan 49417.