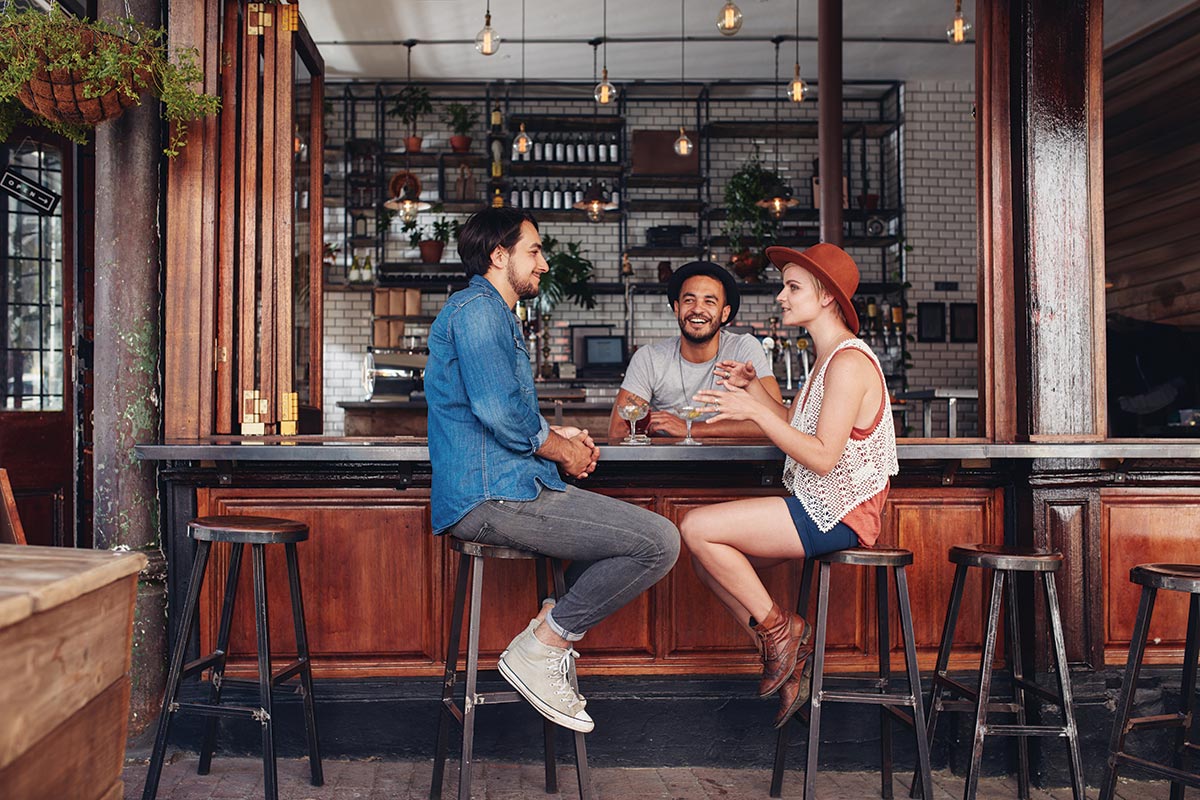 By Khalid Williams
For about an eight-week stretch, numbers drop off at a majority of bars. This is a perfect time to try some low- to no-cost strategies to build guest counts, strike up relationships and build a solid foundation for the upcoming busy season. Making it busy by reaching out to the public, maximizing opportunities with the folks already in your building and investing in staff training can make these dog days really pay off when OND starts. And as you know, October November December, a big focus in our business, is when 40% of our revenue is made. It's also too late to be trying to reinvent the wheel when you've got 250 covers every night. The time is NOW to put some hours in and reap the benefits until the end of the year.
It's Slow Because We Haven't Made it Busy
"People like to get that last BBQ in!" were the words of Artie Bucco, the tormented chef with issues of self-worth on "The Sopranos." His restaurant slowly crept toward mediocrity due to lack of inspiration, something that may happen to all of us one season or another. His cardinal sin was to begin making excuses. It definitely slows down at a large number of restaurants during the summer, but why?
The answer is usually that the regular 100 to 300 folks that keep a place humming are out of town. Do we really think that there aren't 25 to 75 new people around to take their place? I have learned a lot from our friends down the shore and in Newport. Each establishment shifts their identity a bit given the season and works to attract guests during the slower parts of their year as a matter of survival.
There are new and different people in your market this time of year and they want a fun experience at a bar, but you simply compete for their attention more during these summer days, especially in August. Now is the perfect time to cultivate relationships wherever you're located. The local civic organizations need somewhere to meet. The college kids that are arriving back before the semester starts wouldn't mind a trivia night. There are 10 to 20 guys that go fishing and could use a bite and a brew before heading back home. Reach out to them. Speak to your guests.
While working at a popular oyster bar, I came in on what was supposed to be a slow, dead Monday. Little did I know that a blast went out the night before about half-price wine bottles and a late-night happy hour. We got CRUSHED. Instead of simply opening the doors, the establishment kept on reminding the public of their presence and it resulted in sales growth.
These Four Walls
During these slower days, a "four walls marketing" play could provide some useful data. Do this at your bar and incentivize your staff to participate.
Each guest that sits down is identified as a new or returning guest. We bartenders usually know who's who and, if not, asking isn't difficult. Grab some samples of beer or wine from your reps. They have them and they want to share them with you. Just ask. At the bar, fill napkin holders with red and white or white and black napkins. Any two colors will do. Better yet, choose colors that reflect your logo and branding.
A two-line script is all it takes: "Welcome! Is this our first time in? If so, you need to try my margarita because it's the best around like 'The Karate Kid.'" Now that the ice is broken with a corny movie reference, give all new patrons a red napkin. Identify one bartender and one manager to canvas the bar hourly and extend an invitation to new guests to return for a happy hour (probably your slowest time of the day) and receive a complimentary tasting and bite from the kitchen, simply as a "thank you."
You could even schedule two of these tasting days over the next two months before it gets busy and see how many guests return. If it works, you've gained traffic at a time that it would have been slow for the cost of a pack of napkins. If it doesn't work, you will at least learn something about your clientele or your execution. Try again. What often ends up happening is that your regulars hear tell of this new offer and want to be in on the action. Organic FOMO (fear of missing out) is a great way to compel your guests to return.
Enrichment 
As a bar manager, I would panic in October. All kinds of new products are available, guest counts are building and people want to be wowed by staff with new products, techniques and ideas. The nightmare of selecting, implementing and executing new stuff is one of the most difficult things in the business, but right now is the time to be training your staff up for the busy season.
Your reps have an arsenal of materials on everything that they sell you and are happy to do the heavy lifting in terms of classroom-style training. If you told me that coming in on Monday morning would get me an hour or two of a decent wage plus a small cash bonus if I take and pass a knowledge test, I'd jump at the chance.
Your staff wants to know how they fit into the grand scheme of the bar and off-hours classes will show you who is hungry for knowledge. If you sweeten the deal just a bit, you WILL see a return on the investment made in your people, even with the high turnover of the business. Knowledge is contagious and an educated, happy staff that feels like they're valued will always train the new crew with more intentionality.
Change the Season
You do a damn good job at making guests happy. This guide is merely a suggestion to lean into your success and market yourself using resources that are easily available and aren't being maximized. Imagine looking back at the end of the month and seeing guest counts, data and relationships increase simply because of some coordinated planning.
Khalid Williams is a bar manager, spirits brand representative and program consultant specializing in marketing, engagement and data. His passion is for exploring the "why" behind consumer decisions. He loves Old-world wine, New-world rum and Connecticut beer. Follow him on Instagram @thebarrelage.