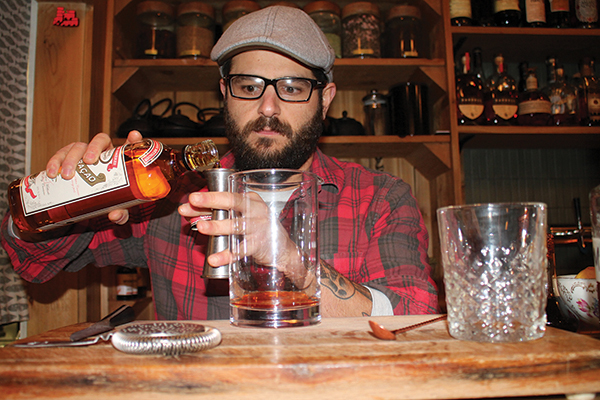 Kawa Ni
19 Bridge Square
Westport, CT
Asian Fusion is alive at Kawa Ni, a restaurant creation by Chef Bill Taibe. The cozy space welcomes guests to a classic izakaya setting where patrons can explore creative cocktails, beer, wines by-the-glass and an extensive Japanese whiskey selection, all paired with traditionally-spun Japanese menu selections such as ramen, sashimi and rice bowls.
Bar Manager: Craig Ventrice
Cocktail: The Big Fat Old Fashioned
Recipe: Build in mixing glass with ice:
2 oz. House-made Smoked Bone Marrow Fat-Washed Bourbon*
.5 oz. Pierre Ferrand Orange Curaçao
.5 oz. simple syrup
2 dashes of Angostura Bitters
Stir. Pour over a large ice cube and garnish with an orange peel.
*Fat-Washed Bourbon: Pour grease from cooked bone marrow into a mason jar full of I.W. Harper Bourbon. Let cool and place in freezer. The fat will congeal. Strain with a cheese cloth to remove the remaining fats.
"It's a smoky, rich and beefy old fashioned," said Bar Manager Craig Ventrice. "We have a dish on the menu that features smoked bone marrow and this cocktail pairs well with it. The Curaçao really brightens up the drink."