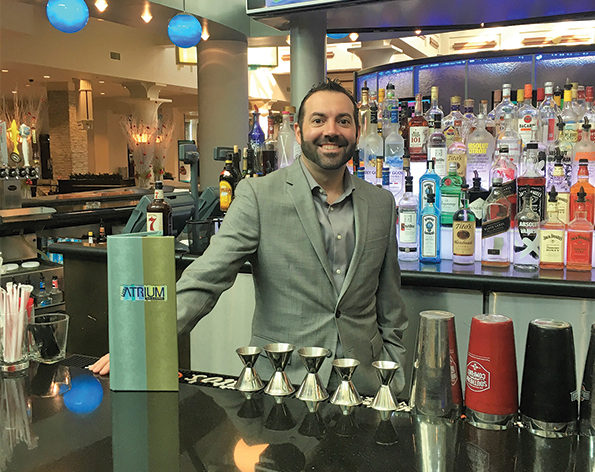 From Vegas to Connecticut, Foxwoods' Director of Beverages Wagers on Taste
By Lauren Daley
Nick Kabetso has always loved casinos. Since he was a little boy growing up in Youngstown, Ohio, "I always had in mind that I wanted to work at a casino. Other kids wanted to be firefighters and astronauts; I wanted to work at a casino." Mission accomplished.
Kabetso applied to what he considered to be the top college in the world to learn all things casino: The University of Nevada-Las Vegas. After earning his Bachelor's in Hotel/Motel Administration with a concentration in Food and Beverage in 2003 from UNLV, Kabetso spent 18 years in Vegas, working various posts at a variety of casinos. Today, Kabetso is the Director of Beverages at Foxwoods Resort Casino in Mashantucket. He's now looking to reshape what people think of when it comes to casino cocktails, he said, forgoing the formulaic for thoughtful craft creations.
The Beverage Journal: So tell us a little about yourself. How did you get to Vegas?
Kabetso: Well, I grew up in Ohio, and knew I wanted to go into the hospitality industry and casinos … To this day, I've never stepped foot on a Disney property. If my dad couldn't gamble somewhere, we didn't go [laughs]. I spent my entire childhood going to Vegas, Atlantic City, several times a year … The energy of a casino, the noise. When you're 7-years-old, that makes an impression.
And the number one hotel school in my mind is University of Nevada-Las Vegas. Cornell is the other; they're not nearly as [hand-on educationally as casinos]. We have the Strip, they have the Ivy League [laughs] … So I moved to Vegas for UNLV and spent 18 years there working in casinos.
TBJ: What was it like to study hotels and casinos in Vegas?
Kabetso: It was awesome. We had the Vegas Strip in our backyard, a mile from campus — it's the best learning ground for the hotel/casino food and beverage [industry] in the world. There's a lot of talent [on the Strip], and it was a great experience. They have the biggest resorts in the world, so you're not learning at a 100-room motel, but a 5,000-room monster.
A lot of the executives up and down the Strip are UNLV alumni who come to classes, speak, give tours on property, mentor students. So you come out well-rounded, doing everything from the beverage side to front of house management. We had to do cooking classes; I got to learn back of house as well.
There's a catering facility in the actual college; students run it as [a restaurant] in one class. If you concentrate in back of house, they do menu designs, cooking, everyone takes a turn, being a manager, runner, busser…
TBJ: That's intense. When did you start bartending?
Kabetso: I started bartending at age 21 at Harrah's Casino [and] at an Italian restaurant, Mama Jo's … Then at Rio, a full casino resort; that was awesome. I was 23, and I worked in the resort's Club Rio VooDoo Lounge, the casino floor bar — it was all about energy; it was an awesome experience …
[Then] I interviewed at Treasure Island with Director of Beverage Todd Kunesh [in 2003]. Adam Odegard was Vice President; they offered me a position as Assistant Beverage Manager. Then Todd became my beverage mentor. He taught me the ropes on everything — management, mixology, wine — and set my passion for the beverage industry. Before that, I was more of a nightclub bartender, slinging drinks, entertaining people.
TBJ: How did he inspire you? What sparked this new passion?
Kabetso: He kept pushing me. He knew I knew the bar business, and had the right personality to manage people, and he unlocked my passion. He sent me to the Southern Wine and Spirits of Nevada's Academy of Spirits & Fine Service in 2004 … We learned the nuances of spirits, what differentiates single malt Scotch from blended American whisky from Canadian bourbon. How you can play on those drinks, using creativity like a chef. Or, just like with wine, how to pair a cocktail with food.
TBJ: And what cocktails do you like?
Kabetso: I like the classics … I'm a brown spirit fan. I like a Boulevardier — tying in parts of the Negroni with bourbon — and a well-executed Old Fashioned. I'm very much a bourbon drinker, so the perfect Old Fashioned — the right bourbon, mixed with bitters, a good cherry, orange and the perfect amount of ice — I don't think there's anything better than that.
TBJ: What casinos did you work at in Vegas?
Kabetso: I was at Treasure Island until 2005, then … as General Manager at PT's Gold off-strip in Vegas until 2009 … I was Director of Beverage at Monte Carlo Resort & Casino before coming to Foxwoods.
TBJ: And how did you end up at Foxwoods?
Kabetso: Adam Odegard [now Vice President of Food and Beverage at Foxwoods Resort Casino] asked Todd if he had suggestions for a director of beverage, and Todd suggested me … I liked working for Adam earlier in my career at Treasure Island. And the property itself, Foxwoods, is [one of] the largest casino resorts in North America, and to have that on my resume is great.
I connected with Adam, and in May of 2016, I flew out to Connecticut to visit. While I was here, I went to Foxwoods bars, and they reminded me of what Vegas was when I first came into the business —it was all about just getting drinks out, and no menus on tables — and it looked like I could make my mark and do some cool things.
TBJ: You just started in July [2016], but how have you made your mark so far?
Kabetso: Last fall, we rolled out two menus at the Atrium Lounge and Halo Bar, and just rolled out a new menu at Cedar Steakhouse. Personally, as a drinker, I hate having anything come out of liquor gun. I know we need those at a casino, but for a cash bar, the guest deserves a little more than someone at the slot machine … So we turned off the liquor guns at Halo, Cedar's and Atrium, and switched to fresh pours and mixers.
That's something I learned in Vegas. As I was coming up in the industry, Vegas became known for fine food and drinks. [Many Vegas industry leaders] were all about craft cocktails, premium product. They preached that the guest wouldn't mind the extra minute it takes to make the drink because they're getting an elevated product. And they were spot on.
TBJ: What's your main focus now?
Kabetso: I want to [revamp] the drink menu at Vue 24. I want to give each bar its own identity, so with Cedar's Steakhouse, I went classic — Boulevardier, Negroni, Manhattan Sidecars. At Atrium, it's a little more fun, it reminds me of a rum bar, so I want to concentrate on Tiki drinks there. Halo is more contemporary, so we did larger, sharable drinks, like The Royal Mojito, which is basically a mojito, but instead of soda, top with Moet Ice, in a 52-ounce fishbowl.
Also, getting the word out that we're doing things like this at our property. When people think "casino," they might think "really busy, packed, they can't do the things a restaurant can do," but that's not the case. We're working with BarSmarts® to open up training with my team; online class makes it easier for everyone to take classes, from cocktail waitresses to bartenders.
TBJ: What are your long-term goals?
Kabetso: To educate the staff; elevate the beverage program; update the wine list; apply for a Wine Spectator award at Vue 24. To get the word out to our area, to locals and to New York, that Connecticut is doing some cool stuff and they should come see what we have to offer. I want to be part of what puts Connecticut on the map of mixology.
Interview has been condensed and edited.