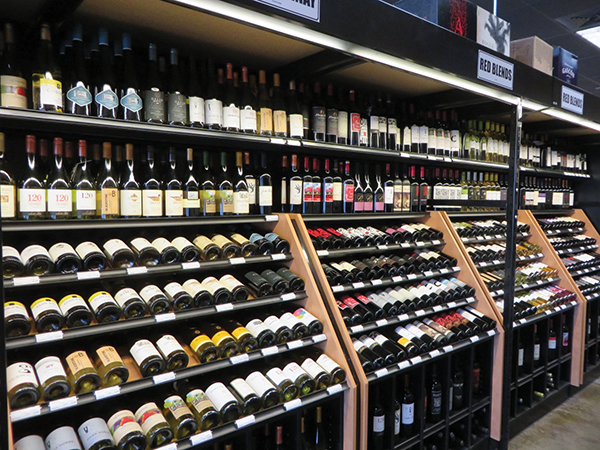 Big Gary's Montville Wine & Spirits
2020 Norwich-New London, Turnpike C1
Uncasville, CT
By Bob Sample
Square footage: 4,000
Years in operation: 8
Growing up, Gary Trombley shared the same name with his dad. The elder Trombley was known as "Big Gary," while Trombley himself was, you guessed it, "Little Gary." Building a successful enterprise provided the perfect opportunity for Trombley to adopt the Big Gary name as his own. He has a lot to be proud of: Trombley purchased his first package store in 1986, at age 22.
Trombley now has two Big Gary's package stores in Eastern Connecticut – one in Montville and another in Putnam. The Putnam store is within five miles of both the Rhode Island and Massachusetts borders, and more than half of its sales are to people from those two states. The Montville store is the busier of the two, he says, despite being slightly smaller than the newer Putnam location.
Adjacent to Exit 1 on Interstate 395, the store's strategic position ensures that plenty of visitors pass by on their way to nearby casinos and other attractions. The store is also right next to a Home Depot, helping drive traffic. Most of the customers at the Montville store are local, with casino visitors accounting for a growing chunk of sales.
There's a lot to keep customers busy once in the doors. "Since I opened my first store, the selection of products on the market has expanded tremendously," Trombley noted. Today's consumers also look for higher quality, more expensive wines, beers and liquors. "Wine sales have been boosted more by research touting the health benefits of daily wine consumption," he said. "Every few months another study comes out about the health benefits of red wine…Whenever that happens, our sales of red wine go through the roof."
Currently popular are sweeter wines, such as red Moscato and white Riesling. "But everything seems to have its turn," he said. "A few years back, Merlot was all the rage, and before that Pinot Noir and Malbec were hot."
Within the beer category, craft brews now occupy almost two-thirds of Big Gary's beer section. Recently, large brewers have responded with their own craft beer lines. Still, he finds Bud, Coors, Miller and Heineken remain popular consumer choices. In the spirits category, bourbons and Irish whiskeys dominate the store's sales in keeping with current national trends.
A team of 25 helps run both stores. "I have great people. They are what make my stores so successful," said Trombley. "I love this business," he added. "I like my job, my employees and my customers. The way I feel now, I'll never retire."