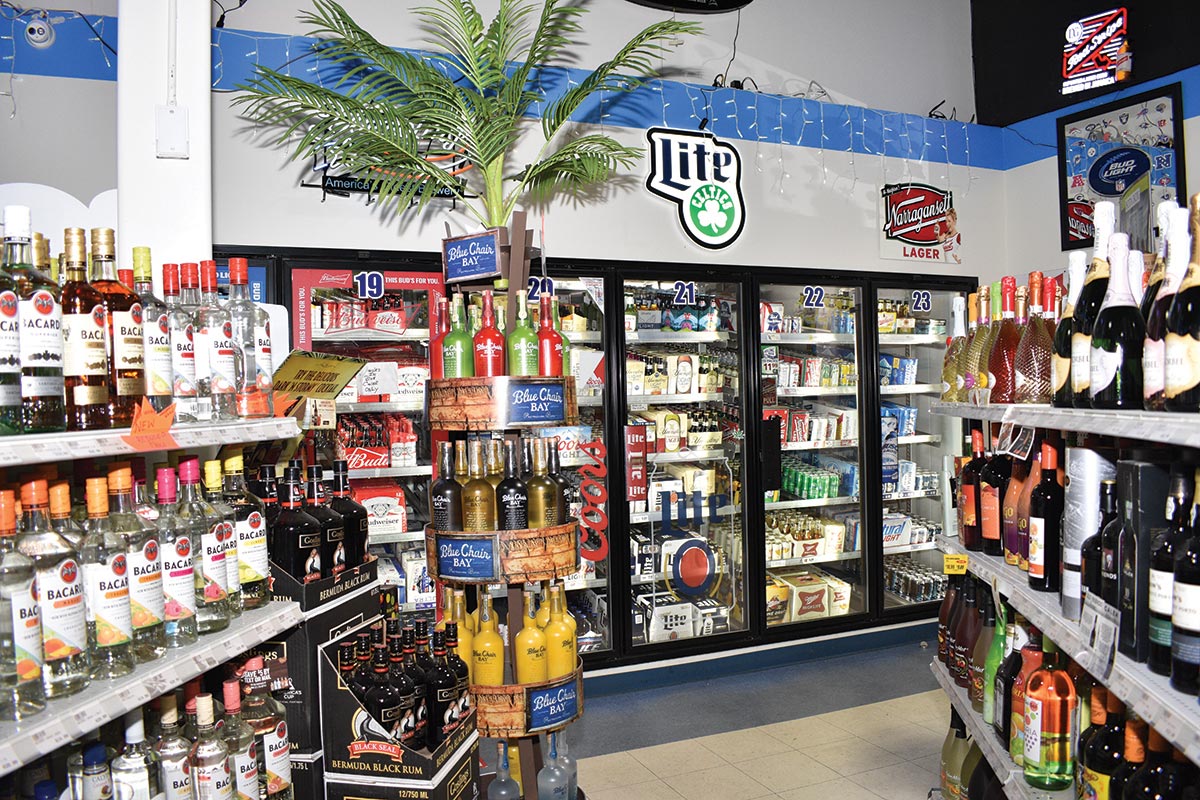 Bill's Liquors
672 Main Street
Coventry, RI
Square footage: 5,000
Years in operation: 4 years under current ownership
By Sara Capozzi
In its 30-year history, Bill's Liquors was owned by a series of three Bills before Jignesh "J.P." Patel's sister, Arpita Patel, purchased the store in 2016. Jignesh Patel was living in Ontario, Canada, and working in machine assembly when he received a life-changing call from his sister.
She was considering purchasing a package store in Rhode Island. Would he be interested in managing it? Patel said yes and the rest is history. He moved to Rhode Island and jumped right in.
"This was a completely new venture for me," Patel said. "I remember the first time I came [to see the store]. I'd never seen this many products before. It was hard for me to remember the names and all the suppliers' names." While switching fields involved a bit of a learning curve, four years later, he feels he made the right decision.
Patel enjoys the social aspect of his new career as well. "It's different than what I was doing," Patel said. "I never interacted with customers [at my last job]; I was more of a technician. This is nice, you can socialize with people, come to know people and build up a family kind of thing."
Patel began to build up the store's inventory and, as he did that, he began to attract more customers. Bill's client base is mostly from the town of Coventry with some out-of-towners in the mix. "I know lots of [current] customers who weren't stopping by here initially," Patel said.
As Patel expanded the selection with new and popular products, shoppers caught on and the store's reputation for its wide variety of brands grew through word of mouth. "That's how we got customers who were stopping at stores in neighboring towns," he said. "They're now stopping here."
Popular items at Bill's include Fireball Cinnamon Whisky and Tito's Handmade Vodka, Dr. McGillicuddy's Mentholmint Liqueur, hard seltzers such as the White Claw and Truly brands, and craft beer. Now that the fall has arrived, customers have begun gravitating toward Oktoberfest beer, pumpkin beer and hard ciders. In-demand wine brands include Kendall-Jackson, 19 Crimes, J. Lohr, Barefoot, Yellow Tail, Cupcake and Apothic, along with Anthony's Hill Fetzer Vineyards among them. Patel doesn't hesitate to offer new items.
"We've gotten a good response from our customers," Patel said. "They've thanked us for carrying the new stuff. If we don't carry something, we bring it in if they want."
There are plans for an expansion of the shop's square footage at some point in the future and a change in layout, although the timing has not yet been set, according to Patel. As the store's following has grown, Patel has grown into making more decisions. "I let [the owners] know when I'm going to do something new in the store and I always have support from them. They've seen my work; I've proved myself in the last four years."