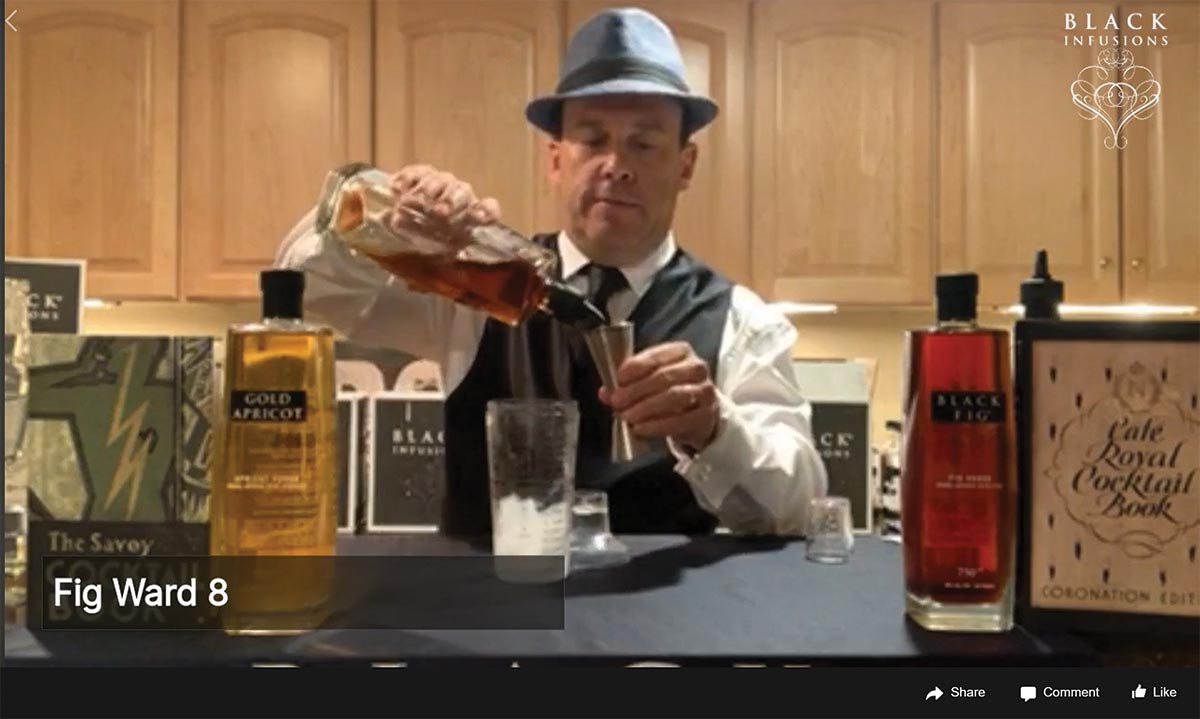 Craft cocktail company Black Infusions hosted a Prohibition era-themed mixology demonstration via Facebook Live on July 21. During the Farm to Shaker: Prohibition Cocktails at Home event, Michael Davidson, Owner, Black Infusions, gave guests an overall history of Prohibition peppered with related area facts of the era and tips and tricks on how to make classic cocktails with a modern twist, including an Apricot Toreador, an Apricot Bee's Knees, a Fig Ward 8 and a Fig Sidecar. The virtual event showcased Black Infusions' naturally infused vodka line, featuring Gold Apricot Vodka and Black Fig Vodka flavors. The artisanal, small-batch vodkas are free of artificial sugars, flavors and colors. The Black Infusions line is distributed in Rhode Island via MS Walker and in Connecticut through Worldwide Wines.
Michael Davidson, Owner, Black Infusions hosted a Facebook Live tutorial on how to make popular Prohibition-era cocktails on July 21.
Davidson crafting an Apricot Bee's Knees, using Gold Apricot Vodka. The naturally infused vodka is infused with dried California apricots, no artificial sugars, colors, or flavors and is gluten-free and kosher.
Davidson crafts a Fig Ward 8, made with Black Fig Vodka. The Ward 8 is said to have originated in 1898 at the bar of Locke-Ober, a Gilded Age restaurant that first served the cocktail.