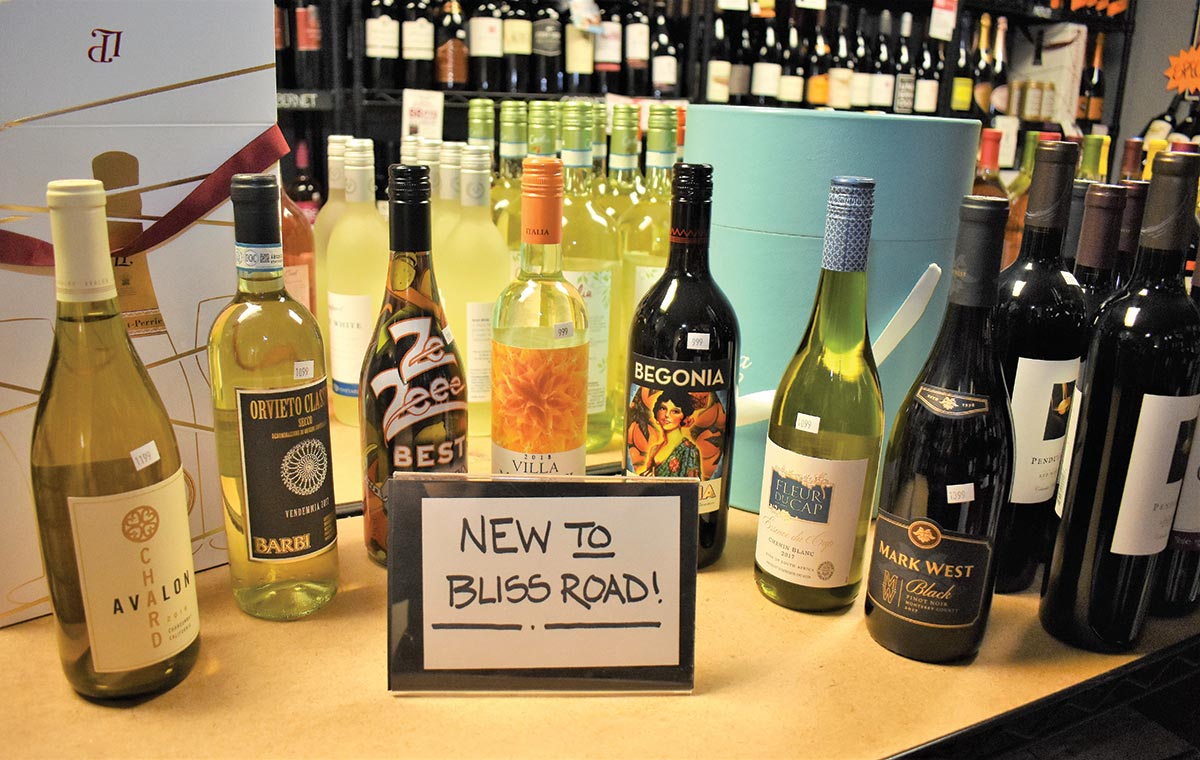 Bliss Road Beer, Wine & Spirits
25 Bliss Road
Newport, RI
Square footage: 1,400
Years in operation: 2
By Sara Capozzi
When Keith Menchin and his wife Catherine were looking for a new business venture, they decided on purchasing an existing retail establishment mostly, they say, because the numbers made sense. "We had heard about this liquor store and that it was a great neighborhood liquor store with a great following; and the numbers worked – we knew we could make a living doing this," Keith Menchin said.
He also liked the store's long history with its devout following of neighborhood regulars. "This store and location [have] a rich history dating back to 1914," Menchin said. "It's over 106 years it's been in business as a liquor store at this location."
From 1914 to 1982, the shop was owned by Bernard Kusinitz, operating as both a liquor store and grocery. While Menchin isn't sure what happened during Prohibition, he believes that was most likely when it operated solely as a food store.
"There are people that come in that remember when it was Kusinitz's," Menchin said. "And then after Kusinitz's, the guy that still owns the property, Chris Rosa, had it for 25 years. Just prior to his ownership, [it] was called Sully's and owned for 10 years. I'm just the new guy on the block … I feel like I'm just a little speck in history."
With a background in real estate sales, Menchin also worked as a stay-at-home dad for his three daughters over the years. His wife had a background in finance, and since starting the store with Menchin, she has started her own separate business in Massachusetts. Three employees, Bob Carpenter, Jimmy Ribideau and Jack, are an asset for their experience in the business, Menchin said.
"What I've learned since I've been here, before getting into the business, 10, 15, 20 years ago, people always thought you had to pay a lot of money to get good wine, and things have changed," Menchin said. "Most of the wines that you can find can be found anywhere from the $11 to $20 dollar range, and those are going to be great wines."
The best-selling wines at Bliss Road tend to be in the $13 to $15 price point, popular with shoppers of all ages. Newport Vineyards Great White continues to be well-received with customers and the demand for red wines picks up in the colder months, Menchin noted.
Bliss Road boasts the "coldest beer on the island," thanks to its small but powerful walk-in cooler. A diverse selection of craft beers is found, but Rhode Island-based brews sell the most, especially, he said, Whalers Brewing Company, which outsells other craft selections by the case. This past summer, Menchin noticed that spiked seltzer sales took a bite out of what would normally be craft beer sales.
"What surprised me most is how people do change what they drink," Menchin said. "When I first started just two years ago, craft beers were the most popular drink and they are always changing. It seems like there's always a new craft beer on the market. Two years later it's seltzers. People who would normally be drinking craft beer are now going to seltzers … They're supposed to be lighter in calories, healthier."
Besides spiked seltzer, Menchin has seen canned cocktails increase in popularity, along with fruit-forward spirits such as Ketel One Botanicals, gin, rose gin and Aperol. Flavored bourbons in apple, pecan and vanilla sell well, too.
Customers who frequent Bliss Road Beer, Wine & Spirits come from all walks of life. "I think that's just Newport in general; it's not just a blue-collar town. And I do a lot of special orders, so if someone's looking for a certain wine and they can't find it, I'll order a case for them, or a couple bottles, whatever they need."