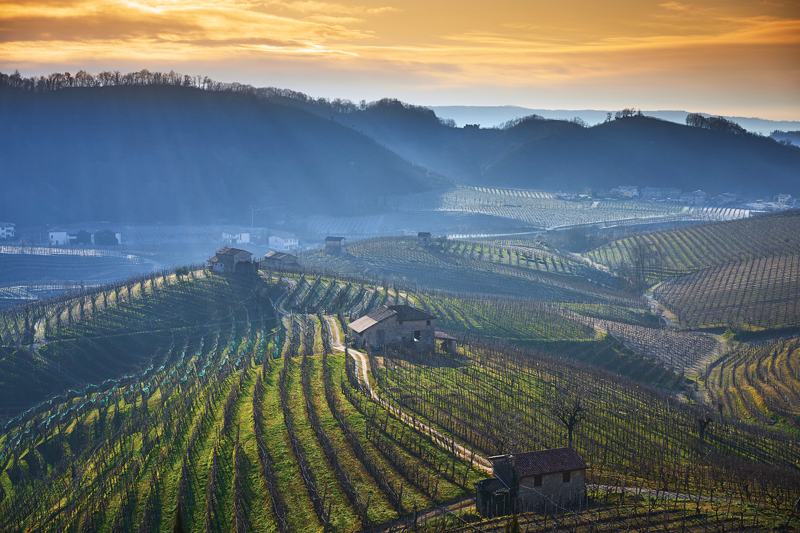 Prestige Wine Imports Rounds out Portfolio with Established Prosecco Brand
By W. R. Tish
It happened with Moscato. It happened with Shiraz and Malbec and Rosé. And it's happening to Prosecco, too. A wine gets hot, and the market sees a flurry of new releases, which accelerate into a steady stream of unfamiliar-yet-somehow-familiar labels. There are plenty of Italian bubbly labels vying for American attention these days, but among those waving the Prosecco flag, which can claim a real track record of quality and consistency?
Val d'Oca, under Cantina Produttori di Valdobbiadene, is one of the largest and oldest makers of Prosecco in Italy, and among the leaders in production of DOC and DOCG Prosecco since those zones were established (1969 and 2009, respectively). With 30+ export markets, the Cantina did not need to jump into the American market; they held out for an ideal importer fit.Enter Prestige Wine Imports.
The alliance is a natural fit as PWI's parent company, Gruppo MezzaCorona, and Val d'Oca are both cooperatives—two of Italy's most established, in fact. Founded in 1904, Gruppo MezzaCorona along with its 1,600 producer members, is one of the largest wine producers and exporters in Italy.
Val d'Oca's cooperative was founded in 1952 and has nearly 600 producer members, all specializing in Prosecco. Both groups hold a steadfast commitment to sustainable production and business practices, nourishing a positive environment for their regions and members.
Coming to America
Expansion into the premium-level Prosecco category comes at the perfect time for PWI, notes Anthony Bijleveld, International Sales Director at Gruppo Mezzacorona: "Gruppo MezzaCorona has a wide range of wines. Rotari is Champagne method with Chardonnay and Pinot Noir. Mezza is generic sparkling wine. They were missing a Prosecco."
Val d'Oca line's range of styles and price points allows some flexibility: "As it rolls out initially, we will have different products for different segments and different customers—competitively priced, both on- and off-premise."
Tapping the synergy within importer PWI's portfolio, the Val d'Oca roll-out will benefit from best practices already in place for MezzaCorona, including POS material and active social media presence.
Lorenzo Rispoli, Val d'Oca Export Manager, emphasizes points of distinction between Val d'Oca and many of the new labels appearing on U.S. shelves.
"Val d'Oca is something new for the U.S. but has a very long story in Italy," he says. "Behind the brand are more than 1,000 hectares in the heart of Valdobbiadene, and total control of production. The only thing missing was a link to the USA."