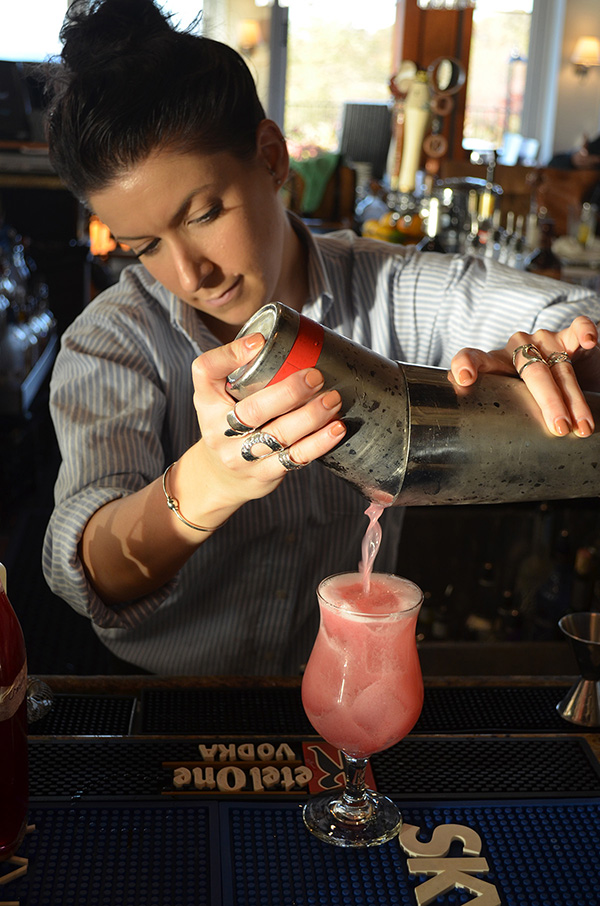 Boat House
227 Schooner Drive
Tiverton, RI
The waterfront Boat House captures the Ocean State's natural nautical charm in a high-end, fine dining setting. They proudly offer just-caught seafood and freshly-farmed produce, complemented by creative bar offerings.
Bartender (Pictured): Jocelyn Laferriere
Cocktail: Cranberry Rose
Recipe: Mix
2 oz. Lunazul Blanco Tequila
1 oz. house cranberry/rosemary syrup (recipe below)
1.5 oz. lime juice
Shake. Strain into a highball glass filled with fresh ice. Garnish with rosemary sprig.
Syrup: Mix 1 cup sugar, 3 sprigs rosemary, and 1 cup frozen cranberries. Cover with 1.5 cups boiling water. Stir well. Refrigerate overnight. Allow to warm to room temperature and strain into squeeze bottle.
"There's no reason to stop drinking margaritas just because it's winter," said bartender Kelly Adams. To make the drink seasonally festive for the New Year, Adams replaced triple sec with a cranberry and rosemary simple syrup.
"The rosemary gives the drink a festive herbaceous nose and finish, while local Massachusetts cranberry contributes color and adds another dimension of sour to the lime juice," she said, adding that Lunazul Blanco "is our go-to clean and bright tequila."