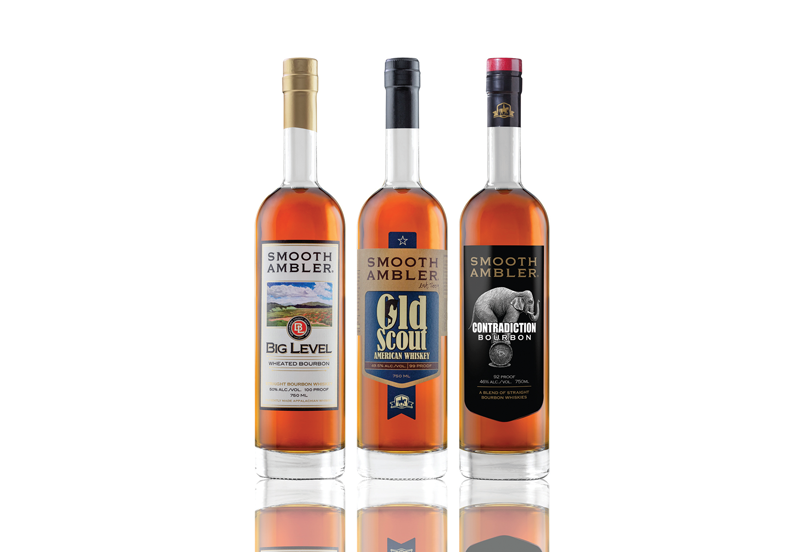 Smooth Ambler Success
The Unlikely Ascent of One West Virginia Distiller
By Kristen Bieler
Smooth Ambler was created as an expression of love for a place. John Little had no hands-on experience crafting whiskey when he launched his distillery in 2009, but he and his partner John Foster share a deep, abiding passion for the rural, mountainous Greenbrier Valley in West Virginia, and the people who live there.
"West Virginia gets a bad rap because it's economically depressed," says Little. "But it's such a wonderful, beautiful place and we wanted to create something to showcase everything we love about West Virginia—the clean air, the clean water, the good people." Embracing an audacious mission "to create the highest-quality whiskey possible and revitalize the local economy by providing jobs and building tourism," Smooth Ambler has succeeded by every measure.
Water + Terroir + Style
Little's pursuit of distillation expertise was critical. But he still credits the raw materials for Smooth Ambler's widely-acclaimed quality. The Greenbrier River is the "largest undammed river on the East coast," he says, and its purity and sweetness have an enormous impact. Also, West Virginia's cool climate is more like Scotland than Kentucky, which gives the whiskies a mellower taste profile than bourbon (in hotter climates, whiskey picks up more toast, coffee and caramel from charred oak barrels—and matures faster).
"From the beginning we were striving for a smooth, lush, easy-drinking style that people don't have to work to acquire an affinity for," describes Little. "We filter as little as possible and never chill-filter because we want to maintain that creamy mouthfeel." Foster adds: "Some craft distilleries are pushing the limits and innovating in wild ways, but that's not what we do. We want to create whiskies that people can enjoy every day by the grill."
In addition to buying local grain and creating several dozen new jobs, Smooth Ambler has spurred agritourism for the community; fans trek to the remote distillery, filling hotels and restaurants. (New for 2019: the Smooth Ambler trailer, a 24-foot long tasting room on wheels will travel the country.)
This year, Little and Smooth Ambler's crew will distill almost 3,000 barrels of their own whiskey; but Little has proven just as skilled at discovering and finishing whiskies made elsewhere. Appalachian terroir makes its imprint on these sourced whiskies as well, however, he maintains: "We are so obsessive with filtering our water to remove impurities, and its great taste really makes our merchant whiskies shine." Smooth Ambler's much-coveted Contradiction Bourbon is a blend of the distillery's own stocks and sourced whisky.
Two years ago, Smooth Ambler partnered with Pernod Ricard USA (who is now a majority owner); the alliance has extended the brand into 37 states. But Little's dreams of growth remain motivated by local reasons: "I would love to be the largest employer in Greenbrier County. We want this business to be successful for everyone."