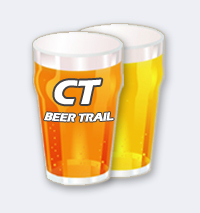 By Jack Kenny
Several years back, Bryon Turner did a fair amount of business traveling around the United States. In his off hours, this lover of good beer would visit breweries and brewpubs to sample the local brew and soak up the atmosphere. "It began to dawn on me that I had barely explored my own state," he recalls. "There were some brewpubs and brewers in Connecticut, but I hadn't paid them a visit yet." Upon reflection, Turner decided that Connecticut brewers were not getting the attention they deserved. "At the time there were a few breweries and brewpubs, some really good ones, but not a lot of them. People really didn't think of Connecticut when they thought of beer."
Turner set out to do something about that. With a background in public affairs and communications, he gathered information about the state's beer business and thought it would be educational and useful for others with a passion for beer. He took his idea to the folks at Thomas Hooker Brewing Company in Bloomfield. "They loved the idea, so I began talking with other brewers." The result is the CT Beer Trail (ctbeertrail.net), an online social media and marketing business whose goal is to promote the local craft
beer industry.
In the three years since the founding of the CT Beer Trail, Connecticut has seen significant growth in its brewing industry. In the past year alone several breweries have opened, including Two Roads in Stratford and Half Full in Stamford. Stony Creek of Branford and Charter Oak of New Canaan also were launched recently, and at the moment are contract brewed.
So what is an online beer trail, and what does it do? The simple answer is that it is an information resource and exchange. It lets members know where the brewers, brewpubs, homebrew supply shops, great beer bars and beer retailers are located. Turner and other beer devotees have sponsored bicycle excursions with beer as a destination, and just recently launched a monthly beer tour on a chartered bus.
"The goal, above and beyond marketing, is to foster a more tightly knit community," Turner says. "If these individual companies came together to cross market, it would make Connecticut more of a place to think about craft beer. Marketing and the social media element is part of it. I like to think I helped out over the last couple of years during the explosion of craft beer in our state."
Judging by the number of people who have joined as members of the CT Beer Trail, it is a success. "We have more than 3,000 registrants, and a broader audience on social media: Twitter and Facebook. Add them all up and it's a large group, but the core is between three and four thousand," he adds.
Regular membership is free of charge. The Trail also has a group called the Trailblazer Club, which, for a $20 annual fee, gives members access to contests and special events. Showing the club membership card at participating establishments will give a member incentives or discounts. At Two Roads, for example, club members get 10% off on brewery merchandise and $1 off on a pint of beer. At SBC Restaurant & Brewery locations, members get $2 off SBC brewed beers and 10% off food purchases. Eli Cannon's Trading Company in Middletown gives members 10% off all homebrew supplies.
Turner says that CT Beer Trail members range in age from their mid-20s to the 50-60 crowd. The larger concentration is folks from their late 20s to around 50. A strong percentage are female. "There are a fair amount of women who are craft beer fans," he notes. As a source of industry information, the CT Beer Trail has a fairly active community of contributors, each with their own blog page at the website. Members inform others of upcoming events, talk about their visits to brewpubs and breweries, and publish reviews of beers they have tasted. The future Broad Brook Brewing Company recently posted an update of its progress in selecting a location for its operation. The brewery will be located at 2 North Road in East Windsor.
The events page at the site is packed with beer-related events: Beer tastings by selected breweries at bars and restaurants, beer dinners hosted by Connecticut breweries, the next Brewery Bus Tour on April 27, and the June 8 Chester Fair Wine & Beer Tasting are among the calendar items for the near future. Speaking of bus tours, the first one sponsored by the CT Beer Trail attracted 30 participants who braved the February cold, and the second one, held in late March, was sold out by the beginning of the month.
The first tour began at Tullycross Tavern in Manchester, with a brewpub tour, samples, discussion of beer styles, and finger foods. The group then motored to Old Burnside Brewing in East Hartford for samples and a tour, followed by lunch at City Steam brewpub in Hartford. The next stop was Back East Brewing in Bloomfield, concluding with Thomas Hooker. For a mere $80, that's a good way to spend a Saturday.
Jack Kenny has been writing The Beer Column for the Connecticut Beverage Journal since 1995. A career journalist, his love of good beer began in 1976 when he tasted Ballantine India Pale Ale for the first time. Jack's email address is thebeercolumn@gmail.com.