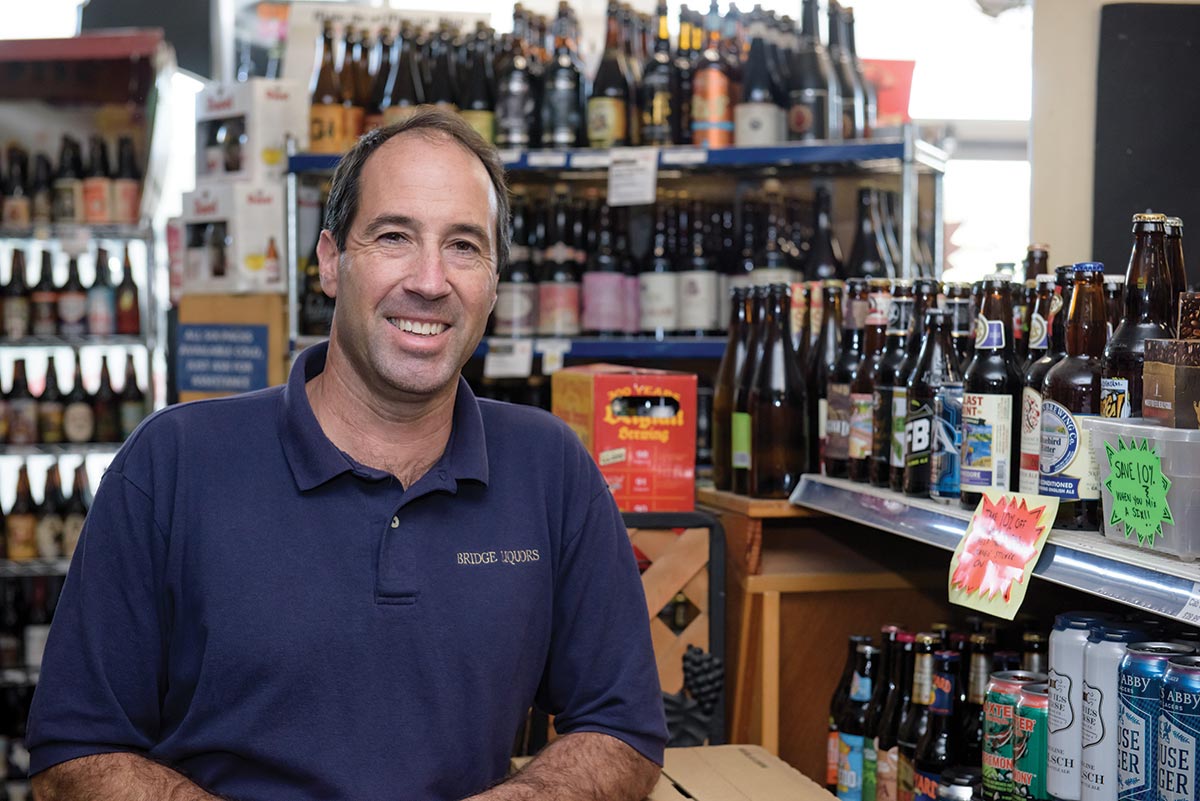 Bridge Liquors
23 JT Connell Highway
Newport, RI
Square footage: 1,800
Years in operation: 21
By Nick Caito
Kenny Gallison spends a lot of time at 23 JT Connell Highway in Newport. "I'm on this piece of tar more than I'm at home," he said, referring to the parking lot surrounding the building that houses Bridge Liquors and Newport Glass Company, the two companies he runs.
Glass came first, founded by his father more than fifty years ago. In the mid '90s, a liquor license came up for sale in the city of Newport and the Gallisons saw an opportunity. The building was expanded to add the liquor store retail space, a basement and a second floor of rental space.
"It was a family endeavor to add on. I think my dad thought we were crazy," Gallison said before adding, "Probably still thinks we're crazy." While mom and dad still help out at the glass company, the liquor business is all on Gallison.
Bridge Liquors is a four-employee business with 1,800 square feet of retail space housing appropriately 4,000 SKUs. They also deliver to customers within a 10-minute drive. This year, Bridge Liquors turns 21, a symbolic age for a liquor store, but also one that means Gallison has seen a lot of changes in the market.
He admits to "underestimating the impact of some trends," including the rebirth of brown spirits, but said craft beer has always been a big part of their audience. Pointing out both an old Pete's Wicked Ale poster and racks full of 22-oz. bombers ranging from stouts to sours, he waxed about the shift in beer purchasing style.
"What I think is happening is they [spend the same] for a better-quality beer as a six pack, rather than a 12 pack of a different beer. Spending more but drinking less, having that quality beer," he explained. Other brands and liquors, he said, are adjusting their prices downward to compete.
"It's definitely a much more competitive market. You've got to be on that cutting edge to bring customers in. If you get stagnant, you're done," he said. To keep up to date on trends, Gallison scans the internet buzz, but relies on his distributor reps in particular.
Gallison said customers have also become more on-trend, too, pursuing specific products no matter the store. "Some beers, like [Grey Sail's] Captain's Daughter … people walk in the door and they walk right out if I don't have it. I need to limit [sales] to one four-pack, one per person."
Being located in Newport means much more of a seasonal rush ("Christmas in July," Gallison said) and being the first store over the bridge and last one out also helps. But the namesake Newport Bridge has been mostly a hindrance lately.
Construction since early summer has led to many more traffic jams, which hurts business. However, with an expected finishing date of December [2017] and proposals to realign the bridge onramps in the long term, Gallison is hopeful for the future.