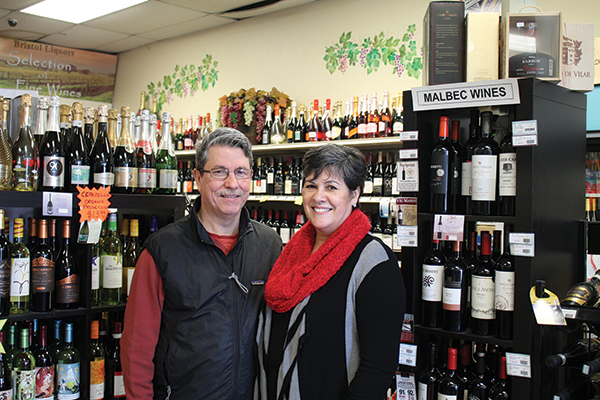 Bristol Liquors
390 Metacom Ave. #6
Bristol, RI
Square footage: 1,250
Years in operation: 10
By Savannah Mul
At 10 years in, Mario and Irene Alves were restaurant industry veterans, owning and operating Bristol Sunset Café. They enjoyed the restaurant business, and loved even more the many aspects of serving the community. When the opportunity to purchase Bristol Liquors came up, the Alveses decided to expand into alcohol retail, keeping in mind their penchant for hospitality.
For the first five years owning Bristol Liquors, they were still managing Bristol Sunset Café. Mario Alves recalled the long hours operating both businesses and knew they had to let go of one. "We were weighing the options and this [Bristol Liquors] was the better fit. We thought 'we can build a life here,'" said Irene Alves. The Alveses didn't let go of Bristol Sunset Café completely; a family member took over the breakfast and lunch spot.
Ready to dive into a new and different industry with full attention, attending trade and consumer tastings to expand their knowledge was a strategy from the beginning, Irene Alves said. "I don't believe in having a wine and not being able to talk about it and recommend something, it's not right. We are always learning every day; no one can know everything."
The Alveses taste and select products, keeping customers' preferences in mind, and are happy to bring in new products brought to their attention. "If a customer asks for it, we'll bring it in," said Mario Alves. Irene added, "We have substantially increased our wine sales and inventory selections."
Product displays, a walk-in beer cooler and high shelves for spirits help make the most of their 1,250-square-foot space. "We do the best we can with the space we have," said Mario Alves.
Trends over time that the Alveses report include an increase in female shoppers purchasing finer wines, brown spirits gaining popularity across all age demographics, consumers looking for the latest craft beer and ready-to-serve drinks replacing mixers. "The industry has been in a constant change," Irene Alves said.
The husband-and-wife team, along with a couple of part-time employees, operate the store. "We have a lot of date nights on Fridays here; we'll bring a pizza," Irene Alves laughed, "But I'm a people person and we're here to do a service. It's a great community and a nice, small town."
Coming from operating a restaurant to now owning Bristol Liquors, the Alveses have always stuck with the same motto in business and everyday life. "Treat customers the way you would like to be treated and the value you deserve," Irene Alves said. Bristol Liquors also contributes to local charitable organizations, from sponsoring wine tastings to donations.