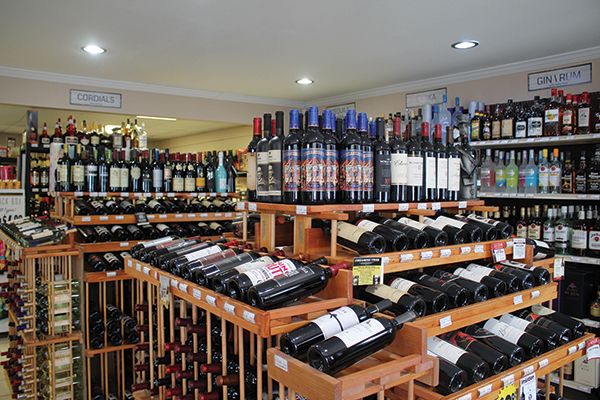 Gardner Lake Liquors
468 Old Colchester Road Salem, CT
Square footage: 1,200
Years in operation: 1 1/2
By Savannah Mul 
For three years, Anthony Lewis owned and operated Salem Auto on Old Colchester Road. He had an empty store front next to his garage and was always unsure of what to make of the space. He thought about renting out the space, but when a liquor license in town became available, he saw it as "an appealing opportunity to grow," he said.
Lewis co-owns Gardner Lake Liquors with permit holder and father-in-law, Lawrence Silva, and his sister-in-law, Lauren Silva, who together operate the business. Store employee Jess Tilley helps manage the store while Lewis may be assisting customers at the auto shop. With the liquor store next to his auto shop, Lewis said, "This all just fit together."
Tilley brings her industry experience from working as a bartender for many years and in retail at other alcohol beverage locations in the area. Lewis said he relies on Tilley's expertise and recommendations, along with aid from their sales representatives and customer feedback, to stock the store selectively.
"He asks for my opinion and appreciates my feedback," said Tilley. "We are always willing to bring in anything for a customer [too]. I know what will sell, what I can sell and what won't." With the limited space he has, Lewis said, "I do what I can to snake things in. I'm not afraid to bring in new products."
Gardner Lake Liquors actively uses its Facebook page to advertise products and promote in-store tastings. Tilley said she knows the posts are effective because she receives messages, calls and store requests from customers asking for the products she chooses to showcase.
At the end of any given day, Lewis said, when he reviews his sales figures, profits are "split almost evenly across all categories."
Gardner Lake Liquors is surrounded by many campgrounds and Lewis said he is excited to welcome back the seasonal campers this spring and summer. "I like it over here, it's no stress," Lewis said. "The customers are great and we're looking forward to the summer season. The locals are really happy to have this place here."
When asked what it's like to manage and own two completely different businesses, Tilley laughed and said, "He's good at multitasking." Lewis continued, "With Jess here [and family], it's not so bad."