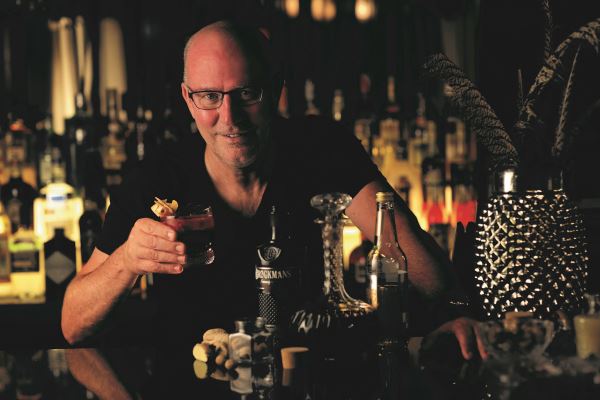 Brockmans Is Leading the Emphasis on Flavor Beyond Juniper
By Jack Robertiello
What do gin drinkers want? Turns out a lot of the newcomers to the category respond well to the contemporary style with moderated juniper and the addition of a wide range of interesting flavors and aromas. It's in that sweet spot that Brockmans has been operating in the U.S. since 2014, and Bob Fowkes, Marketing Director and Co-Founder of the London-based gins feels the tide is shifting. "
'Gin has evolved over hundreds and hundreds of years; London Dry wasn't the only style, but it came to dominate the category and became what the trade and consumers believed gin was. No more," says Fowkes. "We use the expression, 'the gin like no other,' which wasn't what people thought ten years ago which was, 'Gin is gin is gin,' and that had led to a static and non-growth market."
As for debate within the cocktail world about the values of London Dry vs. what's often called New Western gin, Fowkes believes consumers don't care: "I think the gin debate is over and people have realized there is a new world. The consumers are clearly voting with their dollars that they want to experiment with new tastes in gin."
On-Premise Focus
The people behind Brockmans set out from the creation a decade ago to offer a product "extremely different" from the mostly London Dry styles the market then presented. "For want of a better definition, we are in the new style—less juniper and letting the other botanicals come forward with some unique ingredients like blueberry and blackberry to help make us stand out in the crowd today," he says.
The brand's strategy in this country follows the success they've had in Europe—start in major cities (New York and Boston in the U.S.), identify discerning on-premise operators and deliver the taste experience. While building the on-premise business, brand reps also call on retailers close to clusters of bars where they make inroads to double up the micro-marketing.
Brockmans clearly aims to appeal to everyone who enjoys gin and likes to try something different, regardless of age or gender or preconceptions.
The gin renaissance has lagged a bit in the U.S., Fowkes notes, which he attributes to the attraction of craft beer and American whiskey to newer drinkers. But he believes gin is slowly establishing itself as new, different and exciting, with the market still in its early stages. Interest in local niche brands, as well as recreations of the older Genever and Old Tom gin styles, bodes well for brands like his, perhaps proving that the Brockmans slogan of "the gin like no other" may be onto something.