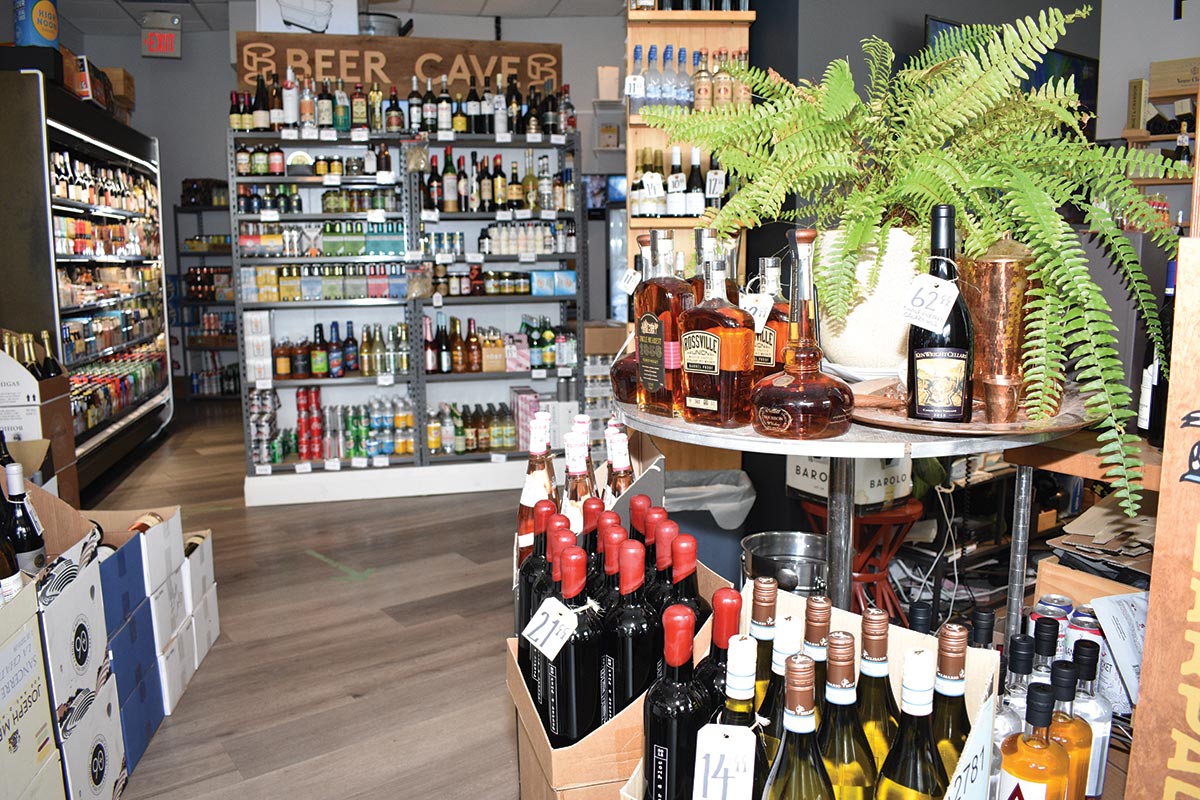 Cap, Cork & Cellar
102 Bruce Park Avenue
Greenwich, CT
Square footage: 1,100
Years in operation: 3 years
By Sara Capozzi
Cap, Cork & Cellar has had its share of challenges since opening three years ago. Hit with several road construction projects creating access issues on top of the past year's pandemic-related restrictions changing shopper habits, the shop has managed to persevere – and even make growth inroads.
"It's been a challenging first three years given all that's going on, and through it all, we've kind of jokingly said, 'We're not dead yet,'" said Owner Robert Petz, CSW.
The shop has continued to grow by remaining flexible through it all and finding ways to continue to meet customers' needs. During the height of the pandemic, the shop remained open, with strict masking and social-distancing rules in place. It also broadened its pickup and delivery options to clientele by partnering with Drizly.
"Our business model here [before] was very hand-sell, let's cater to your needs and have a discussion-type place to … we became order takers," Petz said. "We had to get a second POS system and do more robust curbside delivery and ended up getting the van in order to facilitate deliveries to the town. Because we were moving light, we were able to shift and it did certainly put a bunch of gas in the engine."
Expanding its delivery services provided it with a different revenue stream and increased visibility. Plus, more good news came when the shop was recently named Best Wine Shop in Greenwich by Connecticut Magazine for the second year in a row.
"We're proud of that," he said. "In the end, whatever we have going on here has activated that customer base to go ahead and go online and vote for us, so we're honored and thrilled and couldn't be happier that our customers think so highly of us and love what we have going on here."
At Cap, Cork & Cellar, Petz seeks to serve all customers, whether they're looking for big-name brands or obscure wines from small or boutique wineries. With sustainability in mind, he prioritizes working with importers who collaborate with small-batch, family-owned producers and suppliers. The store specializes in limited production, certified organic and biodynamic wines.
It also caters to its many health-conscious customers, offering products with low sugar, lower added sulfites, natural wines and nonalcoholic beer, including Heineken 0.0 and locally owned brand Athletic Brewing Company. Shoppers seeking craft beer find plentiful options in the shop's walk-in cooler. An added bonus for customers is the shop's fine cheese selection, with staff trained to assist shoppers looking for pairing suggestions.
Petz estimates that between 60% to 70% of customers are hyper-local in the neighborhood, with neighboring towns and New York among the store's core visitors. With businesses Greenwich Prime Meats, which was once part of the famed Manero's Steak House, and Bon Ton Fish Market on the same strip, each have dedicated customer bases that cross over. "We're lucky to have them as our retail partners. We jokingly call ourselves the Bruce Park Purveyors. You can come with nothing, you can park in that lot with nothing, but you can leave with a party."
Cap, Cork & Cellar has started giving weekend tastings again in the last few months, which is welcome for Petz and customers. "They've been successful … it's good to see people back in the store," he said. "They come in, see that we're getting back to business as usual, pre-COVID-19, and they, themselves, just have a big smile on their face. It looks like it's all coming back, so it's been exciting … [the last year has] been some of the hardest work we've ever done but these are certainly very exciting times."