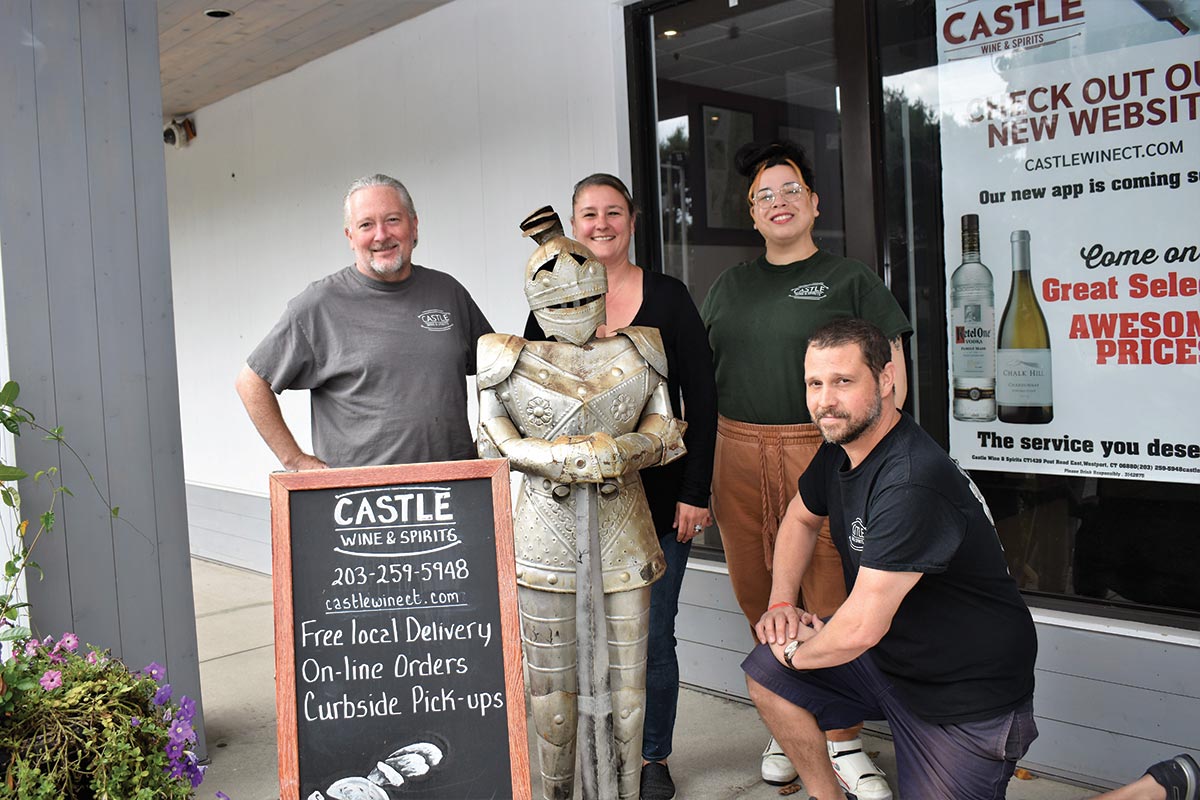 Castle Wine& Spirits
1439 Post Road East
Westport, CT
Square footage: 6,000
Years in operation: 30; 3 years under current ownership
By Sara Capozzi
Castle Wine & Spirits is a unique shopping destination in Fairfield County, offering a curated selection of fine wines, craft beer and spirits. The one-of-a-kind ambiance starts at the door, where guests are greeted with a knight's suit of armor, whom the staff has named "Gladys." Hand-drawn signage artfully directs customers toward the many choices, with the store's knowledgeable and attentive staff prepared to assist if shoppers have questions or are looking for pairing suggestions.
Located conveniently off the Post Road, the 5,000-square-foot shop has been an established business for 30 years. Current owners, husband-and-wife team Marina Jensen and Craig Jensen purchased the business in 2019. The couple, who also own Village Wine & Spirits in Ridgefield, had been looking for another business opportunity in Fairfield County when Castle became available.
"With this opportunity, we were wanting to grow a little bit," Marina Jensen said. "We wanted to upgrade to fine wines and have more space to expand our selection and the Post Road obviously is a great location. This store was profitable, and it was well known."
The combined skill set of Castle's team of 10 employees is also a great asset, each offering industry knowledge in a variety of specialties. Sommelier John Freitas is the Wine Director, Beer Manager Rick Hatfield curates the beer selection and Sales Associate Andy Estey offers well-rounded expertise on fine wine and bourbon. Store Manager Lenore Kallay coordinates beverage selections with event caterers and Sales Associate Sarah Hammer specializes in sake.
Wine is the top seller at Castle, all curated by Freitas, which includes top selling wine brands to lesser-known varietals and bottles from smaller wineries and distributors, representing worldwide regions. "We do have a special selection that's pretty rare, and John will help the prospective customer with the higher-end wines that are harder to get," Jensen said. "If anyone is interested in building a wine cellar, he's the go-to guy because of all of his knowledge."
Beer is also a draw for shoppers at Castle, especially craft selections, which are brought in by Hatfield. "We try to stay on the pulse of new, exciting, fresh batches of small craft breweries," he said. "We have a lot of stuff that the big stores won't have." Hatfield regularly gets access to small batches of in-demand craft beer and has also been working to build upon the selection of non-alcoholic beer and ready-to-drink brands.
Castle also offers a variety of fine spirits, including allocated bourbons and tequilas. The staff regularly tastes new products to ensure each is up to par before bringing them into the inventory, flagging its "Staff Picks" to make for easy shopping.
Giving the clientele a fun and friendly environment is always paramount. "We focus on customer service and offering a unique selection of wine at affordable prices," Jensen said. "If someone wants something and we don't have it, we're more than willing to get it for them. The customer is always first."
The store hosts wine education classes led by Freitas, which have been popular. Shopper benefits include convenient, online ordering using the store's app, free local delivery, coordination of beverages for parties, gift wrapping and gift baskets — all making Castle Wine & Spirits an unbeatable stop.