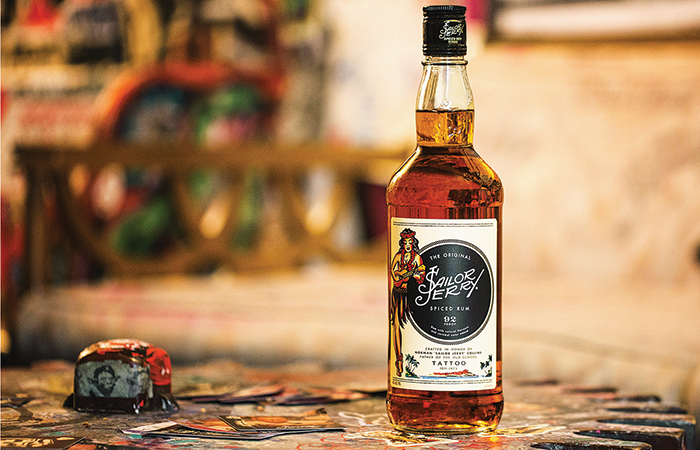 Originally a Spin-Off, Spiced Rum Carves Out its Stake in the Rum World
By Amanda Schuster
---
Spiced rum as a commercial category is a modern invention. Yes, spice has been added to rum since its very beginnings, centuries ago, but the purpose of those spices was primarily to mask flaws and poor quality in the spirit, and the rum was for private consumption.
Comb through vintage classic cocktail books and the pantheon of Tiki—Trader Vic's or Don the Beachcomber, etc.—and you'll find rum, but spiced rum is absent as a recipe ingredient. If spice was called for in a drink it was added in other ways such as syrups, infusions or bitters. It wasn't until 1984, when Captain Morgan first set sail, that pre-spiced rum became a thing, particularly a thing to add to cola, but not much else. However, a new wave of spiced rums have come to shore—and no soft drinks are necessary to enjoy them.
What sets the new era of spiced rums apart are actual spices, which tend to stay in the sweet bakery flavor spectrum—think cinnamon, nutmeg, allspice, clove, citrus peel, vanilla—but just how much spice and how it gets there depends on the rum. A successful spiced rum will use high quality spices and botanicals sourced from exotic locales the world over, and genuine flavorings that are used judiciously in the spirit so they don't taste like a spice rack kitchen catastrophe or add too much sweetness.
The spice mix is commonly added as an infusion to a finished rum, much the way it was done on ships traveling the high seas back in the day, although thankfully the quality of the rum the spice is added to has come a long way. In fact, the base rum tends to be comprised of a blend of aged rums.

Seafaring & Swashbuckling
Given the maritime history of rum, it makes sense that many spiced rums also come with a fair share of beachcombing and yo-ho-ho-ness in their branding. These include Brinley's Shipwreck; Blue Chair Bay; Bones; The Kraken; viking-inspired Roknar from Far North Spirits; Rumbullion! (recently imported from Atom Brands); Admiral Nelson's and Blackheart (both with Heaven Hill Brands); and of course, Sailor Jerry, with its nautical themes honoring tattoo artist and former naval officer Norman Keith Collins, a.k.a. Sailor Jerry.
The rum brand was founded in the 1990s by tattoo artist friends of Collins as a tribute to the man who sailed off to higher seas in 1972 after suffering a heart attack while riding his Harley. Further re-branding and re-formulation of Sailor Jerry Spiced rum in 2010 proved to be a massive hit behind the bar, and is still a favorite go-to spiced cocktail ingredient.
Major Caribbean rum producers like Bacardí with Oakheart; Cruzan; Chairmen's Reserve; and Don Q with its Oak Barrel Spiced (recently seen at the Last Word in Livermore, CA, in a drink blended with orgeat) have banked on rum's buccaneering past for their spiced entries. However, for a lighter spice touch, consider it a sort of gin rummy, if you will, there's Bumbu from Barbados and Boukman Botanical Rhum from Haiti. Even the darling of rum aficionados, Foursquare from Barbados, took the spice route, though with a sophisticated herbal essence overshadowing the sweet spiciness. (Incidentally, like gin, lighter spiced r(h)ums are delicious on the rocks with a simple splash of tonic and a citrus twist.)
In Our Own Backyard
Spiced American rum has come almost hand in hand with the resurgence of domestic rum production. Serious, high- end spice variants hail from coast to coast—from Maggie's Farm (Pittsburgh), Cutwater Spirits (San Diego), Bayou (Lacassine, LA), Siesta Key (from Drum Circle Distilling in Sarasota), Twenty Boat (Cape Cod), Corsair (Nashville), Greenbar Distillery (Los Angeles), Sugar Island (Loma, CA) and Koloa (Kuai, HI).
Tropical-inspired concoctions with exotic fruit juices are not the only use for spiced rums. Their warm flavors make for a soothing base for hot toddies or a fun way to spice up a hot chocolate or hot buttered rum variations. In a stirred drink, a good spiced rum will add an element of intrigue paired with some good amaro and/or vermouth and bitters.
Ask any Tiki aficionado and they'll tell you the best rum drinks require more than one type of rum to balance flavors—light and dark, sweet and herbal. It's worth experimenting with a few spiced rums to taste which ones play well with others, and which ones let their spiciness stand for themselves. And with so many different artisanal cocktail mixers these days, it might be worth reverting to that classic spiced rum and cola combo after all. Or, if you like things extra spicy, a splash of ginger beer.