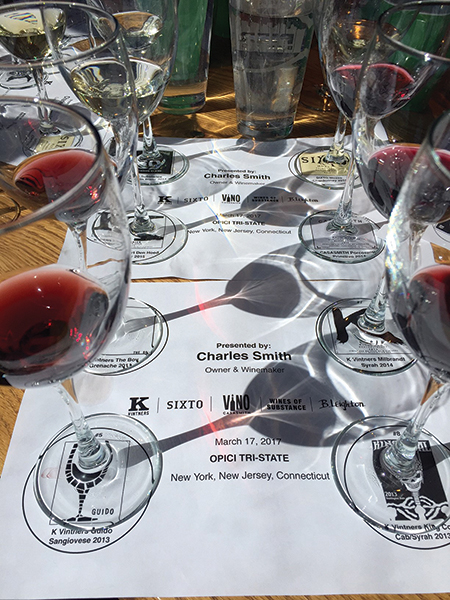 Charles Smith, Winemaker for Charles Smith Wines and K Vintners, hosted an educational wine luncheon at Pier 115 in New Jersey for Opici Family Distributing for the New York, Connecticut and New Jersey sales teams on March 17. Smith presented new vineyard offerings including Vino, Casa Smith, Sixto and a selection of K Vintners wines that are offered exclusively through Opici Family Distributing in the tristate area. About 120 sales representatives from the region attended the wine luncheon to learn about the terroir, production process and characteristics of each wine. Charles Smith Wines is based in Walla Walla, Washington and sources from vineyards in Columbia Valley AVA, Wahluke Slope AVA, Walla Walla Valley AVA, Snipes Mountain AVA and Yakima Valley AVA.
The wine tasting mat during the educational luncheon led by Charles Smith, Owner and Winemaker of Charles Smith Wines and K Vintners.
Pier 115 in New Jersey hosted Connecticut, New York and New Jersey Opici sales teams for an educational luncheon with Charles Smith.