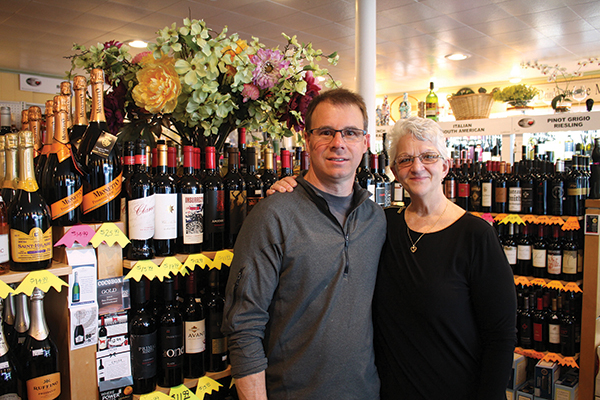 Cindy's Wine and Spirits
755 Boston Post Road
Westbrook, CT
Square footage: 2,000
Years in operation: 10
By Savannah Mul
It's a place where flower garlands sprout up next to rosé bottles and craft beer packs are stacked high. Soft music plays and beach decorations sit on top of the shelves. Owner Cindy Côté wanted to make her store warm and inviting, she laughed, "just like my personality." "I'm a people person," Cindy said. "Whenever a customer comes in, I want to make them feel like a million bucks."
And that's what she does, along with her business partner and brother-in-law, Jim Côté, who said they start conversations with everyone who comes in the store. Cindy has been in the retail beverage alcohol business for nearly 30 years. She began working at her mother's package store, Good Spirits in Westbrook, where she remembers dusting off bottles every Sunday when she was young. Through the lessons she learned at her mother's store and her own knowledge of the industry, she has found success in her own retail business.
Cindy said there is a level of trust among her, Jim and their customers, many of who come to the store looking for help with food and wine pairings, Cindy said. "They tell me what they're serving at a dinner party and ask what they should pair with it, some ask if I can just build them a case, it's nice … they trust me," she said.
For that key reason, the business partners try to taste everything they purchase. "We know our products very well," Jim said. The store is equipped with 26 doors of cooler space, which offers a large variety of more than 200 white wine varietals, chilled rosés, champagnes and cold brews.
Cindy said every year is a new experience in the business because "you buy differently," to stay up to date with the latest trends and everyone's tastes. She said she is now waiting for the next new vodka flavor to hit the market. "It used to be all wine and beer," Cindy said, "but now we have a younger generation willing to spend extra on wine, beer and bourbons." Jim added, "We encourage them to mix and match, and make their own 6-pack [of craft beer]."
Upstairs from the retail space of Cindy's Wine and Spirits, a room with couches, craft tables and craft supplies awaits, along with a table for in-store wine tastings. They use this space to offer paint nights to their customers, another growing trend in the industry, Jim said. An artist will come in and walk guests through painting an image on a wine glass. Guests are able to leave with a hand-painted souvenir glass. "[When we host them] we average about 50 people per night, they've been really popular," Jim said. "We have a sales rep come out and pour some wine to taste; it's a girls' night out."
Cindy's Wine and Spirits also takes advantage of the marinas located along the same street and provides delivery services, which have given an added convenience to their customer base. "It's [been] a lot of hours," Cindy said, "but the most important thing is our relationship with customers." To that end, the business is a sponsor of the Leukemia Cup and also helps raise money for local schools, scouting troop and many other community events.