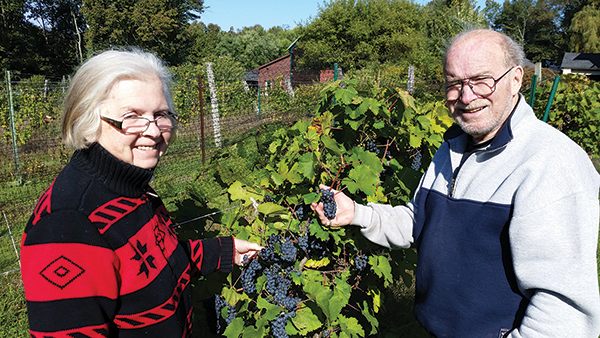 Jerram Winery's Founder Finds 30-Plus Years of Reward
Customer satisfaction outshines medals
By Nancy Kirsch
"Any time someone buys a bottle of my wine, I just got a gold medal," said Jim Jerram, sole member and manager of Jerram Winery, LLC. At 79, Jerram continues to run the winery, with some help from two of his six sons; son Dan will take over when Jerram finally retires.
Although each of his wines that has been entered in a competition has won an award, Jerram said, "Everyone loves to have medals and proclamations, [but] I put more faith in my customers' judging." Although he considers judges' decision-making "very arbitrary," Jerram still enters wines into his favorite competition, the Finger Lakes International Wine Competition, which he loves because it donates proceeds to Camp Good Days and Happy Times, a camp for children with debilitating diseases.
Like many family-owned wineries, Jerram's began as a hobby in 1982, while he worked full-time in manufacturing and quality control in the food and beverage industry. He began growing grapes and making wines for friends and family members on the family's 11-acre property, with his six sons, he joked, providing "free labor." After retiring more than a dozen years later from his last employer, Heublein, Inc., he realized that he had sufficient resources to establish a profit-motivated, full-fledged business.
"The whole vineyard – right from the 'get-go' was an experiment," Jerram said. By using his common sense, learning from a few other vintners and experimenting with what appeared to be good ideas, most of what he's done has worked, he said. "If I had any inkling back in 1976 [that I would have a vineyard here], I would have bought a bigger farm," he said.
Each acre yields about three tons of grapes annually, he said, though only about five acres comprise the vineyard. While most of the other property isn't available or suitable for grape growing, another acre or two could be dedicated to growing grapes within the next few years, Jerram said. He purchases 40 to 50 percent of the grapes he uses from other vineyards in the Northeast to help produce 11 wines, which include five reds and six whites, some sweet, some dry.
With one exception, Jerram Winery grows all French and American hybrids that have cold hardiness built into their DNA. "Some of the new varieties … are rated to 35 degrees below zero. If it ever gets that cold here, I will die; but I will die happy, knowing that some of my grape vines will survive," Jerram joked.
Fifteen percent of his wines are sold in about 36 local package stores. The vast majority of the wines are sold onsite, where visitors can bring a picnic meal and enjoy Jerram's wines. Nestled into an area filled with history, the winery has a lovely setting, said Jerram. "Our tasting room was built in 1903 as a creamery … to be a butter factory. People think it must have been a library or special museum."
Jerram Winery participates in the Passport to Connecticut Farm Wineries program, which runs from May through November; and the smaller Litchfield Hills Winter Wine Trail, which runs from December through March. That's why the Jerram's close every April and escape for a month of rest and relaxation.
Which Jerram Winery wine is his "go to" favorite? "Highland Reserve [a red wine]. If our dinner calls for white wine, Maureen vacillates between Gentle Shepherd, a blend of three different wines, and Aurora, which is delicious and semi-sweet. She calls the shots on the white wine," he said. "It also has to do with inventory … I have to conserve usage for sale."
Will a third generation take over the winery? "It's very possible … but I don't have a crystal ball," said Jerram, whose 15 grandchildren include some who live nearby – two grandsons (from son Dan) and three granddaughters (from son Rob). His 12-year-old granddaughter, Abby, has learned the wines, the SKUs, the prices, etc., and mows the lawn around the vines.
In the meantime, Jerram, who said the winery's chores keep him young, believes that people "who retire and do nothing, die [prematurely]. I want to do something, and what I'm doing, I love."
Jerram Winery is located on 535 Town Hill Road in New Hartford, Connecticut.