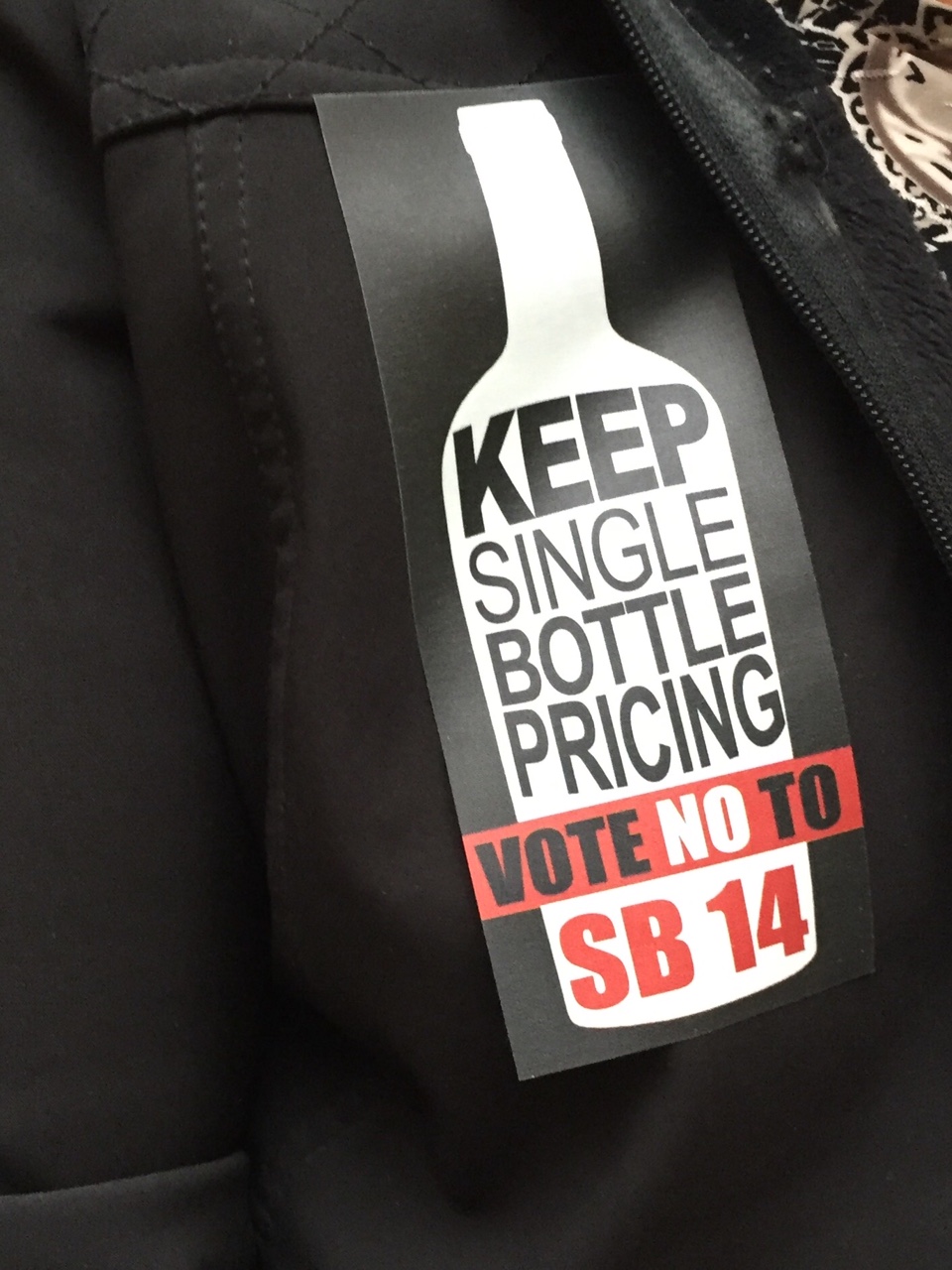 Hundreds of Industry Members Testify Against Malloy's Minimum Pricing Bill
From Staff Reports
HARTFORD — Hundreds of package store owners, wholesaler staffers and others whom S.B.14, "An Act Ensuring the Regional Competitiveness of Connecticut's Liquor Prices" could potentially impact came out in full force Feb. 23 to testify against Gov. Dannel Malloy's proposed bill, at a public hearing held at the Legislative Office Building.
The General Law Committee heard hours of testimony and many industry members challenged the bill, which would remove the minimum bottle price posting. This means stores could sell for less than what they paid for the product, per bottle. Opponents said the bill favors larger chain stores and will reduce market diversity in product selection among other arguments including job losses across many sectors.
Department of Consumer Protection Chairman Jonathan Harris spoke in support of the bill: "S.B.14 is fairly simple and it is minimal in its actual effect going forward." Harris said removing minimum bottle pricing is in the best interest for Connecticut consumers and will allow the state to compete with surrounding states citing lower per bottle cost at the retail level for consumers as the end result.
Harris said he is confident that the "mom and pop stores" can thrive because they give customers a different atmosphere and more personal service than chain stores can, citing he had more confidence in those community businesses to compete "than perhaps they do in themselves" should the legislation pass.
Many lawmakers strained to understand the three-tier system and the role of pricing vis-a-vis suppliers, wholesalers and retailers in the end cost for the consumers. Many of those against the bill cited the state's tax structure as the real culprit in competitiveness regionally.
Carroll Hughes of the Connecticut Package Store Association delivered a lengthy series of data points about negative ripple effects of the passing of the bill, providing history and counterpoints to recent media reports with his allotted, extended time granted. Hughes cited potential store closures, job losses, community impacts as well as inaccurate sales tax projections and fiscal note attached to the bill.  "We have to look at what is good for the State of Connecticut," Hughes said. "The sky is falling on this one; I will tell you that about S.B. 14."
Larry Cafero, executive director of the Wine and Spirits Wholesalers of Connecticut trade association offered a complete "challenge to the premise of the bill," regarding the stated competitiveness to border states, arguing Connecticut holds a competitive edge not through its price snapshot "on any day during a certain month" but through its per capita beer, wine and spirit consumption as 10th highest in the country, higher than Rhode Island, Massachusetts or New York.
The Teamsters' Daniel Flanagan also testified against S.B.14, citing related job loss on behalf of about 3,200 families. The Connecticut Beer Wholesalers Association also cited job loss via the "domino effect" of such legislation, as did the United Food and Commerical Workers Union, who in their opposition argued that industry consolidation would lead to higher prices.
Jay Hibbard, the Vice President of the Eastern Region for Distilled Spirits Council, Eastern spoke in favor of the legislation, saying the bill will deliver millions of dollars to the state treasury as did Edward Cooper, representative for Total Wine and Spirits, who maintains that the current laws hurt the General Fund. The national chain was the focus for many in their testimony against the bill.
Patrick Monteleone, owner of Harry's Wine and Liquor Market in Fairfield, offered a detail of bottle prices per state, citing the impacts as "pennies" to consumers by using large retailer per bottle price data, including that of Total Wine from other states.
In other related industry bills, Representative Mike France proposed S.B. 188, which is a proposed act concerning farm winery retail sales hours and free wine tastings at farmers markets. France said many of the Connecticut farm wineries operate a store in conjunction with their tasting room. France proposed wineries to open at 8 a.m. until 10 p.m., but abide by the Connecticut liquor laws for the sale of wine. Along with the hour change, the proposed bill also allows farm wineries to give free tastings at Connecticut farmers markets. A "Brunch Bill" also received support from a Diageo representative enabling on-premise businesses to serve alcohol at 10 a.m. versus 11 a.m on Sundays.
The General Law Committee has until March 15 to decide on what action will be taken towards all the bills. Full testimony can be read here.