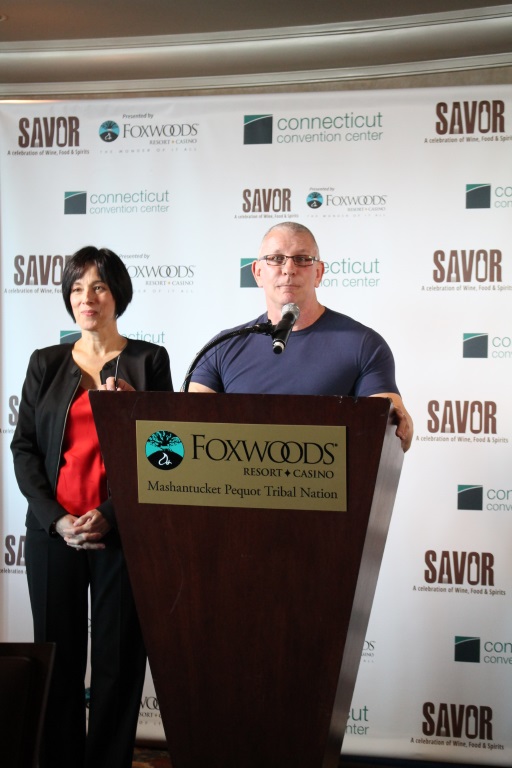 Savor CT, "A Celebration of Food and Wine," will be held at the Connecticut Convention Center in Hartford on April 7-9. A recent luncheon at Vue 24 in Foxwoods Resort Casino offered a preview of what festival guests can expect.
Savor CT begins on Thursday, April 7 with a Pappy Van Winkle tasting, where guests can taste each five year release from 10 to 23 years old. This event is presented by Savor in partnership with Plan B restaurants. Culinary options will be paired with the whiskey. Friday and Saturday offers the grand tastings and a charity gala on Saturday night wraps up the festival. Robert Irvine, celebrity chef and television show host of Food Network's Restaurant: Impossible, will serve as the emcee to the weekend festival.
"We have a really nice selection of unique wines that offer trade professionals a chance to try everything in one place," said Vicky Cirilli, Event Director, Savor CT. Cirilli said guests can look forward to new and returning celebrity chefs. Beer and spirit vendors, like Hendricks Gin, Tullamore Dew, Wild Turkey and SKYY Vodka among others will present cocktail samples for guests during the grand tastings.
Proceeds from the event will go to benefit the Robert Irvine Foundation, a not for profit that honors men and women defending our country. Last year, Savor CT raised over $60,000 for the Robert Irvine Foundation. "Savor is about helping people from all walks of life," Irvine said, during the Savor press conference on February 22. "This year the bar is set even higher."
For more details and tickets, visit here.