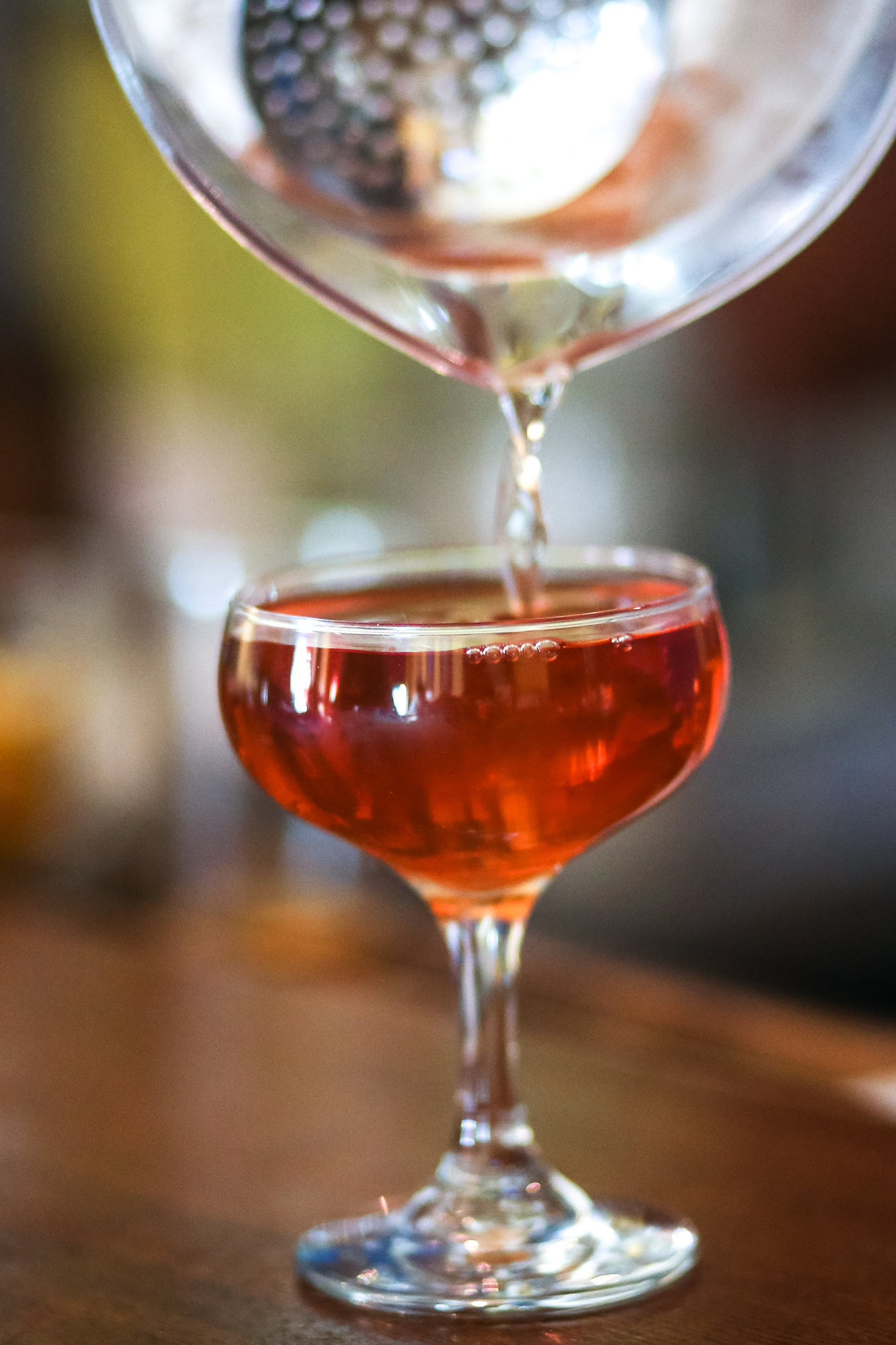 By Sara Capozzi
January brings a fresh slate and it is again time to start guessing what the next year will bring. We talked with a range of Connecticut tastemakers to get an idea of where beverage trends are headed in the next year. Here are some of their predictions.
Simplicity, Education, Low ABV
Craig Ventrice, Beverage Manager for Jesup Hall, The Whelk and Kawa Ni said, "Cocktails will get back to basics. We'll start seeing bars doing more standard Negronis, Manhattans and Old Fashioneds." While complex cocktails are "still popular now, in the near future, I think we're going to see these five-, six-, or seven-ingredient cocktails shrunk down into more straightforward flavor portfolios," Ventrice said.
Ventrice also expects the low ABV trend to strengthen as consumers continue to become more health conscious and drink more moderately, ordering more highballs, Campari sodas and spritzes.
He also sees the interest in education throughout the beverage industry continuing. "As a state, we're getting better at educating each other and sharing ideas," he said. Ventrice credits visiting brand representatives and participation in organizations such as the United States Bartenders' Guild with the increase in knowledge throughout the bartending community.
Consciousness, Cocktails, Confections
Jessica Rapuano, Bar Manager at Olives & Oil in New Haven, predicts a continued focus on creating "closed loop, zero waste cocktails that minimize waste between kitchen and bar," including how the bar designs its featured cocktails consciously using ingredients from the kitchen. "This practice minimizes waste and the amount of ingredients that need to be kept on hand, and offers a great selling point for patrons when pairing food with cocktails," Rapuano said.
"Another trend that I feel is gaining steam is using acids other than citrus in cocktails," Rapuano said. "The traditional way to add acidity to a drink is to use citrus, usually lemon or lime juice. Acidity is necessary to add brightness and balance to the drink and keeps it from falling 'flat' on your palate. But what if you don't want the added flavor or sweetness of that citrus? Bartenders are using other ingredients such as citric acid or acid phosphate to do this."
On a sweet note, Rapuano sees momentum in "marrying cocktails and confections. Making baked goods, candy and milkshakes infused with flavorful spirits. For example, bourbon ginger snaps or smoky mezcal marshmallows."
Career, Proficiency, Professionalism
Peter Clayton, Owner of Bartenders Academy, said he currently sees more people choosing bartending as a serious career and expects to see the interest in training and tastings continue to grow. "I'm seeing more and more people of a variety of ages looking into cocktail history, and more and more choosing the bartending profession instead of other career paths," Clayton said.
In addition, he said customers are expecting more from bartenders, and anticipates bartenders will continue to meet the demand by providing customers with both "elevated cocktail proficiency … and elevated customer service and hospitality."
Another trend Clayton expects to see continue is more bar owners and managers from all types and sizes of bars "looking to improve talent" with professional development training for their employees. "As customers and the industry demand more, managers and owners want a better team who stays around," Clayton said.
Local, Lighter, Natural
Tom Dubay, President of the CT Spirits Trail and Co-founder of Hartford Flavor Company, expects to see continued interest by consumers in local products. "More and more people are getting excited about visiting their local distilleries," Dubay said. "The most adventurous are heading out onto the CT Spirits Trail, getting their passport stamped, and having fun at the unique and interesting distilleries."
The demand for locally sourced and all-natural products will continue to increase as well, Dubay believes. "What has happened with farm-to-table food is now starting to happen here with farm-to-glass distilled products," he said.
Dubay also predicts that the trend toward lower ABV beverages will continue. "The [cocktail] does not necessarily have to start with a 90-proof base spirit, although the classic approach will not die … it can be a lower proof spirit that acts as the base with one or two other mixers added. Restaurants and bars will like this as their customers may purchase another drink or two over the course of their visit," Dubay said.
Producers, Phenols, Perry Pears
Renee Allen, Director of the Wine Institute of New England, said that producers will continue their creative efforts to create new tastes and attract consumers. "Creative cooperage will be popular … anything that benefits from seeing the inside of a barrel [will] continue to seek out interesting influences on wines and spirits. Many products will start off life in one type of barrel and be finished in another … Producers may explore beginning the aging process in one location and then transfer to a second region with a different climate for variation in maturation, aromas and flavors. Some producers may sink their wine in the earth, like qvevri in Georgia … or temporary homes on and under the sea, allowing the slow rocking motion of the ocean to gently mature them."
Allen also echoes others' sentiments regarding the more health conscious consumer. "The wine industry will continue to mirror the trend in the food industry of finding ways to offer healthier products," she said, by producing lower calorie wines, lower alcohol wines and healthier versions "by adding antioxidant rich substances (such as rooibos) during the aging process." Allen said further research "to identify the hangover-causing phenols in grapes, precipitating the creation of new and improved crosses and hybrids" is on the horizon.
Allen's other top predictions are, "More independent retailers will debut private labels, creating bases of brand loyal shoppers" and "the breakout product of 2018 will be perry, a hard cider made from perry pears."
Suppliers, Prices, Collaboration
Nick Conti, Owner of Sav-Rite Liquors in North Haven and Ye Old Liquor Shoppe in West Haven, weighs in from the package store industry perspective and as a member of the Connecticut Package Stores Association. "I suspect more price reductions from major suppliers," Conti said. "The craft and buy local trends have created 'what's new today? consumers' and they are not big brand loyal."
"Hopefully suppliers are mindful of their 1,100 [Connecticut] independent retail partners when they formulate their 2018 strategies. Dropping price without notice, slashing margin and extending buys beyond realistic means won't be met with support and promotion off-premise. The current environment has and will continue to present opportunities for our businesses to grow together. More collaboration will only make Connecticut stronger," said Conti.
Growth, Opportunity, Certification
David Rudman, USA Business Development Director of The Wine & Spirit Education Trust (WSET), also sees more growth in education. "Wine and spirits education [is] growing at a very rapid pace in the U.S. and that growth will not only continue but accelerate," Rudman said. "WSET is the industry-leading provider of wine and spirits education for beverage professionals, and the U.S. is projected to overtake the U.K. as the second largest market for these programs in 2018. A major driver within this trend is spirits education, for which the U.S. is the top growth market."
"The need for education is, of course, being driven by the sheer number of new products and innovations within wine and spirits categories," he said. "But more and more sales professionals, from supplier personnel through the ranks of distributor sales and down to the retail and hospitality levels, are recognizing the significant correlation between education and profits. The majority of the dollar growth in our industry is in premiumization, and only a confident and educated sales team can really take advantage of the upsell opportunity."
Health, Ingredients, Sustainability
Jamie Oakes, Bar Manager at Cure in Unionville, also predicts a trend toward more health-conscious imbibing and continued popularity of vintage cocktails. "With a continually increased focus on eating cleaner, it's only natural that people will want to drink cleaner as well. You might see the use of kombucha, fresh vegetable or fruit juice, shrubs, turmeric, or activated charcoal come into play more frequently. This also continues the use of sustainable local ingredients across the state in both the kitchen and behind the bar," she said.
Oakes also noted that with classic cocktails making a comeback, she expects to see "a lot of simple elevations on them while still staying true to these classics." Health and wellness is a factor not just for consumers, but for bar staff, too. "With many bar professionals slowing their personal alcohol consumption, like myself," she said, "You might even see low to no alcohol 'cocktails' finding their way to your local bar."
Thoughts on trends? Email us.