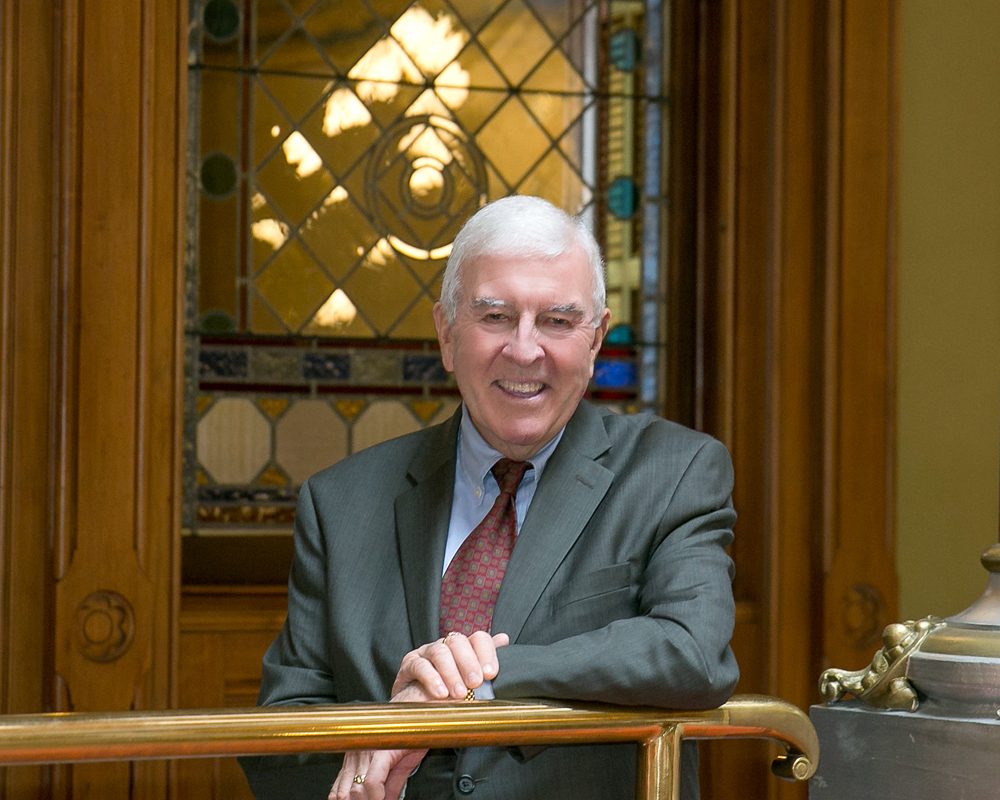 Industry shaping advocate leaves lasting legacy
From Staff Reports
Carroll Hughes, a veteran lobbyist at the Connecticut state Capitol on behalf of package store owners and also interests of the state's police chiefs, died at age 79 on Nov. 1, at Lawrence and Memorial Hospital, succumbing to effects of leukemia. Hughes established the state's first independent lobbying practice in 1974 and paved the way for other lobbying firms in Connecticut, taking representation of the Connecticut Package Stores Association (CPSA) in 1976.
CPSA issued a statement on Nov. 3, stating, "We are writing with our deepest regrets to announce the recent passing of Carroll Hughes, President of Hughes & Cronin, and Executive Director of the Connecticut Package Stores Association. As many of you know, Carroll was so passionate about his work, staying as sharp as ever throughout his three-year battle with leukemia. He passed from this life on Monday evening with his wife and partner, Jean Cronin, and son, Sean Hughes, by his side."
"My Dad was passionate about always protecting package stores. He lived and breathed and even strategized in his sleep to protect the industry," Sean Hughes said. "Carroll's research even extended to testing the product itself. He never met an Irish whiskey he didn't love."
Carroll Hughes' tireless commitment to those he represented and skill for strategy made his company, Hughes & Cronin, one of the most respected and sought-after lobbying firms.
"Throughout his long career, one of Carroll's greatest accomplishments was his fierce and successful lobbying on behalf of individually owned package stores in Connecticut since 1976. No one knew the industry better than Carroll, who safely guided the association through decades of relentless attacks against packages stores by box stores, online industries, and even entire gubernatorial administrations," Sean Hughes said.
He passed his years of experience on to his team, who will continue to deploy the effective strategies that have long protected the interests and well-being of the retail package store industry for over 40 years.
Stephen Downes, President of CPSA, said, "Carroll was a master of his trade. He was relentless in his efforts to protect CPSA and its members, and you could tell he loved doing it," said Downes. "I'll miss his early morning and late-night phone calls during the legislative session to update me on his strategies. He was always thinking ahead, one of the many traits he's instilled in the whole team at Hughes & Cronin. We are all grateful for Carroll's invaluable work on behalf of CPSA, and he will be greatly missed."
Longtime CPSA Board member Alan Wilensky, said, "Carroll lived and breathed his family and his work and he loved the challenges and the fights. I think that's what he liked the best about the liquor industry… the constant battles. Everyone wanted a piece of our industry and Carroll was not about to let us lose. He was a master strategist. A cross between the best military general and the greatest head coach in history. He always seemed to be five steps ahead of everyone and knew the answers to questions that the opposition hadn't even thought of asking yet. He knew everyone and made it a point to greet every new legislator before they had even made it to the Capitol building."
Connecticut Beverage Journal Publisher and President, Gerry Slone, said, "Our paths began to cross decades ago and we would run into each other professionally and personally. Carroll was quick with a joke and so smart, a staunch advocate for package stores. He really understood what made Connecticut so unique as a liquor marketplace against other states … he was a committed and dominant authority in educating legislators, shaping legislation and bridging everyone through so many industry changes."
"Fierce, smart, and hardworking, he was a friend to so many," State Sen. Paul Formica, R-East Lyme, said in a written statement. "He will be missed by all and remembered for helping bring voices of many, from small business owners to the brave men and women in law enforcement, to the state Capitol."
"Thank you to all those who have reached out with kind words. Members were like family to him and he fought to the end for CPSA," Sean Hughes said. Jean Cronin, who has worked side-by-side with Carroll since 1986, will take over as Executive Director of CPSA. Sean Hughes, Assistant Director and Mallory Daley, Program Director, will continue with grassroots and membership outreach as always. "All team members look forward to continuing the fight to protect your stores."
Read more about his personal and professional impact, as well as memorial information, here.