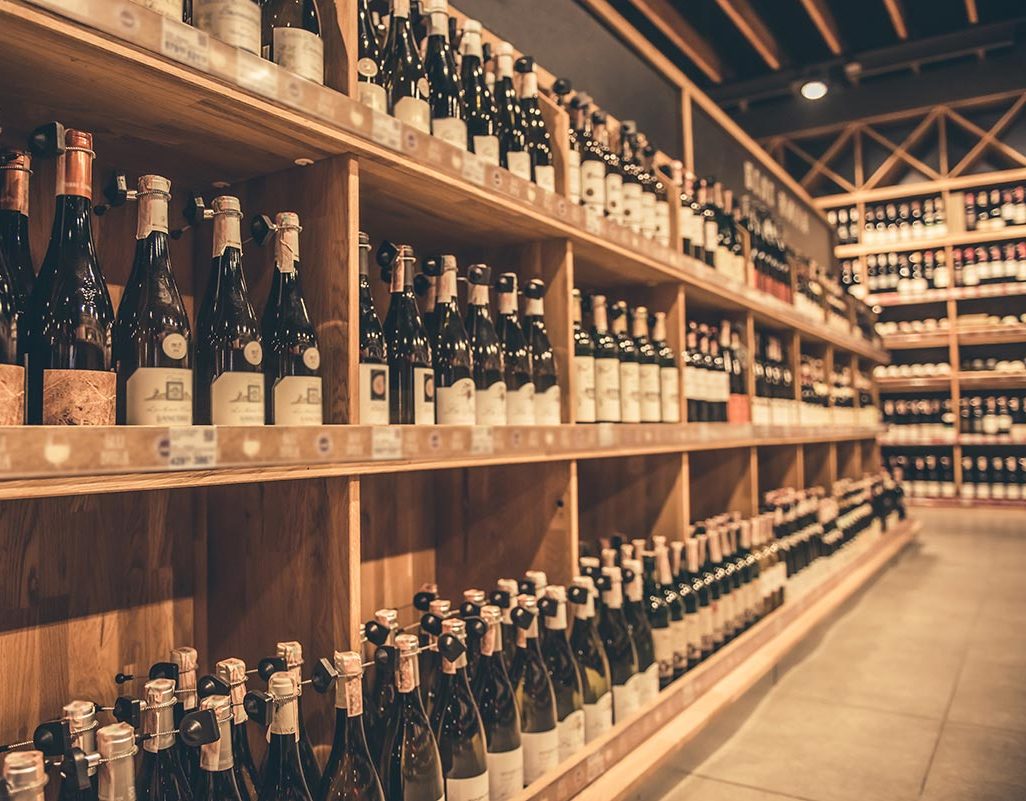 Demand for delivery and curbside pickup increases amid pandemic
By Sara Capozzi
As the impacts of the novel coronavirus outbreak continue to reverberate throughout Connecticut, package stores have been deemed essential businesses, allowed to remain in operation during the state-mandated closure of a large portion of retail establishments, organizations and schools since March 17. Confusion ensued during the first week of state-issued executive orders as the gravity of the pandemic set in, proliferating on social media about what stores, bars and restaurants could or could not do.
Carroll J. Hughes, Executive Director of the Connecticut Package Store Association (CPSA), said he and the CPSA team worked to keep its 1,250 member stores in the state informed about the latest developments in coronavirus-related information impacting businesses as well as state regulatory updates so that "rumors [didn't] overtake reality," he said. CPSA remains in coordinated contact with the governor's office, the Wine & Spirits Wholesalers of Connecticut (WSWC), the Connecticut Beer Wholesalers Association (CBWA) and the Connecticut Restaurant Association, as well as communicating any updates to members.
Package stores in the state saw an unprecedented increase in sales from March 17-31 of this year versus the same period last year, up 25% to 50%, according to submitted wholesaler data, owing to initial panic that the state would perhaps extend the social-distancing shutdown to liquor stores.
Historic retail sales aside, in March, on-premise product consequences included extra beer in inventory with the closure of bars and restaurants on the heels of St. Patrick's Day and March Madness, when beer sales usually start to climb. In spite of the sudden drop in beer sales on premise, the industry has kept its gaze on safe conditions across tiers.
Jude Malone, Executive Director, CBWA, said the association is working with its seven distributor members to keep operations running smoothly and safely while keeping employee health front of mind.
"It's really about kindness right now," Malone said. "For the seven distributors that are in our association, our employees and our employees' health are our main concern. We appreciate very much that we're essential employees and that we can be out there but we also so appreciate and keep in mind and honor our employees and what they're doing if they have certain concerns.
"I think health and safety is of the utmost importance to us and making sure how do we all support each other. My restaurant partners are my main concern right now because I think that they're challenged in ways that they never have imagined and how can we help them," she said.
As the majority of stores remain open, Hughes said he has seen most adjust their operations to their specific needs and customers, as well as offering more options to err on the side of safety, such as accepting prepaid call-in orders and curbside pickup with limited customer contact.
"One size doesn't fit all," Hughes said. "If your store is in a neighborhood where there's not a lot of people that have credit cards, well how can you say, 'I'm not taking cash.' Or if someone does most of their business in the afternoon, how can they close early? So, we decided that it's best if everybody thinks thoroughly through something they're going to do. It's a business practice … think about the implications of it to your customers then treat them like you want to be treated."
Matt Murphy, President of Murphy Distributors in Branford, said they are working with both on and off premise accounts as a "partner to our customers and a source of information should they need it." To help retailers during this time, Murphy said his company has been helping to ensure products are merchandised correctly, with the current prices and shelf talkers. The company has also given accounts sell sheets and other resources for promoting closeouts.
"People are coming to [stores] and they're not shopping; they don't want to spend time in the store. We've seen a lot of national brands be moved because people know they're going to walk in the store and get Jack Daniel's. They're not shopping for an esoteric wine or the newest vodka to come out. We just try to make sure we've got good merchandising materials and we've got our products in the right places so our consumer can come in and grab it and our customer, the liquor store, doesn't have to do a lot. They can just worry about being safe and sanitary," said Murphy.
Some shops, especially in Fairfield County where the virus has the highest number of cases, have closed their doors to foot traffic but kept their curbside pickup and delivery services running. In talking to a number of stores across the state about changes seen in sales, customer buying habits and operations adjustments, the recurring theme was of balance in meeting customer needs while keeping staff and customers safe.
Stephen Downes, CPSA President and Owner of CT Beverage Mart, which has locations in New Britain, Newington, Wallingford and Middletown, plans to keep all of his locations open. Downes has taken precautions for the health and safety of employees, including encouraging social-distancing measures for customers in line. Downes said customers still buy what they normally buy, "just more of it," with 10% of business dedicated to curbside pickup – for now. "We anticipate that getting bigger as the virus gets worse," he said.
Downes said he is making an effort to support Connecticut-based breweries and wineries, who are hurting financially from the shutdown. "Their display areas are closed off and it's hard for them to sell. A lot of the local breweries do well with us, but they do a lot of business in their taprooms and they're closed. I've been trying to get the word out to the local package stores, 'Let's support these people.' We're all in this together … I think we have to support each other in troubled times."
NeJaime's Wine & Spirits in New Milford has "seen an uptick in business," according to General Manager John Caldwell. "As people stock up, there was a little bit of panic-buying," he said. "We've seen an increase in business and we're still seeing it; people not knowing whether stores will be open or closed."
NeJaime's Wine & Spirits has taken a number of precautionary measures. Employees wear gloves and sanitize high-traffic areas after each customer, and no more than four customers are allowed in the store at a time. Store staff also do the shopping for customers. "We have them come to the counter and pay, and we'll go grab the items they need," Caldwell said. "Or even better yet, tell us what you need, sit in your car and we'll bring it to you." Caldwell said the store has seen delivery orders triple and customers using curbside pickup has increased eightfold.
Due to concerns about the continued spread of COVID-19 from an influx of New Yorkers to the state, a number of stores south of New Milford in Fairfield County and north in Litchfield County have closed to walk-in customers, remaining open for curbside pickup and delivery only.
Tina Montefusco of Avon Super Cellar said customers were buying in bulk, with items such as grain alcohol and Tito's Handmade Vodka handles selling out initially, seeing a rush of customers the first week of the mandated state shutdown. "That first week we were running numbers that were like holiday numbers. There were plenty of people in and out of the store," she said.
While in-store traffic has slowed a bit since the first week of the shutdown, delivery business through the Drizly app has increased. Montefusco estimates 25% to 50% of business now is through delivery, and more than half of 85% of Drizly orders are new, first-order customers. "Obviously people aren't going out as much, which they shouldn't. Drizly is really helping us out," she said.
To keep customers and staff healthy, the team ramped up its cleaning routine, regularly disinfecting high-traffic areas and frequently touched cooler door handles. "It's something we all want to do to keep everybody healthy," Montefusco said.
CJ Patel, Manager of Dayville Fine Wine & Spirits, reported that after a rush in sales early in the shutdown, business has decreased significantly. "Last week was OK. It was a better than normal week. But this week it's dead," Patel said during the second week of the shutdown. "This week is really, really slow. I'm talking about if I was doing like $500 a day, I'm doing like $200 now." Patel said one reason for the slowdown could be that customers stocked up the week prior.
Karl Ronne, Owner of The Wine Thief – which has locations in the East Rock and downtown sections of New Haven and a shoreline location in Madison – is working on temporarily shifting business to only deliveries and online purchases through its website. "From day one we were encouraging store pickups to keep people out of the store, but it seems like now the vast majority of people are ordering online either for curbside pickup or delivery," Ronne said.
Ronne said he is already looking to the future, when the threat of the coronavirus passes, people go back to work and life returns to its former activity. He predicts that the demand for pickup and delivery services will stay high. Ronne has already adjusted the store's business model and modified the roles of staff members, with an employee assigned to answer phones, someone to field orders and a person to deliver.
"What we're anticipating now is once you deliver a service to a customer, they're going to always expect it," he said. "We're looking to the future now, how are we going to restructure our business model a little more and refine it so we can handle this delivery service that we're so much encouraging."
Robert Hall, Owner of New Canaan Wine Merchants and the Wilton Wine Shoppe, said he is seeing "less foot traffic but bigger volume sales, so more stock-ups, more cases going out the door."  Customer demand for curbside pickup and delivery has gone up significantly, now accounting for 50% of the store's total sales, Hall said. "The model is completely flipped, where it was mostly in-store traffic, now it's mostly curbside and delivery."
Hall has increased sanitation measures in his stores and turned off interaction on credit card terminals, with no signature necessary to keep things as touch-free as possible. While some businesses near him have closed temporarily or offer modified models, Hall said he doesn't anticipate following suit. "I don't foresee us closing our doors," he said. "It'll be business as usual, or the new usual."
Numerous coronavirus charitable causes are underway in the state. The CPSA sponsored and encouraged its members to donate to three statewide charities at the onset of the shutdown, including the American Red Cross, the Connecticut Salvation Army and the Connecticut Food Bank, among other efforts.
As coronavirus remains developing news, we will focus on additional angles from wholesalers to hotels. Feel free to send in your story ideas to dana@thebeveragejournal.com.