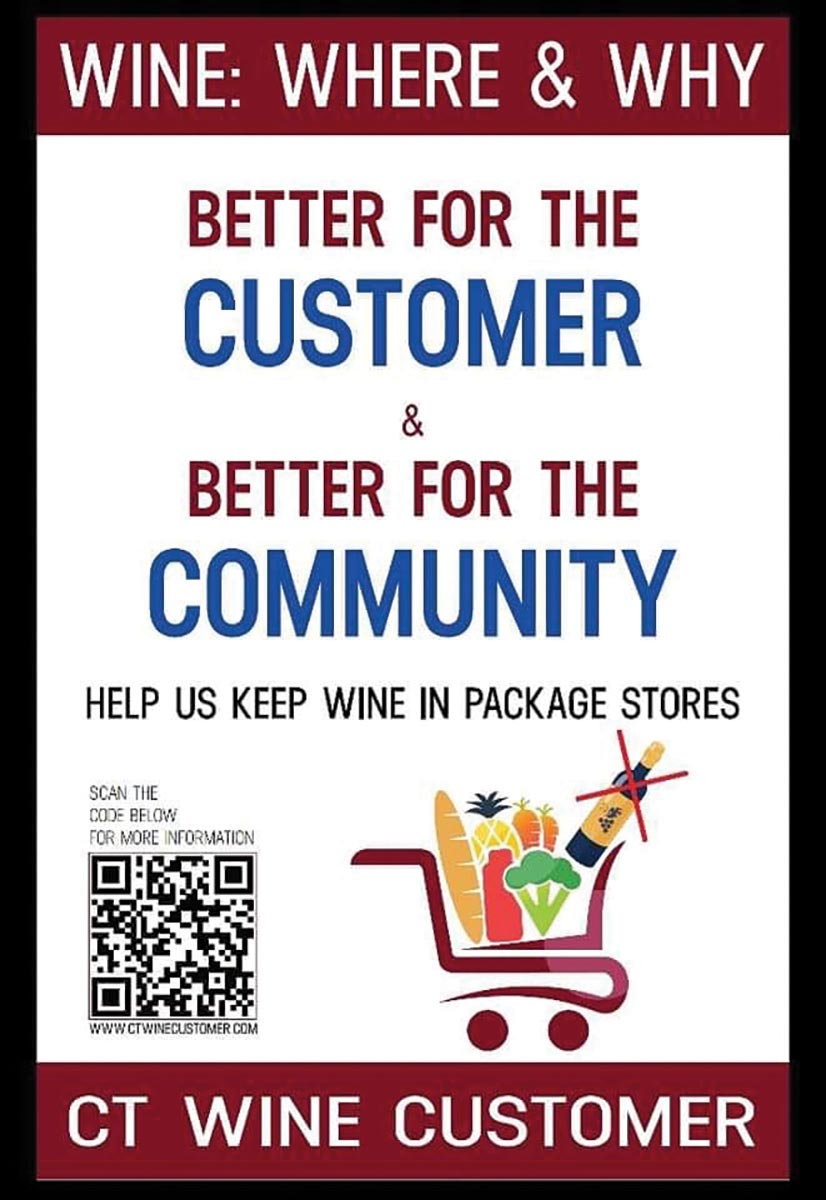 A retail outreach campaign seeks to educate consumers
By Sara Capozzi and Dana Slone
The war of words on whether wine should be sold in grocery stores is being waged on the web and in the media and, as of press time, is looking to be on the docket as the Connecticut General Assembly convened on Jan. 4. Wine sales in grocery stores has been brought up in the public forum in the past—albeit with no success.
With a very public campaign for wine in grocery stores, a revived effort led by the Connecticut Food Association began anew in the fall of 2022—with signage in food stores, radio advertising and a social media push—and continues in 2023. "Forty-two states and D.C. allow the sale of wine in grocery stores. Consumers want it. The economy needs it!" reads the Connecticut Food Association's website ctwinenow.com.
Representing grocery stores including Big Y, ShopRite, Stop & Shop and Whole Foods, the trade association and lobbying body maintains the belief that wine sales would have little impact on locally owned package stores.
"Consumers are always going to get spirits and fine wines at package stores. We want to simply provide convenience to that customer already shopping in our store who wants a bottle of red or white for that night's dinner," said Wayne Pesce, President, Connecticut Food Association. "Our research shows that if wine is available for purchase in Connecticut supermarkets, consumers will continue to patronize their local package store with the same consistency they do today." The research, described as an economic study report, has not been released publicly, Pesce said, but will be made available prior to any legislative public hearing, along with the trade group's public opinion polling.
If such a measure were to pass, opponents of wine sales in grocery stores believe that Connecticut's three-tier system and its network of jobs through distributors, suppliers and support sectors would be threatened with negative economic impacts felt across communities beyond store owners. Plus, opponents say customers would be negatively impacted because the measure would ultimately reduce the diversity of products sold in the state once store closures create a dearth of shopping options.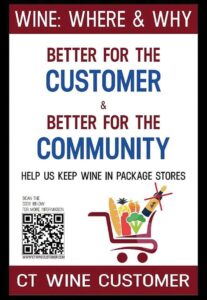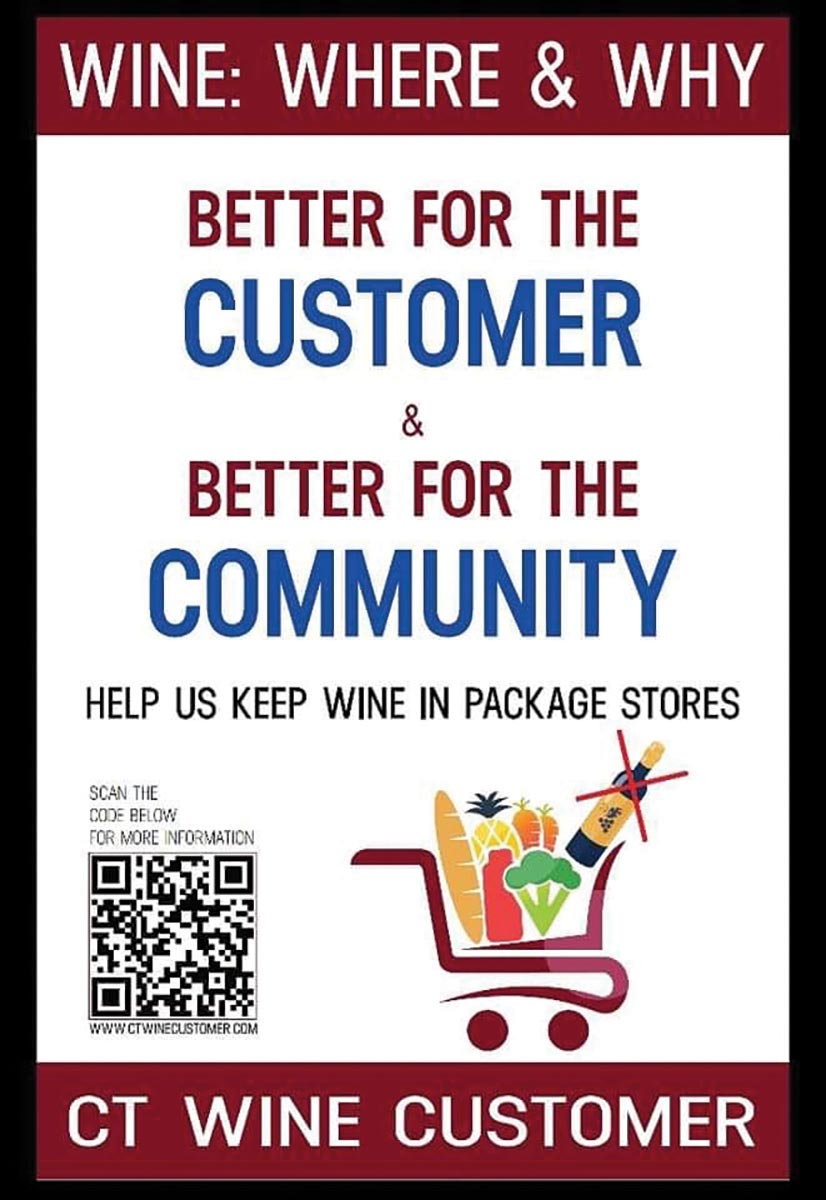 The Indian American Package Store Association of Connecticut (IAPSACT) has already begun its advocacy efforts in hopes of educating consumers and legislators about the detriments that such a measure would have not just on the livelihood of the state's approximate 1,200 package stores and their owners, but also on consumers.
IAPSACT's website ctwinecustomer.com and its campaign called "Wine: Where & Why" seeks to unpack the issues. "We have to do everything to make sure that we're educating the public, as well as the legislators, that this is bad for the Connecticut consumer," said Girish Patel, Owner, Valley Discount Wine & Liquor and Director, Executive Committee, IAPSACT. While the public may believe wine in grocery stores would make one-stop food and beverage shopping more convenient, many remain unaware of the implications over the longer term.
The IAPSACT coalition has set out to provide education on these issues, both for consumers and state legislators, many of which are new this term. "We're not afraid to engage with both legislators and customers, but it needs to be a conversation that's had across the board, not just with legislators. Because I feel like for customers it's low-hanging fruit, like wouldn't it be convenient … people see this as an option A or B issue, but really there's a lot more depth to it," Patel said.
According to Patel, IAPSACT members began hearing about the grocery store campaign around Thanksgiving 2022. "Very quickly we saw that [the Connecticut Food Association] had rolled out a pretty aggressive campaign and we felt like we needed to counter … with something that was detailed and descript, very precise and deliberate with as much information as possible so that way, ultimately, we're asking people to consider all the truths surrounding the subject matter," Patel said.
"At the Indian American Package Store Association, we have over 300 members who are small business owners, and if wine is to go into grocery stores, that would be a direct threat to those businesses," Patel continued. "A lot of those businesses have made their living [through package store ownership] … It's not just the current generation of business owners but the opportunities that those business owners create for their children."
The IAPSACT has been working closely with a lobbying team through Robinson + Cole and has formed a coalition with the Connecticut Package Stores Association (CPSA), members of the Wine & Spirits Wholesalers of CT (WSWC), Brescome Barton, Slocum & Sons and the Connecticut Beer Wholesalers Association (CBWA), among same-side allies.
"The IAPSA was born from a need to unite Indian American store owners, but really it's turned into us uniting [with] the entire industry," Patel said. "I think that's of paramount importance that every member of the industry needs to come together on this. Everybody, every voice, makes a difference and I feel like even one phone call or one email to a legislator makes a difference."
Individuals who are interested in contacting their state representatives regarding the issue are urged to do so at iapsact.org/legislators, where they can find their representatives with a drop-down menu and easily send them an email directly from the site.
Patel said that he and multiple coalition members plan to appear in person at the capital to give testimony when the time comes. "I think people don't recognize the ripple effect that this has and how many people's livelihoods are at stake here," Patel said.
"I think everybody has to take a step back here and say, 'Well, what would happen to me? And what's my role in this and how can I get involved?' A 10-minute phone call or email to your representative in state government can make a difference … I think that everybody needs to hop on board and we're all pulling in the same direction. We can stop this."
UPDATE: A public hearing before the General Assembly on the bill, which has not yet been released, is set for Feb. 2 at 10:00 a.m. at the Legislative Office Building in Hartford.