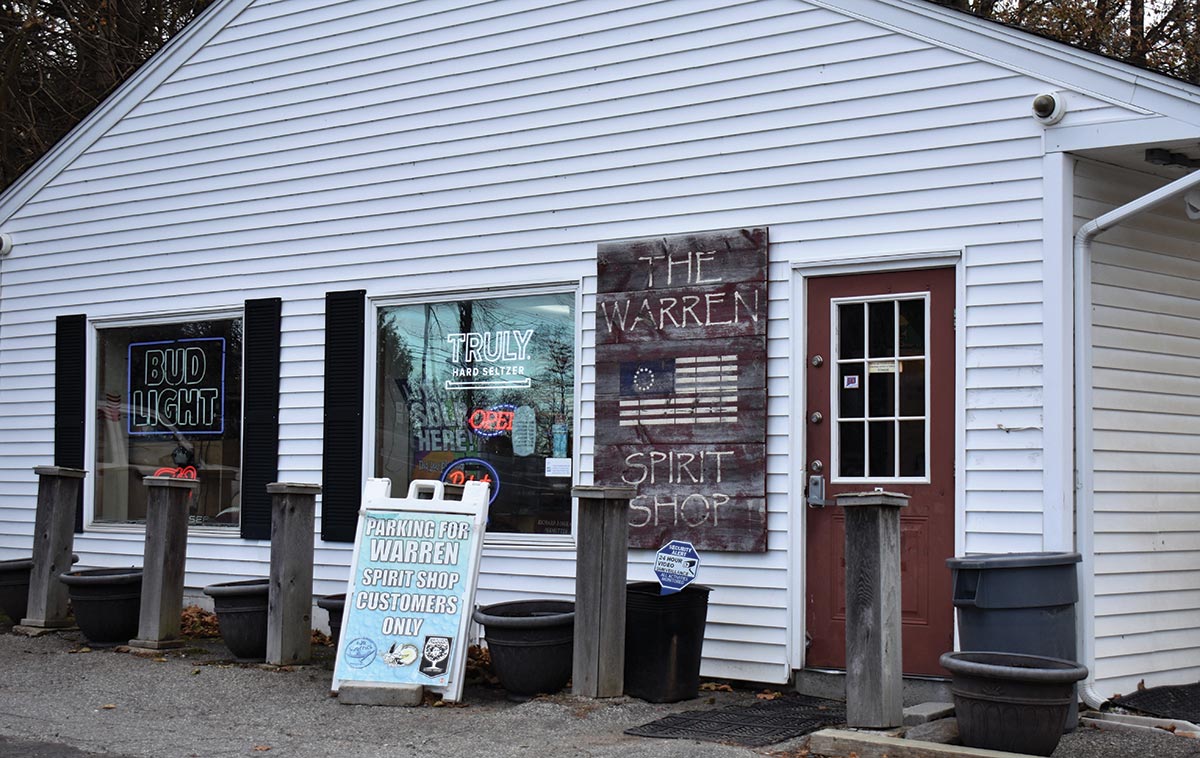 Warren Spirit Shop
2 Cornwall Road
Warren, CT
Square footage: 1,600
Years in operation: 15 years
Situated in the town center, Warren Spirit Shop is a convenient stop off the main thoroughfare of Route 45. Richard O'Grady has owned and run the shop for the past 15 years and, in that time, his business has become a mainstay for residents and visitors alike. With Warren's population of just over 1,400, "I pretty much know everyone," O'Grady said.
Having a smaller size allows O'Grady to focus closely on keeping shoppers happy and content. "Most of my business is really split into two pieces," he said. "One [is] the local people that live here and the other are the people who come up on weekends. I'd say it's probably 70% local, 30% weekenders and that fluctuates throughout the year … it's a small community and you really have to focus in on what local customers want and also have to have high-end products for the out-of-towners who stop in."
So, O'Grady carries a mixed range of SKUs in an array of price points. "I'm pretty typical of most stores, although I would say I think I have a stronger liquor business," O'Grady said. "And that's coupled with the fact that I carry a lot of items, and I carry different sizes, and I cater to what people request." Liquor sales fluctuate between 20% and 40%, he said.
Beer is also a top seller, making up about 40% of sales in the summer months, with customers seeking out craft selections from local breweries, along with mainstays Stella Artois, Heineken and Bud Light. Still, hard seltzers and craft cocktails have begun to take some of the market share of traditional beer, he said.
Wine remains steady at around 30%. Guests gravitate toward Pinot Noirs, Chardonnays, Cabernets, and Sauvignon Blancs and boxed wine brands such as Franzia, Fish Eye, Black Box and Bota tend to sell quickly. To make shopping simpler, bottles are arranged in order of price, lowest to highest from left to right. "I try to make it easy for customers who are looking for price points," O'Grady said. Wines are further organized by region and most of the major ones are represented, including French, Italian, Spanish, Portuguese and South American, which are then further separated into popular varietals.
While the winter holidays can be busy, Warren Spirit Shop's busiest time of year kicks off with Memorial Day and goes through the summer and early fall when traffic increases through the area, as tourists and summer residents stop in to stock their houses for the season. O'Grady makes sure to listen to the needs of his seasonal clientele, he said. For example, he began carrying smaller bottles of Champagne after several requested smaller formats like 200 or 375 ml.
O'Grady had worked in sales for General Foods and Kraft for more than 30 years when he purchased the spirit shop. Many of his skills from food sales easily translated to beer, wine and spirits sales. "It's not that different in terms of consumer products and I learned a lot from food that I apply here, carrying the sizes that people want, the way you position things on the shelf," he said. He has continued to make improvements to the store, installing new shelving, racks and additional coolers.
As one of just three businesses located in Warren's Town Center, O'Grady enjoys his daily interactions with customers and being a place for residents to gather. "We're kind of the epicenter," O'Grady said. "A lot of people that live in town won't see each other for months and then they run into each other here and they get to talking inside and outside … it's kind of like a mini meeting place."