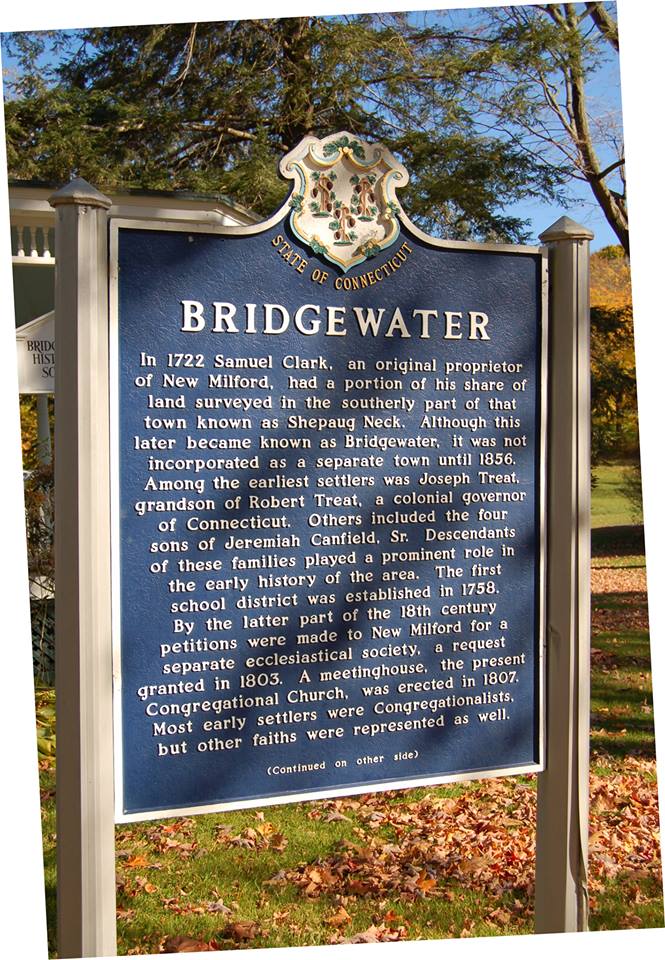 Legal Hitch Snags Progress Plans
By Lauren Daley
Connecticut's last dry town will have to wait a bit longer to see if its status changes. Bridgewater's First Selectman Curtis Read announced that the referendum vote concerning the sale of alcohol in restaurants originally scheduled for Feb. 25 was been postponed two days before the vote.
The town announced on its website: "Certain requirements of the Connecticut General Statutes relating only to 'intoxicating liquors' and specifically how a vote to repeal prohibition must be conducted has been brought to our attention recently. Upon further legal review of the unique and unusual voting process and the advice of the Connecticut Liquor Control Division, Mr. Read has decided to postpone the scheduled referendum until further notice."
Read explained that a local citizen brought to the town's attention Connecticut General Statue 30-10, which states that in order to change a town's dry status, you need a petition signed by at least 10 percent of the town's registered voters who are in favor of making the change. That petition has to be on file with the Town Clerk for at least 60 days prior to a regular town election. The next regular town election in Bridgewater is November 2015.
Read said the town lawyer "made an honest mistake" in not noticing the "technicality in the state statue," which he called "arcane, antiquated, and restrictive."
Two aspiring restaurateurs challenged the town's dry status in November by proposing restaurants that would serve alcohol, making the town "partially dry"—allowing alcohol sales in restaurants.
Financier Peter May, who owns the Bridgewater Village Store and a vineyard in town, has proposed turning the abandoned bank attached to his store into a café that would serve beer and wine. May's Bridgewater estate, Maywood,  houses the wine vineyards. Maywood is open for public tours, and its vegetables, eggs, maple syrup and honey, are sold at the Bridgewater Village Store. May has said that if the vote doesn't pass, he "doubts" he'll go through with his plans for a restaurant. Town resident Bill Holland has proposed to build a high-end restaurant in another building left vacant by the bank.
"We're trying to work with our legislator, Rep. Rob Cane (R) to see if they can change something in the state language, because the only town this applies to is Bridgewater," Read said.
Bridgewater, an affluent town of 1,730 in western Connecticut, is the only dry town left in the state. The vote to go partially-dry would officially end in Bridgewater, 81 years after the repeal of the 18th Amendment. As far as Read knows, the issue of going "partially dry" has never come up in town since Prohibition was repealed in 1933.
There are no restaurants in Bridgewater and the town is not allowed to have a package store per state regulations because there are fewer than 2,500 residents, said Read. Cane "is really interested, and thought he might be able to be helpful. He said it's too late to introduce a new bill in this short session year, but he's going to look into it," Read said.
"I don't want these restaurant proposals to go away," Read said. "They're key to revitalizing our town. Hopefully we'll get some relief from our legislators, because all we want to do it fix abandoned buildings, create employment, and add tax revenue. It's silly that it's this restrictive, but we couldn't have an illegal vote."
According to the state statute:
"The Connecticut Liquor Control Act of 1933, CGS § 30-1 et seq., regulates the sale of liquor in this state. It allows individual towns to vote to determine (1) whether the sale of alcoholic liquor will be permitted in the town, or (2) whether the sale of alcoholic liquor will be permitted in any number of the classes of permits set forth in CGS § 30-15 (CGS § 30-10).
"To accomplish this, at least 10% of a town's electors must sign a petition calling for a vote, and submit it to the town clerk at least 60 days before the date of any regular town election. A vote to ban the sale of alcohol, either completely or by a particular type of liquor permit, takes effect on the first Monday of the month following the election. The ban lasts until a new vote is taken, so long as at least one year has elapsed between votes (CGS §§ 30-9 and 30-10)."