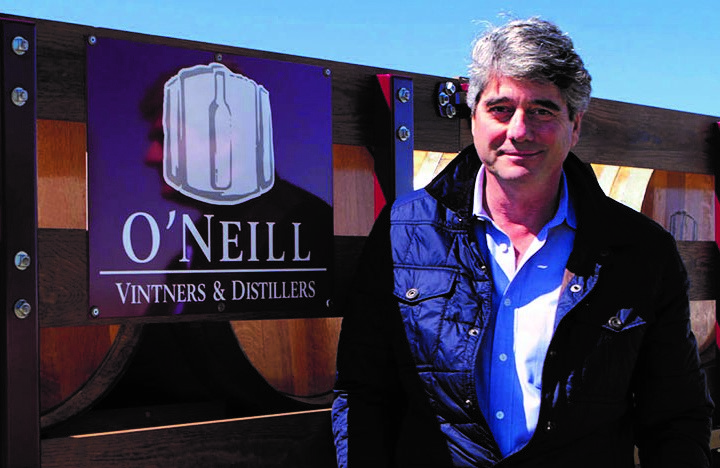 Speak Easy Stepping Out Of The Shadows
In Conversation with Jeff O'Neill of O'Neill Vintners & Distillers
By Kristen Bieler
---
When Jeff O'Neill launched O'Neill Vintners in 2004, it quickly grew to become one of the largest contract producers of California wine and brandy. More recently, the company has been investing in its own wine brands, like Line 39 and Exitus, as well as the recently launched Bertoux Brandy. We sat down with O'Neill to talk about finding opportunity in crowded categories, the rebirth of California brandy and the future of private labels.
On scale & supply
Beverage Media Group: Many people don't realize that O'Neill Vintners is the 8th largest wine company in the U.S. Have you intentionally stayed under the radar?
Jeff O'Neill: I've always liked to stay under the radar. For the last 14 years, we've built our B2B business as a major supplier of California brandy and other distilled spirits. We have a bulk wine division as well as a 400,000-case private label business. We don't divulge the names of our customers, but we produce for around 75 wineries and most major retailers in the U.S.
BMG: Many believe that boutique is always better when it comes to wine, but you call attention to the real advantages of being large.
JO: We are the third largest facility in the state, but we have eight times more tanks than a winery of our size, so while we are big, we actually consider ourselves a boutique facility. With 700 individual tanks and nine full-time winemakers, 20 back-up lab staff, and vineyard sources all over the state, we are really hand-crafting hundreds of different wines in all volumes. Having scale allows us to tailor-make wines for any customer.
BMG: Describe the significant recent investment you made in your facility.
JO: We actually have three facilities in California—one in Paso Robles called Robert Hall and a small facility in Sonoma—but our primary winery is in the Central Valley near Fresno. It has 49-million-gallon capacity and we've been adding about 2 million gallons of cooperage every year. Our recent upgrades made it, I believe, the most state-of-the-art winery anywhere.
On Private Labels & Brands
BMG: Private labels have become an increasingly disruptive force in the wine business. What do you—as a leader in this segment—see as the value created by private labels?
JO: Exclusive labels, are part of the maturation of the U.S. wine business. Our preference, like every supplier, would be to sell our own national brands, but the industry has changed and we don't want to ignore this increasingly important segment. Today it's probably less than 10% of the total, but in a decade, I believe exclusive labels will represent 20% of the wine sold in this country.
The reality is that retailers battle one another on price and there is tremendous pressure for them to discount major national brands. The retailer gets squeezed, the wholesaler gets squeezed, the supplier gets squeezed. Exclusive brands allow retailers to offset and protect margins. It allows them to offer unique items in their store that consumers can't find anywhere else.
BMG: What does this say about the power of brands in today's marketplace and consumer brand loyalty? What is the strategy behind your own branded wines?
JO: I think most of the data shows that wine consumers are willing to switch and try new wines and brands more than ever before. They want to discover new things; they are more promiscuous and less brand-loyal. That's not as true with spirits.
That said, we are focusing more on our branded portfolio, which is why we want O'Neill Vintners to resonate with retailers throughout the U.S. We're focused on the premium $10-$16 tier.
On Hits & Trends
BMG: Line 39 has been hugely successful for you, growing from 120,000 to over half-million cases this year since you acquired the brand in 2015. What's the magic?
JO: I wish I knew exactly! I think the packaging attracts people initially, but the quality and value brings them back. When we blind taste retailers on Line 39, they usually guess the bottle costs $4 to $5 more than its actual $10 retail price. We've learned a lot with Line 39 and we are eager to continue to expand it and replicate this success with other brands.
BMG: You've also created Harken Barrel Fermented Chardonnay, which will hit 60,000 cases this year. How does this stand out in the crowded Chardonnay category? 
JO: No one is delivering 100% barrel-fermented Chardonnay for $14. We had been selling barrel-fermented Chardonnay in the bulk market for years and we saw an opportunity to offer a huge amount of value that would really resonate with consumers. It's got all the hallmarks people want from that style—bold, buttery Chardonnay flavor—and sales are up 200% this year.
BMG: With your latest release, Exitus, you're also betting on the bourbon barrel-aged wine trend.
JO: Yes, we believe there is a real category here. But the industry needs to be careful about overdoing it with these wines, or being too heavy-handed with the bourbon barrel taste influence. Quality to the consumer has to be the first priority and my fear is that there are a lot of crazy innovations in this space before we even let the category grow on its own. Exitus is off to a strong start: It's a bourbon barrel aged red blend retailing around $20. We roll out nationally this year (2019).
BMG: Rosé is another crowded category you've recently entered, with your brand Day Owl Rosé. How is it doing?
JO: The rosé category is pretty swamped right now but there is no question it's growing and now domestic rosé is outpacing imports. The idea behind Day Owl was that rosé should be for year-round drinking, not just summer, which is where the category is headed. With our branded portfolio we are trying to move to a lifestyle mindset with our marketing, and thinking of how, where and when people consume.
BMG: It's fitting that O'Neill is helping drive the California brandy renaissance with the recent launch of Bertoux, given your family's history in the brandy business. 
JO: Yes, we've been in the brandy business for many decades and are a big believer in its future. At the turn of the century, brandy was the biggest selling spirit in the U.S.! The California brandy category is dominated by three brands that are producing with a continuous still and we always thought there was opportunity for a premium alembic pot still brandy. We started laying down brandy stocks about 12 years ago and now that brandy is getting more attention, we are one of the few companies with any type of aged inventory. Our brand, Bertoux, was created with Jeff Bell of PDT, Nomad's Thomas Pastuszak and spirits entrepreneur Jeff Menashe. It's designed to be an ideal cocktail base and will retail for $45.
California has its own style of brandy and we want to showcase that. It's more fruit-forward, it's easier to drink and a lot more blend-able than traditional brandies from France.
BMG: What's next for O'Neill?
JO: We plan to acquire and build more of our own brands in the $15-$20 arena. And we want to focus on data—across our branded portfolio and for our exclusive wine brand customers—to understand where the consumer is headed and what the next frontier will be. We recently hired Campari veteran Christine Moll as VP Marketing to help us with this effort. It's complex when we are running a winery this large with so many different styles of wine and price points, but it's critical that we understand what the consumer wants.