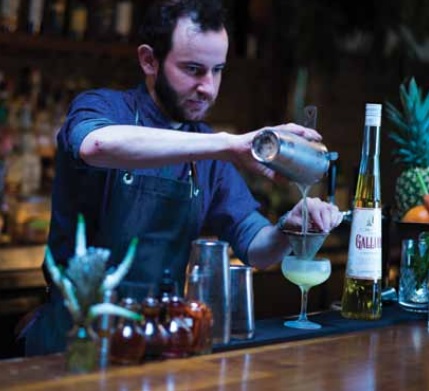 The revolving liqueur renaissance courts a new generation
By David Lincoln Ross
Luscious fruits, savory herbs and earthy nuts served as ingredients in some of man's earliest attempts to ferment beverages. A few thousand years has not changed that, but what has changed is the complexity and intensity captured in modern versions.
Indeed, the secret power of liqueurs of all ilks is their pure power—their ability to focus and amplify attributes of their core ingredient(s). It is this power that mixologists have honored and tapped as long as they have wielded swizzle sticks.
While it's true that overall sales of cordials (as liqueurs are also known) in the United States have been in gentle decline from about 21 million case sales in 2012 to about 18 million cases in 2016, standout growth in recent years by brands such as Aperol from Campari USA or St. Germain Elderflower from Bacardi USA, among others, illustrate there is still plenty of opportunity for the right flavor or cocktail to capture consumer trial and repeat business.
At today's trendsetting watering holes and at retailers across the country, patrons can see back bars—and shop shelves— chock full of tempting cordials and liqueurs. "We're in a renaissance right now where we have so many wonderful fruit cordials and liqueurs to work with," says Matais Tasley, Beverage Director, at San Francisco's Sir Francis Drake Hotel.
Consider the eponymous $14 house cocktail served at the Bar Drake; Darnley's View Gin and Rittenhouse Rye meet Cointreau and Green Chartreuse, with the powerful liqueurs— one bittersweet orange, the other a kitchen sink of exotic botanicals—more than up to the flavor-intensity challenge.
The fact that the Sir Francis Drake cocktail leans on two iconic brands speaks to the category's deep history. In turn, historic concoctions are ripe for tweaking. At The Cannibal Liquor House, New York, Bill Brooks, Beverage Director, "riffs" on the 1970s classic Galliano-based Harvey Wallbanger, incorporating a frozen creamsicle, housemade orange marmalade and a dash of vanilla.
While it is certainly true that some liqueurs have earned their place on the backbar as star ingredients (think Midori in the Melon Ball; Kahlúa in White/ Black Russians), liqueurs remain vital in the bartender's proverbial toolbox even when not a cocktail's main driver. The Cannibal's Berry Gibson, for instance, includes blackberries pickled in a blend of the classic black currant liqueur crème de cassis, watermelon juice and apple vinegar; and their Thyme Gibson gains citrusy complexity via limoncello and vermouth infused with fresh lemon thyme leaves.
And when it comes to creating brand new cocktails, mixologists can turn to liqueurs as integral ingredients.
"High-quality cordials can provide a bedrock for creativity," says Kevin Denton, National Mixologist for Pernod Ricard USA. "Utilizing a great triple sec with a variety of different base spirits can give you a myriad of cocktail options."
Indeed, almost as mysterious as the exotic recipes that go into liqueurs is the way in which a singular flavor expression suddenly emerge from the pack. Recent breakout hits have included pomegranate, with PAMA, and elderflower, with St. Germain, St. Elder and others. What will be next?
Flavor Boom
Liqueurs have always been about flavor, so it is no surprise that the most enduring suppliers—firms such as Hiram Walker, DeKuyper, Leroux, Bols and M. Brizard— have a history of expansive portfolios and a knack for innovation.
Brett Dunne, Managing Director, Lucas Bols USA, notes: "We have a liquid think tank in Holland, and we're always in the process of creating new flavors. This fall, we'll be launching Pineapple Chipotle and a new Pear flavor."
At the same time, merchants on the front lines of flavor can never be too sure of what will catch on. "We carry around 48 different fruit liqueurs in the store at the moment," notes Sasha Staskiewicz of Union Square Wine & Spirits in New York City, "65 if you include fruit infused/ flavored liqueurs."
He adds that along with the rise in spirits sales and the renewed interest in making drinks at home, "The demand for specific liqueurs has increased with Millennials. Our top three bestselling fruit liqueurs are Giffard Pamplemousse, [grapefruit], Luxardo Maraschino Liqueur and Capri Natura Limoncello."
For amateur home bartenders and clients looking for something new to try, Staskiewicz shares a trusty selling tip: "I often find myself suggesting customers to get a neutral flavored vodka and add a splash of one of the Giffard products to flavor it themselves. The Pamplemousse is particularly lovely when a splash is added to rosé Champagne or to sparkling wine."
From 'Spritz' To Zest?
The Aperol Spritz cocktail phenomenon has turbocharged sales of all kinds of fizzy cocktails amplified by fruit-flavored cordials and liqueurs—especially lemon-infused Italian brands, reports David Singh, Senior Brand Manager, Palm Bay International, which imports a Sicilian lemon liqueur, Bottega Limoncino.
"Italian spirits are very trendy right now," observes Corey Gallota, Brand Manager, Pallini Limoncello, Castle Brands. "I am seeing lots of restaurants using our Italian Spritz, which is three parts Prosecco, two parts Pallini Limoncello, and one part San Pellegrino sparkling water."
Jason Schladenhauffen, President and COO of 375 Park Avenue Spirits, notes: "I believe the explosion of other Italian categories, such as Prosecco, has given Limoncello Rossi D'Asiago a springboard to use as we look to drive more non-conventional usage of Limoncello in cocktails."
At Merchants Fine Wine in Detroit, MI, Manager Todd Roberts, says he usually carries about seven limoncellos, and they are all steady sellers. To promote the store's selection, Roberts has hosted periodic tasting events; a recent for limoncellos drew 300. He recommends to customers to keep their limoncello in the freezer just like a favorite brand of vodka. Piero Selvaggio, the owner of Valentino in Santa Monica, CA, concurs about the rise in popularity of Italian cocktails, especially those made with an Italian limoncello. A native of Italy, he counsels that any drink made with the Italian lemon-infused liqueur is like drinking "the freshness of the sun on the Amalfi Coast."
Selvaggio adds that limoncello makes a zesty granita and can be included in a wide range of desserts. Back in New York, I Trulli Ristorante owner Nicola Marzovilla reminds that chilled limoncello can stand on its own, too: "The last couple of years, we've been offering a glass of limoncello, Moscato d'Asti or an amaro, and our guests love them." Notably, the zesty liquid has been produced with delicious results outside of Italy. Fabrizia Spirits, based in New England, for instance not only makes a limoncello, they also produce a blood orange version using California fruit as well as a "crema" using Wisconsin cream.
Looking ahead, it's likely the cordial world will continue to expand rather than contract—partly because excellent liqueurs can be made just about anywhere these days. Under their SweetShine label, West Virginia's Bloomery Plantation Distillery is making delicious liqueurs from Cranberry-Clementine to Black Walnut and Ginger. And flavors will continue to push limits; consider the exotic liqueurs now produced by The Bitter Truth—e.g., Apricot, Violet and Pimento Dram (allspice). Clearly, variations on the cordial theme remain plentiful and provocative.
BRAND FOCUS: Jägermeister
'Khul' Complexity
While most fruit liqueurs express singular flavors, herbal liqueurs draw their identity from a heady mix of herbs, roots, spices and flowers. Curt Mast, son of a vinegar manufacturer, perfected Jägermeister back in 1934. What made it the world's leading liqueur?
56 globally sourced botanicals extracted via four macerates
Secret recipe meticulously crafted and carefully guarded for 80+ years
Profile that balances sweet, bitter, fruity, spicy and herbal notes
Uniqueness Beyond Ingredients
Going from the hunter's drink to the toast of the underground, Jägermeister's popularity has been fueled by usage:
as a shot, served 'Khul' at -18 degrees Celsius (also, conveniently, the average temperature of a home freezer.)
and as a cocktail ingredient with everything from OJ to soda to rye
What's Next
Staying front and center in 21st Century, Jägermeister has taken several bold marketing steps:
A package makeover in 2016, featuring a more defined shape, more realistic stag, stronger logo and new copy
A new global positioning, identity and campaign in 2017, marking the first major rebrand in its history
Active social media campaigns with Foursquare, Spotify and coming this October Shazam
For Halloween, a multi-million dollar campaign – ranging from TV to POS – encouraging consumers to celebrate the "darke" side of the holiday
Cocktail Feature: The Jägerye Cocktail
1 part Jägermeister
1 part Rittenhouse Rye
Orange oil and peel for garnish
Stir whiskey and Jägermeister with a large (2 x 2) ice cube in a frozen 11-12 oz. Old Fashioned glass. Garnish with oil and peel of an orange.